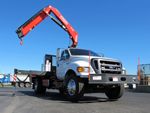 Green News
CALSTART and its industry partners have helped pass legislation in California aimed at enhancing short- and long-term funding for clean trucks, buses and cars. These measures that are expected to have a nationwide impact include:
• Assembly Bill (AB) 8 that will extend and expand funding for advanced vehicle and fuel demonstrations and deployments through 2023, for a total of more than $2 billion. The funds will continue and enhance funding of the current AB 118 program demonstration and incentive projects, including the Hybrid and Zero-Emission Truck and Bus Voucher Incentive Project (HVIP).
• Senate bills 95 and 359, which fill a funding gap in the HVIP voucher program for hybrid and electric trucks and buses, and rebates for clean passenger cars for 2014.
Visit www.calstart.org.
Dalum Named to EDTA Board
Joe Dalum, president and CEO of Odyne Systems, a manufacturer of hybrid systems for medium- and heavy-duty trucks, has been appointed to the board of the Electric Drive Transportation Association. EDTA works with policymakers and the public to advance electric drive transportation.
"I look forward to serving on the board of directors of the Electric Drive Transportation Association during this time of accelerated industry growth and rapid advancements in technology," Dalum said. "Greater electrification of vehicle systems can help the country meet energy security and environmental goals, while providing operational savings and benefits."
Dalum also currently serves as president of the Green Truck Association, an affiliate of NTEA. Prior to founding Odyne Systems in 2009, he worked for DUECO, a final-stage manufacturer of medium- and heavy-duty trucks, as engineering manager, vice president and executive vice president. Visit www.electricdrive.org and www.odyne.com.
Electric PTO: The Technology and How It Performs
Presentations on electric PTO technologies from the 2013 Electric Utility Fleet Managers Conference
Mark Greer, Green Fleet market manager at Altec Industries, said that development of the company's Jobsite Energy Management System (JEMS) was based on looking at all the reasons why the truck engine runs at job sites, including the need to power the boom and provide power for tools, cab comfort and lighting. "The idea was to electrify these loads when at the job site with a system that is sized for the aerial device, accounts for work practices and considers payload requirements," he related. Greer went on to list the benefits of ePTO technology like JEMS. Included were reduced fuel consumption, lower tailpipe emissions, less idle time at the job site, reduced operating noise, and crew safety and health.
Matt Jarmuz, director of sales at Odyne Systems, noted that trucks more than 14,000 pounds GVW can save 50 percent or more in fuel (more than 1,000 gallons annually), depending on the duty cycle, with a plug-in hybrid propulsion system. The technology, he reported, saves fuel during drive cycles and during stationary operations at work sites.
Odyne's hybrid architecture, which incorporates Allison automatic transmissions, Johnson Controls lithium-ion batteries and Remy electric motors, is a parallel hybrid solution that can be retrofitted to existing vehicles and installed without the need to modify the OEM drivetrain.
Odyne systems are installed by the company and shipped to final stage manufacturers such as Altec, DUECO, Terex and Utilimaster. Initial market applications for the solution include aerial devices, cranes, digger derricks, and vehicles used for construction and maintenance of underground utilities.
It's important to understand your application, Jarmuz related. Data acquisition systems can track miles driven per day, kinetic intensity of driving cycle, idle and PTO time, and available time to recharge. For example, the U.S. Department of Energy's National Renewable Energy Laboratory provided data for a Hybrid Truck Payback Calculator that took into account fuel use and power requirements. Findings included that on average, vehicles are spending more than 90 percent of their time at zero speed, five hours per day in PTO mode and over an average daily distance of 12 miles, a majority were at speeds between 25 and 35 mph.
Plug-in hybrids, Jarmuz concluded, can decrease fuel consumption during driving and at job sites, and lower greenhouse gas emissions. They also are quieter, produce engine maintenance cost savings, provide more power for acceleration and truck-mounted equipment, require a minimal change in operator behavior and their less intrusive design can preserve the OEM chassis warranty.
Nick Cammisa, sales manager, HyPower Products at Terex, provided an overview of the company's HyPower plug-in hybrid system. Used for boom and tool functions, he noted, the vehicle will operate with the engine off most of the day and the truck will auto-restart if the batteries require a charge. HyPower, which can be retrofitted to existing vehicles depending on body layout, also can provide cabin comfort and exportable power.
Lessons learned for users of earlier-generation HyPower systems are being addressed, Cammisa added. Included are continued exploration of alternative battery technologies and software improvements.
Nina Kisch, manager of transportation services at Pacific Gas and Electric, offered a fleet's perspective with a presentation titled "PG&E's ePTO Experience: The Ups and Downs of Electric Worksite Idle Management Systems." With more than 3,300 on-road alternative-fueled and high-efficiency vehicles, including 349 ePTO units, PG&E is ranked among the top utility fleet users of alternative fuel vehicles.
PG&E's ePTO vehicle strategy includes trouble trucks with 35-foot aerials. These vehicles have standard specifications and are being ordered with ePTO technology. The fleet also has ordered 55 material handlers with 55-foot booms with ePTO systems that it is considering making a standard specification.
PG&E is measuring hard benefits of plug-in hybrids like fuel costs. Using idle time, fuel use, three-year average fuel price projections, workdays per year, idling fuel cost per year and the price of the system to determine a payback period from fuel savings, Kisch reported, based on the amount of idle time, the payback period can be as short as a little more than two years. Another hard benefit being measured is engine wear, with an estimated reduction in idle time of five hours per day equating to an annual drop in engine wear of 69 percent.
Kisch also outlined soft benefits that can be realized from ePTO use. Those include cleaner air at job sites from reduced emissions, quieter operation, which facilitates safety by improving crew communication and makes utility vehicles less intrusive in neighborhoods, and the ability to extend workdays in cities with noise ordinances.
Challenges are being addressed at PG&E as well, including fostering greater operator acceptance through communication and training, infrastructure needs for charging the battery when trouble trucks go home with employees – addressed by a union agreement to reimburse employees for charging costs – and engineering issues to provide more charge to the battery when driving.
PG&E's next steps are to integrate its new material handlers into the fleet and obtain performance results, install additional charge points, test an under-hood generator to provide more charge to the batteries when trucks can't be plugged in regularly, look at transitioning to lithium-ion chemistry and lighter-weight batteries, and continually evaluate next-generation improvements with suppliers. Visit www.eufmc.com.
HYBRIDS
Odyne Systems Showcases Hybrid Power Truck System
Selected for nationwide deployment by the U.S. Department of Energy is a hybrid propulsion system from Odyne Systems. The company was chosen to participate in a $45.4 million award to develop and deploy more than 120 plug-in hybrid systems for trucks throughout North America.
The Odyne plug-in hybrid system on display at ICUEE – held in October at Louisville's Kentucky Exposition Center – on an International chassis is designed to interface with truck-mounted equipment. According to the company, the system reduces fuel consumption by up to 50 percent, depending on application, and increases power. The Odyne solution uses a Remy electric motor in parallel with the existing drivetrain, and Johnson Controls lithium-ion battery packs, to provide launch assist and regenerative braking and to provide power at the job site.
"We are excited to be introducing several recent developments that are continually advancing hybrid and truck electrification technology," said Joe Dalum, president of Odyne Systems. "The market is embracing our ePTO functionality and enhanced transmission interface, developed in coordination with Allison Transmission, our investment partner. We look forward to further optimization of the hybrid drivetrain and continued gains in efficiency through additional engineering collaboration with Allison." Visit www.odyne.com and www.allisontransmission.com.
PG&E Joins with EVI to Unveil Hybrid Electric Bucket Trucks
Class 5 extended-range hybrid electric trucks, capable of providing power to homes and businesses during outages, have been introduced by Electric Vehicles International and Pacific Gas and Electric. The Range Extended Electric Vehicle (REEV) utility trucks, developed by EVI in partnership with PG&E and the California Energy Commission, were designed, built and tested at EVI's manufacturing plant in Stockton, Calif.
REEV features an all-electric range of 45 miles and fuel savings of up to 30 percent when the units are operating in hybrid mode, the manufacturer noted. PG&E accepted delivery of the first two REEV units this summer, and purchased two additional units after a successful initial demonstration of the vehicles.
PG&E plans to eventually replace all 942 of its conventional fuel Class 5 vehicles, including bucket trucks, flatbeds and other service trucks, with plug-in electric hybrid models, which would save the utility nearly $3.5 million in fuel costs and reduce greenhouse gas emissions by more than 9,000 metric tons annually. In addition to the fuel savings and environmental benefits that PG&E anticipates as it deploys these trucks in increasing numbers, the trucks also offer up to 75 kW of exportable power that could be used to provide power to the grid during planned or unplanned outages.
"These trucks not only will help us reduce our fuel costs as well as our carbon footprint, but in the event of an outage, we would be able to use their exportable power capacity to supply electricity to homes and businesses," said Dave Meisel, senior director of transportation and aviation services for PG&E. "For us, as a utility, that is a game changer for the future." Visit www.evi-usa.com and www.pge.com.
NATURAL GAS
Chevrolet and GMC Expand Bi-Fuel Truck and Van Offerings
2014 Chevrolet Silverado 2500HD and GMC Sierra 2500HD bi-fuel pickup trucks are now available in a crew cab configuration. The bi-fuel pickups run on gasoline or compressed natural gas (CNG) and seamlessly switch between the two fuels for a combined range of 650 miles. They are available in standard and long-box and two- or four-wheel-drive models.
In 2015, model year 2014 GMC Sierra and Chevrolet Silverado trucks and Chevrolet Express and GMC Savana full-size passenger vans will be available in dedicated CNG versions. The Express and Savana passenger vans join a dedicated CNG lineup that includes cargo versions of the vehicles.
"With these new vehicles, General Motors offers the most comprehensive lineup of manufacturer-engineered, validated and warranted CNG vehicles, helping fleet managers manage their budget and reduce their carbon footprint," said Ed Peper, U.S. vice president, GM Fleet and Commercial Sales. "Natural gas is less costly at the pump and significantly reduces carbon dioxide emissions compared to other liquid fuels."
Using both fuels, the GM and Chevy trucks have an approximate total driving range of 650 miles. The vans are built with a gaseous fuel-ready 6.0-liter V-8 and equipped with dedicated CNG fuel systems, available in three- or four-tank models on cargo vans and exclusively with the three-tank design on the passenger van models. The new CNG passenger vans offer an approximately 200-mile driving range in three-tank versions. With the four-tank configuration, the range on the cargo vans extends to approximately 300 miles. Visit www.gmfleet.com.
American Trucking Associations Partners with NGVAmerica
The American Trucking Associations has become an event partner of NGVAmerica's 2013 North American NGV Conference & Expo, which took place November 18-21 at the Georgia World Congress Center in Atlanta. Themed "Natural Gas: Transportation Fuel for a Better Bottom Line," the event, which focused on the NGV market, included three days of sessions, a 75,000-square-foot exposition, a ride-and-drive event, preconference site tours, presentation of annual NGV Achievement Awards and related industry meetings.
As an event partner, ATA provided input to NGVAmerica concerning program content, promoting the event to its membership and participating in the program, including a keynote address by ATA president and CEO Bill Graves. "There has been a great deal of interest in how America's trucking industry can best utilize natural gas," Graves said. "By partnering with NGVAmerica, ATA hopes to foster continued dialogue on how this fuel can benefit fleets and the environment." Visit www.ngvamerica.org.
Bus Fleets Get Propane Autogas Green Award
The Propane Education & Research Council has recognized five public transportation fleets for their use of domestic propane autogas. Fueling with propane autogas, according to PERC, results in an estimated 40 percent reduction in smog-producing hydrocarbon emissions in light-duty vehicles compared with gasoline, and an 80 percent reduction in heavy-duty vehicles compared with diesel.
The five fleets chosen to receive a Top User of Clean-Burning Propane Autogas award were:
• Flint MTA in Flint, Mich., which operates 72 Roush CleanTech propane autogas-fueled shuttle buses. Each bus displaces an estimated 200,000 pounds of carbon dioxide during its lifetime.
• Greater Cleveland RTA in Ohio operates 20 paratransit shuttle buses fueled by propane autogas and plans to add 40 more by 2015. The buses, which replace aging diesel vehicles, are reducing Cuyahoga County's carbon footprint by 60 percent.
• Metro Cars in Detroit displaces more than 520,000 gallons of petroleum each year and operates more than 200 propane autogas-fueled vehicles, including 13 transit buses converted by ICOM.
• Port Columbus International Airport in Columbus, Ohio, displaces 2.5 tons of particulate matter, 11 tons of nitrogen oxide and almost 9 tons of carbon dioxide each year fueling with propane autogas. The airport operates 19 propane autogas shuttle buses with plans to convert its remaining six diesel buses.
• Unified Government of Wyandotte County near Kansas City, Kan., operates 15 propane autogas vehicles, including 13 transit buses. The county saves approximately $100,000 in annual fuel costs and displaces more than 50,000 gallons of gasoline annually.
"Propane autogas is a proven fuel that reduces emissions and delivers fuel savings," said Tucker Perkins, PERC chief business development officer. "Our inaugural award winners are models in the public transportation sector of how propane autogas is improving the economic and environmental well-being of citizens and communities nationwide." Visit www.autogasusa.org.
GE's CNG In A Box Chosen for Canadian Natural Gas Fueling Stations
To help meet the needs of fleets, Chelsea Natural Gas Limited has purchased 20 GE Oil & Gas CNG In A Box fueling systems. As part of the Canadian energy company's efforts to develop a natural gas fueling infrastructure, the company plans to use the CNG fueling stations in a semiprivate "card lock" format for shared fueling stations. The first fueling station is scheduled to open next spring.
"In Canada, where commercial fleets are smaller, it is hard for individual fleet operators to justify the expense of building their own natural gas refueling facilities," said Steve Carmichael, CEO of Chelsea Natural Gas. "GE's CNG In A Box solution allows us to offer a cost-effective way for fleets to take advantage of the economic and environmental benefits that come with using natural gas as a transportation fuel."
GE's CNG In A Box solution is a fully integrated, modular natural gas production system for fleet and retail fueling stations. For Chelsea Natural Gas, several of the CNG In A Box units will feature a cold-weather design. The solution also has payment-enabled fueling dispensers. Visit www.ge.com.
NGVi Launches Heavy-Duty and Light-Duty NGV Maintenance and Diagnostics Training Courses
The Natural Gas Vehicle Institute is offering NGV Maintenance and Diagnostics Training: Heavy-Duty Vehicles and NGV Maintenance and Diagnostics Training: Light-Duty Vehicles courses to help prepare technicians to perform maintenance, diagnostics and repair of natural gas vehicles (NGV). Both courses include operational theory with hands-on exercises and use of digital multimeters, scan tools and other diagnostic equipment, and prepare technicians for the National Institute for Automotive Service Excellence (ASE) H1 and F1 exams.
NGV Maintenance and Diagnostics Training: Heavy-Duty Vehicles covers all natural gas heavy-duty manufacturers' systems, including CNG and LNG, with major emphasis on Cummins ISL G-equipped vehicles. NGV Maintenance and Diagnostics Training: Light-Duty Vehicles covers multiple natural gas light- and medium-duty manufacturers' systems, including Altech-Eco, BAF, Honda, IMPCO, Landi Renzo, Dodge Ram and Westport LD.
NGVi plans to offer at least 12 of these courses in 2014. In-house training is available for companies that need to train 15 or more technicians.
"Both courses were designed according to the stringent requirements for ASE Continuing Automotive Service Education accreditation," noted Annalloyd Thomason, vice president and general manager at NGVi. "Each course went through a rigorous beta test with technicians representing companies the caliber of Agility Fuel Systems, Encana, FedEx Freight, Frito-Lay/PepsiCo, Landi Renzo and Waste Management." Visit www.ngvi.com.
FUEL CELL
FTA Announces $7.7 Million Award to CALSTART to Improve Fuel Cell Bus Technologies
In early September, the Federal Transit Administration announced awards totaling nearly $8 million to CALSTART for four separate projects that are aimed at making zero-emission, low-carbon fuel cell buses more affordable and competitive with diesel buses.
CALSTART has partnered with the FTA since the formation of the National Fuel Cell Bus Program in 2006. Over the period of the program, fuel cell lifetimes in transit operations have more than doubled while costs have declined by 50 percent.
The FTA awards to CALSTART include:
• American Fuel Cell Bus: $2,732,147 to build a next-generation fuel cell bus with the latest fuel cell technology and demonstrate in transit service in the greater Cleveland area for two years. This project builds on the success of the American Fuel Cell Bus project, funded under the National Fuel Cell Bus Program. Project partners and suppliers are Greater Cleveland Regional Transit Authority, Cleveland; ElDorado National, Riverside, Calif.; BAE Systems, Endicott, N.Y.; and Ballard Power Systems, Lowell, Mass.
• Battery-Dominant Fuel Cell Hybrid Bus: $4,251,307 to develop and demonstrate a battery-dominant fuel cell bus based on a commercial hybrid platform, and smaller, less expensive fuel cells. The bus will operate in similar service to the American Fuel Cell Bus, allowing direct comparison. Project partners and suppliers are SunLine Transit Agency, Thousand Palms, Calif.; ElDorado National, Riverside, Calif.; and BAE Systems, Endicott, N.Y.
• Fuel Cell Bus Altoona Testing: $554,316 for testing of an existing fuel cell bus, essential for commercialization of fuel cell electric buses. This project will help develop consistent procedures and guidelines for testing all fuel cell buses. The project partner is National Bus Testing Facility, Altoona, Pa.
• Best Practices in Hydrogen Fueling and Maintenance Facilities: $189,999 to develop a best practices guide for transit agencies in hydrogen fueling and maintenance facilities.
Visit www.calstart.org.
US Hybrid to Build Next-Generation Fuel Cell for Transit Buses
US Hybrid has been awarded a contract to build the next generation of fuel cells for transit buses. The project administered by CALSTART will be funded by the Federal Transit Administration.
US Hybrid is taking over contracts that had been previously awarded to UTC Corp., which sold its fuel cell technology and business in late 2012. US Hybrid, with experience in system design, integration and operation of fuel cell shuttle buses, specialty vehicles, passenger cars and supporting fuel cells with component electronics, will complete the fuel cell power plant development, fabrication and validation at a South Windsor, Conn., facility. Visit www.ushybrid.com.
GREEN EVENTS
Green Truck Summit & The Work Truck Show 2014
March 4-7, 2014
Indianapolis
www.ntea.com
Green Fleets, Electric Vehicles, Hybrid Vehicles, Natural Gas Vehicles, Propane Autogas Vehicles
---
Seth Skydel
Seth Skydel has not set their biography yet
---