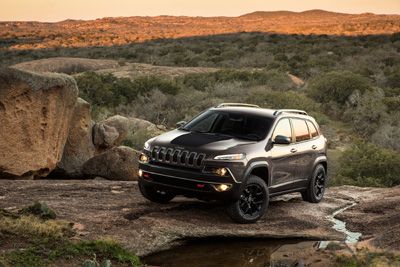 It's hard to imagine a more demanding job site than a battlefield. Beyond combat environments, however, utility operations often top the list when it comes to putting demands on crews and vehicles.
One brand of vehicle that both military and utility personnel may find extremely useful in the field is the Jeep, which – according to the company's slogan – can "go anywhere" and "do anything." Since the early 1940s when the first Willys models were commissioned by the U.S. military, Jeep's product line has grown significantly. For 2017, the company will offer several versions of the Compass, Patriot, Cherokee, Wrangler and Renegade models.
For utilities, Jeeps offer an array of options, including off-road capabilities that can bring crews, tools and equipment to nearly any location. Modern Jeep models also feature advanced technologies that allow them to serve as mobile offices in utilities' increasingly data-driven and interconnected work environment.
The Uconnect phone, for example, is a hands-free voice-recognition communication system that links a Bluetooth wireless phone to a Jeep's audio system. This system delivers a variety of solutions for business use, including GPS navigation with spoken street names as well as real-time geographical and traffic information.
Appealing Options
The appeal of these factory-installed options can be substantial as workforces, including utility crews, increasingly rely on communication and other technologies to streamline job site operations. Equally appealing can be the commercial fleet programs offered by FCA US LLC (www.fcanorthamerica.com) – formerly Chrysler Group – for Jeep and other vehicle brands in its portfolio.
"We fully realize that 95 percent of our customer relationship occurs after the sale," said Jeffrey Kommor, vice president of U.S. sales operations, fleet and small business sales at FCA US LLC. "During that time, fleet managers are primarily focused on maximizing uptime and minimizing operational costs, so we launched a comprehensive preventive maintenance and service solution called the Fleet Preferred Mopar Express Lane program.
"By offering our fleet customers and fleet management companies what they appreciate from aftermarket shops – namely convenience and nationwide pricing – we can now provide a one-stop shop experience for fleets at our dealerships, with service performed by factory-trained technicians using OEM parts," Kommor continued. "Plus, if any warranty work is needed it can be performed at the same time and location as preventive maintenance, something aftermarket shops aren't able to offer."
Introduced by the OEM, Kommor noted, is the Mopar Servicenet invoicing system that enables fleets to have all maintenance and repair order billing from dealerships across the country consolidated in a single monthly invoice. Additionally, the company provides participating fleet management companies with electronic purchase order processing via Auto Integrate, an online maintenance authorization tool.
Also in place to support utility fleets are certified BusinessLink dealers that offer fleet customers priority access with next-bay-open service; extended service hours; a larger inventory of parts subject to heavy job-related wear; job site service in some areas; loaner vehicles at no charge for select vehicles; 24-hour towing to the dealership; and vehicle-use tracking to help control service and maintenance costs.
"Each of these select dealers has a BusinessLink manager whose sole job is to ensure that fleet customers are on the job as much as possible," Kommor said. "For fleet customers, getting vehicles serviced at our dealerships should be like making a pit stop during a race. Our goal is to get them back on the road in record time."
Utility fleets with 15 or fewer vehicles can find more information at www.fcaworkvehiclesus.com/en/. Larger utility fleets can visit www.fcausfleet.com/fleethome/pages/home.html.
About the Author: Seth Skydel has more than 30 years of truck- and automotive-related editorial experience in roles at national business-to-business publications focused on industry trends and issues, vehicle and information technology, and transportation management.
Photo: FCA US LLC
*****
Test-Driven Results
The on-/off-highway capabilities and amenities offered by a modern Jeep were apparent during a weeklong, 1,100-mile test drive of a 2016 Cherokee Trailhawk 4×4.
Powered by a 3.2-liter Pentastar V-6 – rated 272 horsepower with 239 pound-feet of torque and featuring standard engine stop-start technology – the Trailhawk achieved 20.9 mpg over a combination of city and highway driving. Boosting the Trailhawk's efficiency were its TorqueFlite nine-speed automatic transmission with four overdrive ratios and a driveline system that automatically matches performance settings with driving conditions.
On highway, the Trailhawk handled and rode smoothly. Off road, its 4×4 system – Jeep Active Drive Lock – used a power transfer unit and a rear-drive module that automatically engage and disengage depending on driving conditions. They also provide traction as needed.