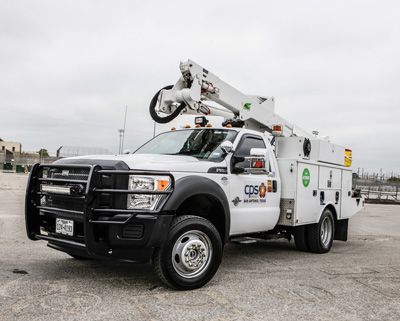 In recent years, the pickup truck market has been considered by many in the utility industry as the "holy grail" for fleet electrification.
That's because pickups comprise the most significant percentage of many utility fleets. So, the more of those trucks you can switch to plug-in electric powertrains – whether all-electric or hybrid – the greater the impact you can make in reducing greenhouse gas emissions.
But the challenge with electrifying pickup trucks has been cost, making it difficult for utility fleets to come up with a compelling business case to invest aggressively in the technology.
That is, until recently. As battery prices continue to plummet and the business case becomes more attractive, some utility fleets are taking a more aggressive stance with their fleet electrification efforts.
Take, for example, San Antonio-based CPS Energy, the nation's largest municipally owned natural gas and electric company.
In April, CPS Energy announced the purchase of 34 plug-in hybrid electric Ford F-150 pickup trucks, which, according to XL (www.xlfleet.com) – a provider of connected vehicle electrification systems for commercial and municipal fleets – represents the largest purchase of plug-in hybrid F-150s by any utility or private company to date and the first in Texas to use the vehicles.
The vehicles are equipped with plug-in hybrid technology by XL, which enables the trucks to run on both gasoline and electric power. In addition to plug-in charging capabilities, the XL technology also uses regenerative braking during deceleration to charge the battery pack and electric assist during acceleration to increase fuel economy.
"Aside from cutting emissions, these vehicles will improve fuel economy and reduce costs – a big win for our community," said John Courage, San Antonio District 9 councilman, in the CPS Energy press release announcing the truck purchases. "Investing in cleaner vehicles and seeking new green technologies are critical to improving air quality in San Antonio."
So, what expectations does CPS Energy have for these new vehicles? What fleet applications will they be used for? And how do the trucks fit within the utility's overall green fleet initiatives?
UFP spoke with Fred Bonewell, chief safety and security officer for CPS Energy, to learn more.
Lower Costs, Cleaner Environment
The 34 new hybrid pickups bring the utility's total electrified fleet to 50 vehicles; this number also includes sedans and bucket trucks. And although 50 vehicles are a small percentage of the fleet's 2,000 assets to date, they represent the company's increasing commitment to building a greener fleet, Bonewell said.
"We've adopted a mindset at CPS Energy that we want to be leaders in a lot of different areas, and fleet electrification is one of them," he explained. "It's not anything we take lightly, so we didn't take a soft-shoe approach with this recent investment. This was a hard step in the right direction, and it's going to be one of many steps we are going to take toward this initiative to get to a greener fleet."
What fleet applications are the new hybrid pickup trucks being used for?
"Those trucks are spread out among our organization to include facilities, and our distribution and transmission engineering departments," Bonewell said. "And some of the trucks will be driven by our safety and security team."
Bonewell said the utility expects the new hybrid trucks to offer more than 50 percent better fuel economy and a comparable reduction in emissions over similar standard vehicles.
The impact?
CPS Energy estimates that the new trucks will yield a reduction of 7.75 tons in NOx emissions and 58.7 tons of CO2 emissions.
"And this is just the beginning," Bonewell said. "One-third of our fleet is made up of bucket trucks. So, as we get more bucket trucks that operate with electric booms, the fleetwide cost savings and emissions reductions numbers will really become impressive."
As of press time, CPS Energy owns three bucket trucks with electric-powered booms used for trouble truck applications.
"We have bucket trucks that are 17 years old, so we still need to do a lot more to bring to our fleet cleaner types of fuel options because our environment is doing nothing but deteriorating as we speak," Bonewell said. "As a utility company – and fleet – we can help do something about that."
And the fleet industry has taken notice of CPS Energy's commitment to fleet sustainability, among the utility's other fleet initiatives. At the NAFA Institute & Expo in April, for example, CPS Energy learned that it had made the list of The 100 Best Fleets in the Americas for 2018, ranking 24th out of 38,000 public fleets in North America.
Electrification to Drive Safety
Bonewell also said that there's a safety component behind the business case for fleet electrification that is important to CPS Energy.
"Even if you take out the carbon emissions piece and the fuel-savings factor, you've still eliminated a significant element related to risk exposure – the potential for fire," he said. "That's because, especially with bucket trucks, when you take out having to run an engine to operate the boom, you've significantly reduced your risk factor from a flammability perspective. And that's especially the case when you can remove the hydraulics from the boom. I've been in this industry for a long time and witnessed a couple of different accidents in my career – not here at CPS Energy – where the hydraulic fluid became electrified and resulted in a fire that was catastrophic. When you think about it, when a truck catches on fire, it doesn't just expose the operator to risk, it can put the public at large in harm's way, too."
The Bottom Line
While the business case for truck electrification has become more compelling, the primary driver for CPS Energy's recent hybrid truck purchases is to demonstrate to the San Antonio community that the utility is committed to a cleaner environment.
"We really wanted to show, at a leadership level in our community and in the utility industry, that we care about the environment," Bonewell said. "That's first and foremost – that we'll do everything we can to help improve the climate in which we live in here in San Antonio."