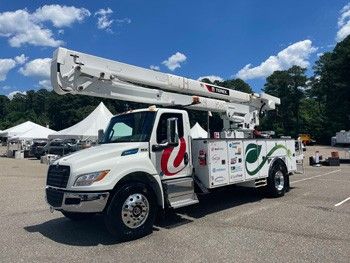 Terex Utilities Names First 9 Utilities to Order New All-Electric Bucket Truck
Terex Utilities recently introduced the industry's first all-electric bucket truck at the Electric Utility Fleet Managers Conference in Williamsburg, Virginia. In addition, the company has also announced the first nine customers who will receive these new Terex Optima 55-foot aerial devices, powered by the HyPower SmartPTO by Viatec and mounted on an International Class 6/7 medium-duty electric chassis.
"Xcel Energy, which provides power to millions of homes and businesses across eight Western and Midwestern states, will take delivery of the first unit later this month," said Joe Caywood, director of marketing and product management.
Nine utilities of all sizes, representing investor-owned and municipal utilities from across the U.S. and Canada, made early commitments with orders prior to EUFMC. The first 10 units will be delivered in 2022. The other utilities receiving units are Oncor Electric Co.; Central Hudson Gas & Electric; CenterPoint Energy; PNM Resources; Los Angeles Department of Water and Power; Con Edison; San Diego Gas & Electric; and SaskPower. www.terex.com/utilities/en/products/terex-green-solutions/terex-ev
---
Kate Wade
Kate Wade has not set their biography yet
---