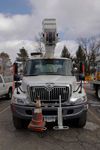 Worthwhile Investment
"Like many utility fleets, we have gone down the rebuilding path before and then moved away from it," said Al Mascaro, fleet manager at Connecticut Light & Power Co. "Today, however, several key factors caused us to rethink our aerial replacement practices.
"There were economic and financial issues," Mascaro continued, "such as the higher cost of new equipment and the relatively low residual value of used units. There were also changes in technology that have significantly improved equipment longevity and durability, including truck chassis and bodies that are favorable for rebuilding."
Last, but certainly not least, Mascaro added, "We have the talent, tools and facilities to rebuild trucks and aerials in-house for less than half the cost of purchasing new equipment. The bottom line is that from operational and maintenance standpoints, we can have a boom going out that is better than when it came in."
When the decision was made to embark on an in-house aerial rebuilding program at CL&P, Mascaro, a 32-year veteran of the utility, turned to the fleet's highly qualified management personnel. Heading up the effort are Ronald Henne, transportation supervisor – Central Services, who has more than 33 years of fleet work experience, including 28 years at CL&P and 23 years as a supervisor, and Jack Deen, transportation supervisor – Aerial Overhaul Program, who joined the company after retiring from the U.S. Navy and has additional experience at Cummins and truck stop service facilities.
Selling Points
"One of the biggest selling points for this program," Henne said, "is that we can rebuild aerials to reflect the latest designs and technologies. Everything manufacturers have developed and changed over time can be applied to the rebuilt units, from the turret to the bucket."
The same philosophy, Mascaro noted, is applicable to the trucks' chassis and stainless steel bodies. "We looked at our maintenance costs for a bucket truck in our fleet, which has a typical life cycle of 10 years, and realized we weren't spending a lot of money on major components," he said.
"Our specs and spending up front were designed for longevity, but we weren't keeping trucks in service for a longer time," Mascaro related. "With this program, we're extending a 10-year life cycle to 17 years, which also frees up capital for customer reliability projects."
The CL&P chassis in the rebuilding program are International 4400 models with DT466 engines and Allison automatic transmissions. Deen noted that to date, of the 61 trucks that have received rebuilt aerials, fewer than 20 percent – or about 10 to 12 units – have required powertrain rebuilds.
Partnership
Aerial equipment makers involved in the CL&P rebuilding program include Holan, Lift-All, Terex and Altec. "We work closely with suppliers and manufacturers to maintain a sufficient inventory of parts to support the rebuild program," Deen said. "This partnership facilitates long-range planning and ordering of supplies before a truck is scheduled to be rebuilt."
According to Deen and Henne, one challenging part of the process has been to stay ahead of changes among manufacturers, particularly aerial equipment companies that have merged or been bought out. "That is an ongoing issue, particularly for inventory control and engineering support," Henne stated.
"Manufacturers are also key to making sure our technicians have the skills necessary to support the rebuild program," Deen added. "Our suppliers helped technicians develop those additional skills through on-the-job training, including specialized skills associated with the aerial rebuilds which are done in-house, such as machining bushings from raw stock, custom fabrication of hydraulic hoses and rebuilding hydraulic cylinders."
For completed rebuilt units, dielectric testing is handled for CL&P by Diversified Inspections/ITL, which is the same outside service provider that certifies the company's aerials on a regular basis. In addition to dielectric testing, rebuilt units also have an acoustic emissions test performed in-house prior to being returned to service.
Under Mascaro's direction, the CL&P fleet includes approximately 300 bucket trucks, 50 digger derricks, 500 Class 2 pickups and vans, 12 tractor-trailers, and a range of specialty and heavy equipment such as cranes and bulldozers. Specifications and purchases are handled by the Corporate Transportation operation headed up by Ron Thresher, manager at Northeast Utilities, CL&P's parent company. The CL&P fleet is maintained by 80 technicians at 16 shops across Connecticut.
Exceeding Expectations
"There are always changes that can adversely affect equipment reliability," Mascaro stated, "but we're keeping tabs on every facet of our rebuilding program, and we are confident that it's meeting and exceeding our expectations in every way. That not only includes financially, but in other very important ways as well.
"We could have outsourced this process very easily, and the numbers were very good either way," Mascaro continued, "but we feel that performing this work in-house contributes to the program's success. We have full faith in the skill of our staff, and our lineworkers feel the same way.
"Their confidence in this program was especially apparent this past January when we dispatched crews to help with storm restoration work in another state," Mascaro concluded. "While the company selected the crews that would go out of state, the lineworkers chose the vehicles to take, and among them were two units from our rebuilding program."
CL&P Truck Specifications
Model: International 4400
Wheelbase: 175 inches
Body: Reading ZAT148ADW Utility Body
Engine: International DT466 HT, 250 HP at 2300 rpm
Transmission: Allison MD3060P
Front Axle and Suspension: 12,000-pound leaf spring
Power Steering: TRW
Rear Axle and Suspension: 23,000-pound leaf spring
Brakes: Air
Wheels: 22.5-by-8.25 steel disc
Tires: 11R22.5 Michelin XZE
About CL&P: Formed in 1917, Connecticut Light & Power Co. is the state's largest electric utility. Serving 1.2 million customers in 149 cities and towns, the company has a service area bordered by New York, Massachusetts and Rhode Island covering about 4,400 square miles. CL&P's transmission network includes 1,625 miles of overhead transmission lines, 403 miles of underground cables and 19 substations. Its distribution network has 18,375 miles of overhead lines, 1,154 miles of underground lines and 212 substations.
CL&P is part of Northeast Utilities, New England's largest utility system serving more than 3.6 million electric and natural gas customers in Connecticut, Massachusetts and New Hampshire. Sister companies include NSTAR Electric, Public Service of New Hampshire, Western Massachusetts Electric Co., Hopkinton LNG Corp., NSTAR Gas and Yankee Gas Services Co.
About the Author: Seth Skydel has more than 28 years of truck- and automotive-related publication experience. In his career, he has held editorial roles at numerous national business-to-business publications focusing on fleet and transportation management, vehicle and information technology, and industry trends and issues.
Management, Fleet Profiles, Vehicle Specifications
---
Seth Skydel
Seth Skydel has not set their biography yet
---