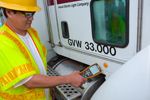 Reducing Costs
While independent electric grids power each of the Hawaiian Islands, servicing all of those grids is the responsibility of the Hawaiian Electric Co., which serves 95 percent of the state's 1.4 million residents. Hawaiian Electric's subsidiary Hawai'i Electric Light serves more than 80,000 customers on Hawai'i Island, the chain's biggest island at more than 4,000 square miles.
The challenges that Hawai'i Electric Light face are unique, said Kelvin Kohatsu, fleet administrator. "Our terrain ranges from tropical growth on the east side, to desert-like conditions on the west side, to freezing temperatures atop Mauna Kea mountain," he said. "To serve the people who live and work in that vast and diverse terrain, we have a distribution system comprised of more than 3,300 miles of overhead distribution lines, more than 780 miles of underground distribution lines and 641 miles of overhead transmission lines.
"We operate a wide range of more than 300 vehicles and pieces of equipment," Kohatsu said. "Due to our location, we focus very closely on uptime and product support, along with traditional metrics like life-cycle costs, and on safety and ergonomics. Every week, we generate a report on uptime percentage, costs for fuel, tires, repairs, maintenance and inspections, and damage and accident costs. With this information, we can determine the best equipment to purchase for longevity, not to mention operator acceptance and safety."
Employee Safety
The large service area, diverse terrain, and variable weather make maintaining infrastructure and reliability a challenge, but safety is Hawai'i Electric Light's top priority. Drivers log 1.7 million miles on the road annually. Crews can work in distant, remote areas, and some employees work alone.
Proven Support
The equipment and vehicles used by Hawai'i Electric Light have the best product support in Hawai'i, which keeps the fleet's uptime consistently between 96 and 98 percent, according to Kohatsu. Major suppliers include Kenworth for Class 7 T370 and Class 8 T800 trucks, Dodge for Class 3 and 5 trucks equipped with service bodies, and Altec aerial devices and digger derricks. Also in the fleet are a mix of Nissan, Toyota, Dodge and Ford sedans, pickups, vans and SUVs, along with trailers, forklifts, golf carts, sweepers and stationary equipment.
All diesel-fueled vehicles at Hawai'i Electric Light run on biodiesel; nearly all use B20 with the rest on B100. The fleet also includes light hybrid vehicles, electric-powered Nissan LEAFs, plug-in hybrid electric Toyota Priuses and a Class 7 Kenworth T370 diesel-electric hybrid truck, the first of its kind in the state. Spec'd as well are Altec JEMS 48 AT37G aerial units.
"We've standardized in many cases to enhance the ability to maintain equipment and streamline product support," Kohatsu said. "While we've ascertained that the systems we have in place work very well for us, we continue to evaluate new systems and components and ask other fleets about their experiences.
"At the vehicle and equipment level, we've been fortunate that manufacturers have involved us in some of their product development and in the testing and evaluation stages before production release," Kohatsu said. "For example, we added a new Altec HiLine AH151 Model aerial on a Kenworth T800, along with a digger derrick with a rear-mounted spool handler that can be driven loaded."
Key Focus
Fuel economy is key to improving the efficiency of the Hawai'i Electric Light fleet. "After installing a telematics system in 2008, we reduced our diesel fuel consumption by more than 22,000 gallons in the first six months compared to the same time period one year earlier," Kohatsu said. "We were essentially traveling the same number of miles, but we were seeing a huge reduction in fuel use from better routing and less idling."
By 2009, telematics systems were installed on all trucks in the fleet. In 2012, the company switched to Zonar's telematics system and also began using its electronic vehicle inspection reporting (EVIR) application. "After the Zonar telematics equipment was installed, we realized a further reduction in diesel fuel consumption of about 18,000 gallons," Kohatsu said. "Combined with the 22,000-gallon reduction from 2008 to 2009, fuel savings totaled more than 40,000 gallons even though the fleet's annual mileage stayed constant at about 1.7 million miles annually."
Telematics also is helping Hawai'i Electric Light improve safety. "With telematics, we can better monitor equipment – a feature that is critical for the safety of employees who work alone in remote locations," Kohatsu said. "Telematics also results in safer driving practices because it gives us a much higher degree of transparency in our fleet operations.
"We can now monitor behaviors and correct those that are costly," Kohatsu said. "For example, drivers aren't driving as fast, and when they stop at company offices or job sites, they turn off the engine instead of leaving it idling. It's clear to me that telematics strongly influences driver behavior. You can't hold drivers accountable and change their behaviors without an objective way to measure their performance."
Effective Tool
Zonar's EVIR system has also proven to be an effective tool for Hawai'i Electric Light's maintenance operation.
Kohatsu believes drivers must complete pre- and post-inspection reports fully and consistently to effectively limit downtime and keep costs low. "Zonar's EVIR holds drivers accountable since it tracks when they did their inspections and how long it took them," he said.
Using Zonar's EVIR inspection tool, Hawai'i Electric Light's drivers conduct inspections by placing a reader within inches of radio-frequency identification tags that are placed on equipment in critical inspection zones. The tags contain information about their location on the unit, the components to be inspected, and the identity of the vehicle or piece of equipment.
Using the reader, drivers indicate the condition of the components within each zone. When a defect is discovered, the driver selects a description from a predefined list and indicates whether the equipment is safe to operate. When the inspection is complete, drivers place the hand-held unit into the EVIR mount inside the cab. Zonar's telematics platform then wirelessly transmits inspection data and remote diagnostic information to a Web-based ground traffic control data management application.
Ensuring Compliance
At Hawai'i Electric Light, the Zonar data is integrated into FleetFocus, a maintenance management system supplied by AssetWorks. This integration generates service requests automatically and transmits them by email through the FleetFocus portal to Hawai'i Electric Light's maintenance vendors, Kohatsu said. Once repairs are performed and marked complete in FleetFocus, they are automatically uploaded to the Web-based management application, indicating to dispatchers that the vehicle is in full compliance for operation and can return to service.
"The integration of Zonar and AssetWorks has made the generation of work orders resulting from driver-identified defects or vehicle sensors seamless," Kohatsu said. "As a result, along with effective specifications, our uptime has increased and our life-cycle costs have dropped. Most important, we have a safer fleet operation."
Hawai'i Electric Light Class 7 and 8 Truck Specifications
Models: Kenworth T370 and T800
Engine: PACCAR
Transmissions: Allison; Eaton UltraShift PLUS
Front Axle: Dana Spicer
Power Steering: TRW
Rear Axle and Suspension: Dana Spicer; Reyco; Chalmers
Brakes: Bendix air disc
Wheels: Alcoa aluminum; Accuride steel
Tires: Michelin
About the Author: Seth Skydel has more than 29 years of truck- and automotive-related publication experience. In his career, he has held editorial roles at numerous national business-to-business publications focusing on fleet and transportation management, vehicle and information technology, and industry trends and issues.
Fleet Profiles, Telematics, Fleet Safety, Management
---
Seth Skydel
Seth Skydel has not set their biography yet
---