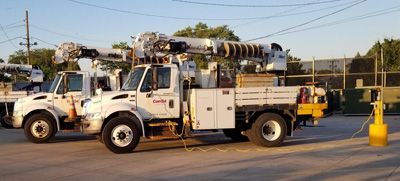 Winters in the northern latitudes can be brutal. A utility fleet's winter preparedness plan for the maintenance shop can improve safety for its technicians and helps to ensure that fleet equipment is ready to go when needed.
UFP spoke with Les Faul, operations manager with Commonwealth Edison Co., to find out how the Chicago-based utility has kept its 22 maintenance shops operating during winter. This was the second of two recent UFP interviews with Faul about utility operations. Visit https://utilityfleetprofessional.com/departments/fleet-profiles/the-low-hanging-fruit-for-greening-your-fleet for a discussion of biofuels.
UFP: What does winterizing a maintenance facility entail?
Les Faul: There are a few things that we do. Beginning in October, we have a winter preparedness plan that assigns certain corrective actions to different organizations. In the shop, we increase our stock of high consumables, such as snow brushes, scrapers, wiper blades, filters – those winter items.
All of our trucks have block heaters, of course. We store the power cords inside during the summer, and part of our winter preparedness plan is getting those cords back out on the stanchions, usually around the November time frame. We let our line organization know that the cords have been placed out there, and we start reminding them to start plugging in their block heaters at the end of the shift. A vehicle that's been plugged in overnight with the block heater and has warm oil and fluids starts a whole lot easier. [That way] we're not impacting the shop with a lot of jump-starts and [that] allows [mechanics] to get to the repairs that are a lot more critical.
The safety of our mechanics is of utmost importance. We work with [the facilities department] to ensure that salt bins are placed in all doors so that we can address any icing issues immediately instead of waiting for a salt crew to come out. We also make sure that we have rugs and/or mats to be able to scrape off snow so that you're not walking into a shop with snow on your shoes and stepping onto a slick surface. Facilities also will come through and check our heaters to make sure that's all working.
It's really important that we take care of the resources that are taking care of the vehicles and line crews. So, we want to make sure the mechanics have access to all the winter gear that they need. We'll go through our winter preparedness [plan] and ask the mechanics if there is any winter gear that they're missing so we can order it before winter hits.
Do you make any changes to PMs or staffing?
We don't change assignments in the bays and where the work gets done. Our shop crews are staffed primarily [so] that our day-shift focus is there to support getting the vehicles out, taking care of emergent repairs as well as other maintenance. But the bulk of our resources, our mechanic resources, are on the afternoon and evening shifts. Some of our shops and locations are relatively small. If there is any change, it is that, depending on the weather, [if] extreme lows are forecasted – anything under 10 degrees – we may adjust our shift to bring on two of the night guys on the days to ensure we have enough resources to get out and take care of any starting issues that may present themselves.
We don't do anything special as far as [preventive maintenance] schedules. We just make sure the workload is balanced throughout the year.
How do you handle lubes and fuels, such as diesel exhaust fluid, during winter? DEF begins crystallizing at about 10 degrees Fahrenheit.
Lubes are pretty standard. We don't have any issues there. We are running synthetic oils in all of our equipment based on the duty cycles. It helps in the cold for starting purposes. But for us, it's more being able to have our duty cycles where we wanted them, to put our PMs where we needed them.
We've got six sites with bulk DEF. Those are self-contained units on the fuel islands. They're insulated for heat and for sunlight, and they are heated in the wintertime. For the bulk totes and consumable jugs of DEF, we store those indoors year-round.
About the Author: Jim Galligan has extensive experience covering the commercial truck transportation and utility fleet sectors.
*****
Winter Reminders for DEF
Diesel exhaust fluid, required in all diesel engines that utilize selective catalytic reduction (SCR) systems, requires some attention during winter.
DEF will begin to crystallize and freeze at 12 degrees Fahrenheit (-11 degrees Celsius). If you're going to store DEF outside during winter, store it in a heated unit and out of sunlight since sunlight can degrade the product.
In the truck, SCR systems are designed to provide heating for the DEF tank and supply lines. If DEF freezes when the vehicle is shut down, start-up and normal operation of the vehicle will not be inhibited, according to Cummins (www.cummins.com). The SCR heating system is designed to quickly return the DEF to liquid form.
Anti-gelling and freeze-point improvers are not approved for use in DEF. Commercial DEF's solution of 32.5% urea and 67.5% deionized water is the most effective ratio for reducing oxides of nitrogen emissions while also providing the lowest freeze point, according to Cummins. Any blending or adjusting of the mixture will impede the ability of the SCR to perform correctly and may cause damage to its components.
DEF expands by approximately 7% when frozen, but commercial DEF packaging and tanks are designed to allow for expansion.