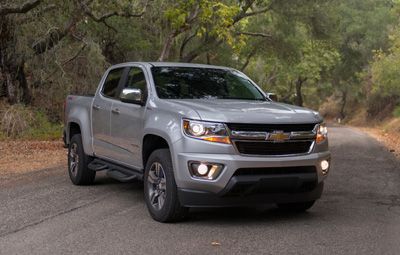 Which engine – gasoline or diesel – is best for light-duty vehicles? The age-old answer is, of course, it depends. It depends on annual mileage, fuel economy, purchase price, expected lifespan, fuel costs, maintenance and more; a whole assortment of considerations specific to the fleet.
Those considerations still drive the fleet's decision tree, but recent advancements in the engines, oils, fuels, maintenance support and even onboard performance data have given fleet buyers more means to find the best power choice.
Take lifespan, for example. Advancements in equipment durability and manufacturing processes combined with higher-quality fuel and oil are pushing out the average lifespans of gasoline engines, said George Survant, senior director of fleet relations for NTEA – The Association for the Work Truck Industry (www.ntea.com) and a former utility fleet executive.
"Ten, even five years ago, fleets would turn in their gasoline-powered truck at about seven years and 70,000 miles," Survant said. "Now, I wouldn't consider turning it in under 150,000 miles."
Fuel economy is another example. The newer non-hybrid gasoline engines with single or dual turbos, less weight and multispeed (6-, 8- and 10-speed) transmissions have narrowed the traditional fuel economy gap with diesels, with some spark-ignition units getting ratings of 18 mpg in the city and 22 on the highway. Power ratings are up, too. Ford's 2017 3.5-liter V-6 EcoBoost rates a beefy 470 pound-feet of torque.
King of the Hill
That's good news for fleets partial to gasoline, but diesels are still king of the hill when it comes to fuel economy and durability. Ram's 1500 HFE powered by the 3-liter V-6 EcoDiesel offers 21 city/29 highway mpg ratings, while Chevrolet's quarter-ton Colorado with a 2.8-liter 4-cylinder Duramax diesel comes in at 22 city/30 highway. Also, diesels still will give a fleet upward of a quarter-million miles, and with their entrance into the light-duty pickup sector, they're giving fleet managers new options for durability, power and towing capacity unknown just a few years ago.
Diesel fuel still costs more per gallon than gasoline, but the overall drop in fuel and oil prices has made that either/or decision less of a factor than in the past. Further, unlike their medium- and heavy-duty brothers, light-duty diesels use the simpler, less expensive cooled exhaust gas recirculation process to control emissions.
Yes, diesels still come with a price premium over standard gasoline engines, but so do the newer eco engines. Ford's 3.5-liter EcoBoost will add almost $2,600 to the MSRP over the company's standard V-6, depending on specs.
Even with diesel's benefits in those areas, it generally continues to be plagued by its history as a power plant that required more service, smelled and was more expensive, Survant noted. "Despite the improvements manufacturers have made in the engines and emissions, some fleets still opt for gasoline power plants because they believe diesels would leave the public with a poor impression of the company," he said.
Not only do today's utility fleet managers have many more engine options than they did just a few years ago, they also have access to more operational data to help them make the gasoline-or-diesel decision. Whether, or how, they use that information is critical to getting the best value out of their engine choice, Survant said.
"We're seeing a lot better use of data in fleet decisions than even five years ago," he said. "For example, fleets are using data to look at the lifetime cost of their power plants instead of simply pricing fleet purchases based on annual mileage. There's a growing recognition that the ability to make decisions based on data is a skill for fleet leaders. As more and more people come into those roles with those skills, that will separate good fleets and well-run fleets from everyone else."
About the Author: Jim Galligan has been covering the commercial truck transportation sector for more than 30 years and has extensive experience covering the utility fleet market. In addition to writing and editing for magazines, his background also includes writing for daily newspapers, trade associations and corporations.
*****
Buyer Trends Shifting Gasoline, Diesel Shares
Gasoline and diesel engines shares in light-duty commercial trucks appear to be shifting as gasoline engine use grows in Class 4, while the availability of diesels in quarter- and half-ton pickups may boost that power plant's share in Class 1 commercial vehicles, according to data from IHS Markit (https://ihsmarkit.com/) for Utility Fleet Professional.
Diesel use in Class 1C is practically nil and still lost ground last year. New commercial vehicle registrations fell to 6,535 units in 2016 from just over 23,000 in 2014. However, with both Ram and General Motors (Chevrolet/GMC) now offering diesels in their light-duty pickups, and Ford's announcement that it would offer a diesel in the 2018 F-150, those Class 1 diesel numbers may grow significantly.
In Class 4, gasoline's share of new vehicle registrations jumped nearly 44 percent in 2016 from 2015 to account for 70 percent of that market. The growth likely was due to the latest offerings of more powerful and economical engines. Diesel sales dropped about 11 percent, and flexible fuel engine sales fell approximately 12 percent, according to IHS Markit.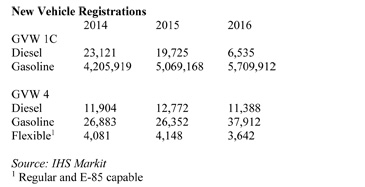 *****
Utility Fleets Increasing Efficiencies
More than half of the utility/telecom fleets responding to a recent survey are changing their vehicle specs in an effort to improve fuel economy or reduce vehicle utilization, according to NTEA – The Association for the Work Truck Industry.
In its "2017 Fleet Purchasing Outlook," NTEA said 56 percent of utility/telecom fleets responded in the affirmative when asked if they were receptive to changing conventional truck specs to achieve greater efficiencies.
The four most common fuel-saving strategies employed by fleets across multiple sectors (construction, delivery/cartage, government/municipal, utility/telecom and other) were driver training and monitoring, telematics and route optimization, improved aerodynamics and truck systems electrification, NTEA said.
NTEA surveyed 200 fleet executives, of which about 15 percent were from utility/telecom fleets.