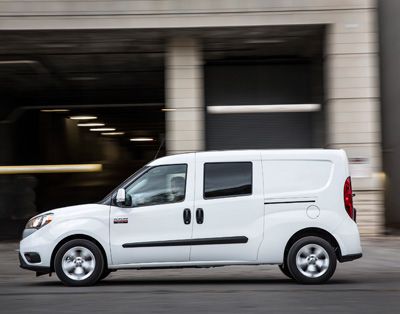 Compact Cargo Vans Find a Home in Cities
Since their introduction to the U.S. market, the small size and maneuverability of compact cargo vans (CCV) have made them appealing options for utility and telecom fleets serving customers in congested city environments.
CCVs were popular options in European and Asian cities before rolling into the United States in 2010, when Ford introduced the Transit Connect. Nissan followed with the 2013 model year NV200, and Ram introduced the ProMaster City in the 2015 model year.
These smaller versions of the manufacturers' full-size vans give fleet operators a low-cost entry vehicle option in select, well-defined applications, such as for technicians and service personnel and light cargo.
Charter Communications, the second-largest cable operator in the U.S., has about 22,000 vans in its fleet, 1,000 of which are CCVs. The company uses them in cities – 600 in New York City alone – for their size and maneuverability, said Michael Cullen, Charter's director of fleet management.
CCV use is limited because most cable and telecom operations still need the capacity of full-size vans to handle today's equipment, but that may change as the market shifts away from set-top boxes to smaller technologies, Cullen noted. That would dramatically change how much space cable companies need in their vans and may drive a shift to compact vans.
"I suspect, over the long haul, you may see cable companies move to that vehicle, but we're probably a few years from that," Cullen said.
A Downsizing Trend
Nationwide, there does appear to be a downsizing trend by full-size van users as urban environments become denser and fleets find more specific applications for the vans, said David Sowers, head of Ram Commercial Trucks.
"I don't see large fleets switching over [to CCVs] 100 percent. But what we do see is a growing mixed-fleet environment. [Fleets] are adding smaller Class 1 vans on a mission-specific or geographic-specific basis," Sowers said. In these cases, fleets may use the compact vans for service and/or maintenance in light residential applications while keeping the full-size vans for larger, industrial applications.
"We are seeing guys moving out of Class 2 into Class 1 primarily in urban environments. That's where they'll get most of the benefits out of these vans – in cities," he said.
Baltimore Gas and Electric counts 14 Transit Connect vans among the 208 vans in its fleet, said America Lesh, fleet manager at the utility. Those 14 are split between BGE's Leak Survey and Corrosion and Meter Services groups.
"These vans are used to drive and work in Baltimore city, where the departments like using them due to tight spaces and alleys," Lesh said.
"The Transit [Connect] compact vans in general have seen increased interest from fleets that are working in increasingly congested cities/urban environments," said Dawn McKenzie, product communications manager with Ford. Customers also have expressed interest in plug-in, battery and hybrid electric CCV models, she said.
Another benefit to CCV use in cities is that their size and maneuverability make them easier to drive and that, in turn, may lead to lower repair and maintenance costs due to fewer bumps, dings and dents. "It helps when you have a vehicle that's easily maneuverable," Sowers said.
While CCVs appear to have a limited role in utility and telecom operations today, they do fulfill a niche, and fleets are exploring ways to take advantage of their city-friendly qualities.
About the Author: Jim Galligan has extensive experience covering the commercial truck transportation and utility fleet sectors.
*****
For Small Vans, Pick Your Options
The compact cargo van segment has found its most popular uses in urban settings where the vans' size and ease of use can provide distinct advantages over their larger, full-size siblings when maneuvering around congested, narrow streets.
As with any other purchase, finding a vehicle that fits the fleet's needs requires trade-offs. Are you looking for cargo capacity, fuel economy, maneuverability or something else? The Ford Transit Connect (TC), Nissan NV200 (NV) and Ram ProMaster City (PMC) can claim best in class in one spec or another. Here are some basic numbers to get you started1.
Price: The manufactured suggested retail prices for base models are $21,900 for the NV, $23,215 for the TC and $23,995 for the PMC.
Models: All manufacturers offer multiple trim levels, but Ford is the only one that offers two wheelbase lengths with the XL (104.8 inches) and XLT (120.6 inches).
Capacities: The NV can claim best overall fuel economy with a 25-mpg combined city/highway rating compared with 24 mpg for the PMC and 23 mpg for the TC. The NV also claims the best warranty coverage with five years/100,000 miles for both basic and powertrain. The TC and PMC offer three years/36,000 miles basic and five years/60,000 miles powertrain warranties.
For standard cargo capacity and payload, the PMC tops the class with 131.7 cubic feet of space and 1,886 pounds of payload. The NV offers 122 cubic feet/1,480 pounds, and the TC offers 103.9 cubic feet/1,490 pounds (short wheelbase) and 128.6 cubic feet/1,610 pounds (long wheelbase).
If maneuverability is paramount, the short-wheelbase TC has a curb-to-curb turning radius of 36.1 feet compared with 36.7 feet for the NV and 42 feet for the PMC.
1. Base model configurations.