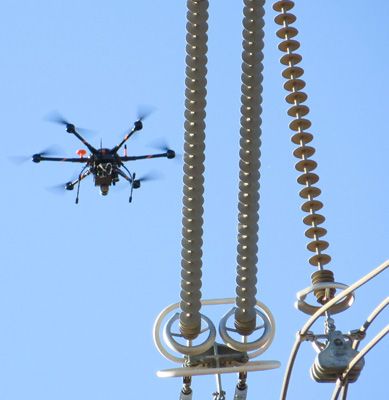 The Future of Drones in the Utility Market
Darting about inside one of Consolidated Edison's 10-story steam boilers in Manhattan, the unmanned aerial vehicle (UAV) looks like a hobbyist's dream, a multirotor mini-helicopter outfitted with a megapixel camera mounted inside a gyroscopically balanced geodesic sphere. But don't look for it at your local hobby store. It's a custom-built UAV – also known as a drone – that ConEd's engineers are testing as they explore the potential benefits of this new and growing technology.
To say that utility executives are excited about the possible uses of drones is a significant understatement. Most utilities are exploring the possibilities at one level or another, said Chris McMurtry, solutions architect with Sharper Shape (http://sharpershape.com), a supplier of UAV services for utilities. "Of the major utilities, probably 80 percent have some sort of drone initiatives going right now, and almost all [utilities] have put in a lot of hours thinking about this," he said.
The most common use to date has been to provide safer and more economical inspections of transmission and distribution infrastructure.
When inspecting a tower or other vertical infrastructure that's within sight, "a drone will beat just about any other method you've got, whether it's a bucket truck, binoculars, helicopter or climbing that asset," said Dexter Lewis, senior research engineer with Southern Company Services. "It doesn't matter how big the structure, that use case will probably return value." Southern Co. is the parent of several utilities.
But the potential of UAVs goes well beyond that.
"We're beginning to look at applications for storm recovery and damage assessment," said Margarett Jolly, director of research and development at ConEd. "The aspect that is interesting is creating visualization technology that will make damage assessments more accurate. It will help make our recovery process quicker and more efficient."
ConEd's boiler drone has the potential to eliminate the need to build scaffolding for inspectors inside the tall structures, thus saving time and money, and reducing the possibility of accidents, said Jade Wong, project manager of research and development with ConEd.
"Gone are the days when we have to send someone into a manhole or climb a tower," she said.
ConEd continues to test other applications, but they plan to implement the automatic inspection of transmission towers using the drone program in 2018, Jolly said.
While the potential uses of UAVs may carry a big wow factor, enthusiasm is currently held in check by regulations, as well as finding the applications that make the most business sense. (For more, see the "Regulations Create Obstacles to Wider UAV Use" sidebar below.)
Without waivers from the Federal Aviation Administration, commercial drones cannot be flown beyond the operator's visual line of sight (BVLOS), at night or over people, among other restrictions.
When inspecting towers without a BVLOS waiver, a utility has to look at which solution makes the most sense, Lewis said. The more towers or the greater the distance that has to be covered, the more the business case may shift to favor a more traditional option, or an outside service.
The Hidden-Cost Hurdle
Drones are plentiful and relatively cheap. A Phantom 4 Pro with a 20-megapixel camera from DJI (www.dji.com), the world's largest consumer drone manufacturer, has an online retail list price starting from $1,499. The real financial considerations come into play when utilities look at what data they want to collect and what to do with it, according to Michael Hartnack, an analyst with Navigant Research (www.navigantresearch.com).
"It's more than just buying a drone," he said. "You need a system to aggregate the data and integrate them into the utility's infrastructure. That can be very expensive."
"Right now, I don't think many utilities want to take it all on themselves," said Ed Hine, director of drone capability development for HAZON Solutions (http://hazonsolutions.com). "They want a hybrid model. Down the road … I expect some companies will continue to contract it out, but I see other companies taking on their own capability as systems will get a lot more automated."
Most utilities are still feeling their way along, McMurtry said. "As this shakes out and drone technologies and regulations become more simplified, a lot of work will be done in-house, particularly visual inspections. But when doing infrared or [radar], it's a different level of difficulty and I think utilities will outsource most of those activities."
About the Author: Jim Galligan has been covering the commercial truck transportation sector for more than 30 years and has extensive experience covering the utility fleet market. In addition to writing and editing for magazines, his background also includes writing for daily newspapers, trade associations and corporations.
*****
Regulations Create Obstacles to Wider UAV Use
Although the Federal Aviation Administration last August relaxed the regulations covering commercial UAVs, there still are regulatory hurdles utilities must clear to realize more of the potential benefits of drones.
The most significant, industry experts said, is the requirement that drones cannot fly beyond the operator's visual line of sight (BVLOS). That severely limits the value case for using drones where they could be most beneficial – when inspecting infrastructure in rural areas or over long distances. Among other restrictions, commercial drones currently cannot be operated at night or above people, both of which effectively prevent widespread use for assessing storm damage.
Businesses can apply for a waiver of these regulations, but so far only a few have been granted and none to utilities, according to Chris Hickling, director of government relations for Edison Electric Institute (www.eei.org).
As of mid-July of this year, the FAA had received 5,037 waiver applications, approximately 70 percent of which were for nighttime flights and 18 percent that involved BVLOS flights, an agency spokesman said. The FAA does not break those numbers down into business sectors.
Notably, EEI has applied to the FAA for a blanket BVLOS waiver that would cover many utilities, but the association has not yet received approval.
"We're in the middle ground; we haven't gotten a yes or no," Hickling said.
Matt Dunlevy, CEO of SkySkopes (http://skyskopes.com), an inspection and data-collection services company, said the reason for the delays in granting waivers or opening up the skies to wider commercial use is essentially due to the absence of airworthiness standards for drones.
"There is no method of getting them certified as airworthy in mass quantities," he said. Thus, waivers are being considered on a case-by-case basis.
The FAA currently is working on setting standards for operating over people in congested areas, Dunlevy said, and he expects that BVLOS standards will be next on the list.
EEI's Hickling said he's optimistic because Congress has taken an interest in commercial drones, which may pressure the FAA to speed things up.
"There is a push [on the FAA] to give critical industries, such as utilities, a focus on some of these elements," he said.
*****
A Growing Market
The commercial unmanned aerial vehicle market is taking off. Navigant Research has estimated that global revenue from UAVs and similar robotics technologies and their services will grow from $131.7 million in 2015 to $4.1 billion in 2024.
Michael Hartnack, research analyst for Navigant, said the company would release an updated report later this year, but that he expected that their estimate of the total value by mid-decade likely would be higher.