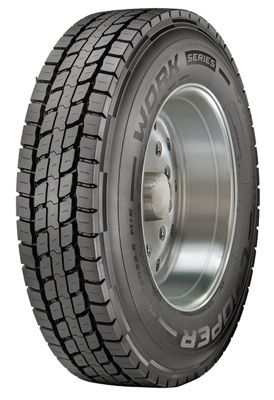 Running a successful utility fleet operation requires fleet managers to, among other things, stay on top of any and every aspect of the business that will impact total operating costs.
A fleet's tire program is one aspect that makes a significant impact. According to Gary Schroeder, director of global truck and bus tire business for Cooper Tire & Rubber Co. (http://coopertrucktires.com), tire programs are the second-highest operating cost – behind fuel – for the majority of fleets.
So, what can utility fleets do in an effort to control those expenses?
"Helping fleets understand their total tire operating costs – and the role that tires can play in reducing these costs – is important," said Dustin Lancy, marketing manager for The Goodyear Tire & Rubber Co. (www.goodyear.com). "Some fleets consider tire price to be the driving factor, but we urge them to look beyond the upfront cost of a tire and instead … optimize the return on their tire investment."
Focus on What Matters Most
Keeping tire costs in check requires a tire program that includes proper tire selection, timely maintenance and frequent inspections.
Fairfax Water, a utility headquartered in Fairfax, Virginia, maintains a selection of tires and tire/wheel assemblies at each of its maintenance facilities, replenishing as needed. Light-duty tires are mounted and balanced in-house, while the tire/wheel assemblies for the fleet's larger heavy-duty trucks, trailers and equipment are sent out for servicing.
The utility typically budgets and spends $60,000 to $70,000 annually on tires and road services, according to Dale Collins, Fairfax Water's fleet services supervisor.
Collins emphasized the importance of selecting the right tire for each fleet asset.
"Don't skimp on quality, and don't overbuy either," he said. "For example, if a regrooved tire meets the needs, it should be used. A regrooved tire is much more economical and aids in sustainability efforts."
Cooper Tire's Schroeder said that initial purchase price, fuel efficiency, tread life and casing integrity all influence the cost of a tire.
Toughness and traction also are considerations. They are highly sought-after tire-performance characteristics because of the debris-strewn surfaces that utility trucks often travel across, Lancy added.
Schroeder agreed. "In our experience, a utility fleet is looking for a fuel-efficient tire that provides good traction along with scrub resistance," he said.
For its heavy-duty vehicles, Fairfax Water selects tires with the proper load range and tread style (traction or steering), and they may be new or regrooved. For its light-duty units, the utility insists on new tires with vehicle OEM sizing and load ranges. Fairfax chooses all-terrain or all-season tread styles for most applications.
Timely PM and Inspections are Key
Another aspect of effectively managing tire costs is performing timely preventive maintenance (PM) services. This helps to detect potential problems early on that could diminish tire life, according to Collins.
"Things to check for beyond over- or underinflation include unusual wear patterns, which if detected early enough, can be countered or corrected," Lancy said. "Also, look for cuts, cracks, blisters and other anomalies. If conditions are severe, the tire should be taken out of service."
Daily pre-trip and post-trip inspections performed by operators also help to identify issues between PMs, Collins said.
"Tire pressure monitoring systems really help, but our operators are the key players. A well-trained professional driver can have a huge effect on tire life/wear," he noted.
And whether it's during an inspection or a PM, tire inflation is among the most critical items to check out.
"Maintaining correct inflation pressure is probably the single-most effective practice a fleet can employ to positively impact tire wear, casing life and overall tire performance," Lancy said.
A properly inflated tire wears longer, runs cooler, performs better and is safer, according to Collins.
Utility truck tire inflation levels should be checked at least once a week, using a calibrated tire gauge, or more often if feasible, Lancy advised.
"Both over- and underinflation should be avoided since these conditions change a tire's footprint, which can cause irregular and/or premature wear and loss of traction," he explained. "Underinflation also causes tires to flex more as they roll down the road and can impair fuel economy since underinflated tires force truck engines to work harder. Like tires for other applications, utility truck tires are designed to run at specific pressures based on the load they are required to carry."
Finally, Collins recommended installing a tire compound in heavy-duty truck, trailer and construction equipment tires. Doing so not only helps to seal small punctures, but it also provides a balancing effect that assists with ride, handling and tread wear.
"We have found with the compound installed that our tire failure rate has dropped," Collins said. "Tires that can be replaced due to wear versus failing prematurely helps reduce costs."
About the Author: Grace Suizo has been covering the automotive fleet industry since 2007. She spent six years as an editor for five fleet publications and has written more than 100 articles geared toward both commercial and public sector fleets.
*****
Cover All Bases
Downtime is typically not an option for utility fleets, especially those providing necessary resources during emergency situations. Vehicles must be up and running, and that requires fully functioning tires.
Round-the-clock emergency roadside services are an important contributor to an effective utility truck tire program.
"Our tire vendor's ability to supply tires – loose or mounted assemblies – and prompt road services is paramount; having to wait extended periods of time for tires or road service is just not acceptable," said Dale Collins, fleet services supervisor for Fairfax Water in Virginia.
The Goodyear Tire & Rubber Co. is one company that offers emergency roadside service to utility fleets through its Storm Priority program, which is connected to the 24/7 Goodyear-Fleet HQ Emergency Roadside Service program. Utility fleets call a dedicated phone line and are immediately routed to the 24/7 Goodyear Solution Center, where trained tire professionals collect vital tire information and then locate and dispatch a tire service technician to the incapacitated utility truck's location for emergency tire service.
The Goodyear-Fleet HQ Emergency Roadside Service program has helped return to service more than 1.7 million trucks of all vocations and configurations, according to the company.