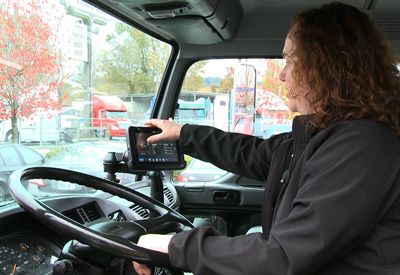 Technology Helps Fleets Streamline Maintenance Operations
Where fleet maintenance is concerned, technology providers including Decisiv (www.decisiv.com) and Zonar Systems (www.zonarsystems.com) have been working with utilities to maximize visibility, consistency and transparency, among other things.
"Those actually go right to your bottom line because you reduce costs, you reduce downtime, and you make everybody more effective and the whole process more efficient," said Michael Riemer, vice president of product and channel marketing for Decisiv.
Decreasing Downtime
Reducing downtime is a primary goal of nearly every utility fleet manager since it is a huge productivity killer.
"If your asset is down for two days but should only be down for two hours, that's a huge cost," Riemer said.
One of the biggest culprits contributing to unnecessary downtime are inefficient and often outdated paper-based systems and communication methods. Much of the time involved in a service event – from the time someone realizes an asset is broken to the time it's back in service – has nothing to do with fixing the asset, Riemer noted. "It's all the other things: the talking, the paper finding, the communicating, the scheduling. It's a highly inefficient process which dramatically increases downtime," he said.
Idaho-based Kootenai Electric Cooperative, a Zonar Systems customer since 2014, was at one point all too familiar with that unwanted downtime. KEC was looking to improve communication between drivers and fleet through the use of electronic pre- and post-trip inspections to help ensure all 110 fleet vehicles were up and running as often as possible.
"We were having a huge communication issue between the driver and fleet when it came to yellow or red tag violations on the vehicles," said Mike Stevens, KEC fleet mechanic.
Drivers would work overtime and come in after hours with issues, such as a mirror falling off or another repair.
"Now, even if no one is there when [a driver gets] back to the shop, they can give it a yellow tag violation. I get a notification email and when we show up to work the next morning, we go repair that without even physically talking to them," Stevens said, referring to KEC's use of Zonar Systems' electronic verified inspection reporting, or EVIR.
According to Jeff Wells, Zonar's vice president, "With EVIR, we can actually go in and send that information electronically within seconds to get those shops to make those repairs and also include items such as VINs and meter data [engine hours and mileage], which is also very beneficial in their business on remote vehicles."
Precision Pays Off
Decisiv helps customers by providing a single platform for managing all of their service events, whether they are being performed in-house or by third parties.
"We pull all the telematics and diagnostic information, service history, build details, warranty information, service bulletins, recalls, maintenance status, etc., so that when you're working on an event, you have a very clear understanding of what's going on with that asset and what needs to be done to it," Riemer said.
Doing so enables technicians to fix issues correctly the first time and cut down on triage time, which in turn has been able to reduce customer downtime.
Zonar Systems has had similar experiences with its customers by being able to cut back on unnecessary repairs.
"We can now diagnose what the problem is and avoid the road call altogether," Wells said. "So there's a significant amount of time and money that's being saved. And then the ones that we do need to go out and do repairs on, we have better insight as to what to bring so those repairs are being done in an effective manner."
For fleets looking to implement new technologies into their maintenance operations, both Riemer and Wells recommended first having a strong understanding of your business along with goals and objectives, the current systems in place in your organization and how they're being used, as well as who's in charge of those systems.
About the Author: Grace Suizo has been covering the automotive fleet industry since 2007. She spent six years as an editor for five fleet publications and has written more than 100 articles geared toward both commercial and public sector fleets.
*****
Cutting Costs, Making Profits
In addition to assisting with fleet maintenance operations, Zonar Systems' technology has helped utilities cut costs and make a profit.
One of the company's customers of over 10 years has been able to better manage its existing fleet of more than 12,000 units to eliminate the cost of renting equipment. Jeff Wells, Zonar's vice president, described the fleet's problem as a rental dependency.
"They were renting equipment," he said. "For example, they had two sites that were within 20 miles of each other. Location 1 had a piece of equipment needed by Location 2, but Location 1 claimed they used it all the time. What we've been able to do for them is lower that rental dependency by providing insight into Location 1 utilization. Those conversations are really easy when you have the data. We can say, 'OK, Location 1, you haven't used this piece of equipment in a year, so we are going to send it to Location 2 and use what we have rather than take on that cost of renting a piece of equipment for Location 2.' That was the biggest benefit for them."
Another customer, Kootenai Electric Cooperative, was able to achieve return on investment within one year of implementing Zonar's EVIR system.
"We implemented in 2014, and then in November 2015 we had a major storm," said Mike Stevens, fleet mechanic for the cooperative. "We were able to track our vehicles 24 hours a day, monitor them, and then we put up geofences around the affected areas. We were able to get back $2 million in FEMA funding by proving the vehicles were there."