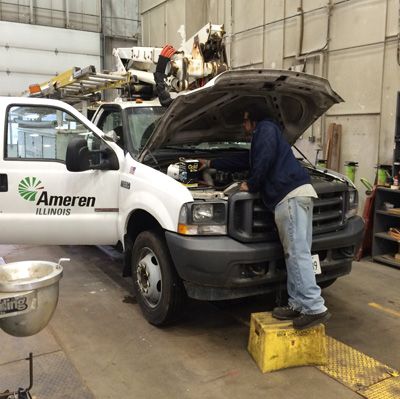 Aftermarket vs. OEM Replacement Parts
Are you unsure whether to purchase aftermarket or OEM replacement parts for your fleet's vehicles? Using a mix of both has proven to be an effective strategy for Ameren Illinois Company (AIC), Fairfax County Water Authority (Fairfax Water) and Oklahoma Gas & Electric (OG&E), according to fleet representatives from the three utilities.
Safety, performance, availability and quality are among the factors that make OEM parts the best option for certain aspects of fleet operations.
"On critical components, it's better to get the original equipment parts instead of taking a chance on questionable quality of the aftermarket materials," explained Dale Collins, CAFM, fleet services supervisor for Virginia-based Fairfax Water, which maintains more than 400 fleet units. "Folks can easily replicate good-quality wiper blades, but not more sophisticated electronic parts."
Several years ago Fairfax Water replaced the original brake pads on its heavy-payload pickup trucks with aftermarket pads that did not hold up well. The utility now relies on the durability of factory OEM brake parts that they have found to be superior to aftermarket products. Fairfax Water also depends on original equipment parts for engine management due to past performance issues with some of its construction equipment, and it uses OEM parts for auto body and crash repairs in critical areas of the vehicle in order to maintain "crashworthiness," or the ability of a vehicle to protect occupants during an impact.
Similarly, AIC sticks with OEM parts when it comes to electronic and emission components and large component rebuilds such as engine transmissions. According to Dan Remmert, manager of fleet services for the Collinsville, Ill.-based utility, OEMs are usually quicker to implement upgrades on emission-related items than aftermarket parts manufacturers.
"With the OEMs, there appears to be less lag on new-model parts," he said.
Aftermarket Appeal
OEM parts certainly meet various utility fleet needs, yet there are a number of reasons underlying the popularity of aftermarket parts. For one, these parts can help utility fleets save money.
According to Remmert, cost savings is the reason AIC turns to the aftermarket for its preventive maintenance parts, including filters, bulbs and even batteries. In terms of volume, more than 80 percent of the utility's parts are aftermarket purchases.
Fairfax Water also depends on aftermarket suppliers for tune-up parts, filters, chassis parts, brake parts, wiper blades, bulbs/vehicle lighting and other items.
Beyond cost savings, the aftermarket can provide solutions when OEM parts fail to do the job.
"A few years back we had some pickups that had fuel gauge problems because of how the fuel sending unit was designed," recalled Paul Jefferson, fleet manager for OG&E. "I read an article about how the aftermarket had already identified [the problem] and so we switched." OG&E uses aftermarket parts mostly for brakes and suspension, filters, electrical tune-up parts, wipers and batteries, and sometimes for engine components for the pickups and sedans in its fleet of nearly 2,000 units.
Fairfax Water had an experience similar to OG&E's. "Oftentimes the aftermarket tends to do a better job at re-engineering a weak area in an OEM part," Collins said. "Years ago we went through a lot of belt tensioners. The bearing itself wasn't sufficient to support the load, so the aftermarket responded and put in a more robust bearing, which solved a lot of the problems."
Streamlining of vendors is another reason utility fleets turn to aftermarket parts. For example, in the past OG&E would buy aerial baskets from one manufacturer, digger derricks from another and small baskets from a third. The units would end up with different strobe lights, brake controllers, taillights and other components. Now the fleet minimizes the number of vendors it works with by sticking to one standardized part.
AIC also has increased its reliance on the aftermarket because of the utility's desire to standardize and streamline its work with vendors.
"If all things are equal, I'm going to go with the aftermarket and get a bigger spend with one guy than some OEM and deal with so many more vendors," Remmert said. "The desire is to do more with less."
Remmert enjoys having a single source for sales support as well. "I deal with one guy and he can handle the whole territory," he explained. "OEMs seem to be more independently owned, so you've got multiple contacts, if any sales support at all."
Plus, AIC has been able to leverage the aftermarket's non-catalog items. "We use a lot of widgets that typical suppliers wouldn't stock," Remmert said. "[Aftermarket parts suppliers] actually go out and find those parts. I haven't had that kind of luck with an OEM."
Warranty and Safety Considerations
Charlie Guthro, vice president of operations for ARI, one of the largest fleet management companies in the country, has some insight for utility fleets that are trying to make the choice between OEM and aftermarket parts.
"When faced with the decision of needing to replace a part, fleets should consider whether there is the potential to recover any of the cost under the terms of any existing warranties," he said. "Generally, warranties are only available on OEM parts."
Guthro also advised fleets to give ample consideration to the safety of aftermarket parts. "While aftermarket parts can often offer the greatest value, fleet managers should check to be sure the parts do not affect the safe operation of the vehicle or other upfit parts," he said.
About the Author: Grace Suizo has been covering the automotive fleet industry since 2007. She spent six years as an editor for five fleet publications and has written more than 100 articles geared toward both commercial and public sector fleets.