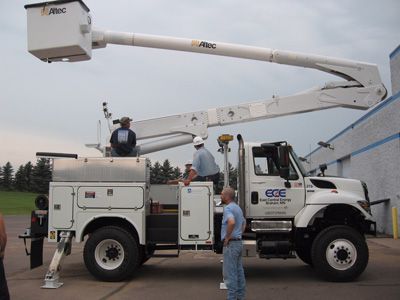 Factors to Consider When Making Outsourcing Decisions
Deciding whether to outsource maintenance and repair work or perform it in-house can be a daunting task for fleet managers. To gain some industry insight, UFP recently spoke with Holly Giffrow-Bos, fleet supervisor for East Central Energy (ECE), and Dan Remmert, manager of fleet services for Ameren Illinois Company (AIC), about what's worked for their operations and what to consider if you're leaning toward outsourcing part or all of your maintenance and repair work.
According to Giffrow-Bos, about 15 to 20 percent of ECE's fleet jobs are outsourced. These typically include body work, warranty work and any kind of heavy-duty engine or transmission replacement work. The electric distribution cooperative, headquartered in Braham, Minn., has a fleet of approximately 180 units.
Due to the level of training and the resources required to perform body work, Giffrow-Bos said ECE "never got into it because of the expense of having that specially trained person and equipment." The fleet also doesn't have a lot of jobs that require body work.
In general, ECE handles all diagnostics, repairs and preventive maintenance in-house. This work, too, comes at a significant expense; each of the cooperative's in-house technicians must be trained on all vehicle makes and models used by the fleet, as well as a range of different tasks.
"They have to know hydraulics to mechanical to electronics, hydraulic over electrical," Giffrow-Bos said.
AIC – a Collinsville, Ill.-based utility with a fleet of approximately 3,300 assets – outsources about one-third of its fleet maintenance and repair work, according to Remmert. This includes some warranty and glass repair jobs, as well as high-tech tasks if AIC's mechanics haven't undergone the training needed to do the work. Location also factors into AIC's outsourcing decisions. If the utility only has 20 vehicles in a small city, Remmert said, "it doesn't really make sense to have a mechanic there."
Technician and Facilities Considerations
For a fleet to keep any of its work in-house, fleet managers need to ensure they have enough qualified technicians to handle the work.
"You've got to have a solid training program," Remmert said, and that includes ongoing training.
One reason ECE tries to keep its fleet repair and maintenance work in-house is because the cooperative is located in a rural area. "I'll do a lot more training with the four technicians I have because we just don't have many options out there within a short distance to do sublet work," Giffrow-Bos said.
Every fleet that employs technicians also has to have a place for them to work, so consideration must be given to facilities when deciding whether or not to outsource work.
"For example, for CNG, you actually have to make sure that the building can handle the fire marshal regulations around natural gas or you have to search out vendors that have those abilities," Remmert explained.
And for fleets thinking about building a facility, "that's a long-term planning commitment," he continued. "You have to get the building plot, you have to get the approvals – there are a lot of factors."
So, for those fleets that simply don't have the appropriate workspace, it may seem easier to partner with an outside vendor to get the work done. But keep in mind that it's not always a one-stop shop. As Remmert noted, many vendors are specialized. If a vehicle needs two or three different repairs, it may have to be sent to two to three different shops before it can be driven again, which can sorely affect the vehicle's uptime.
Downtime can still be a challenge even if a job is only being outsourced to one vendor, Remmert said. "A lot of times my truck is sitting there at a vendor because I'm not their most important customer. They won't get to that truck until two weeks from now. We find that especially with some high-technology stuff. They may only have one mechanic trained on that component and he's backlogged and I'm waiting."
With an in-house program, a technician typically can respond right away in the event of an emergency, and the quality of work may exceed that of an outside vendor's work.
"[Vendors] don't always treat your vehicles as if they were their own, so you don't get the quality of workmanship that you might get from somebody you employ," Remmert said.
Controlling Costs
Today's fleet managers are always keeping their eyes on the operation's finances. If a fleet chooses to outsource, Giffrow-Bos said, that reduces overhead costs because fewer employees and less inventory will be needed.
However, contracting with a vendor often means giving up control in certain ways.
"If a job goes out to a vendor and you really don't know the condition of that vehicle, you start relying heavily on that vendor," Remmert explained. "I think you have better control with an in-house model. Also, you can control the parts cost. If the job goes to a small vendor, a lot of times I'm paying retail price for that parts cost, where if I had an in-house model, I'm buying at very strategically low prices because of sourcing bids I have with my major parts vendors. I have versatility."
To put it simply, deciding whether or not to outsource some or all of your maintenance and repair work is a complex task. For most fleets, it's about analyzing all of the important factors – including cost, quality and turnaround time – to find the balance that works best for the organization.
About the Author: Grace Suizo has been covering the automotive fleet industry since 2007. She spent six years as an editor for five fleet publications and has written more than 100 articles geared toward both commercial and public sector fleets.