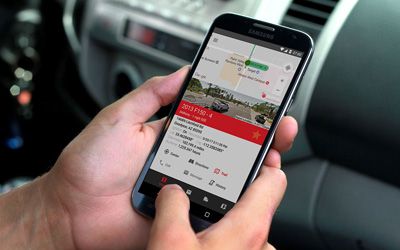 3 Ways Telematics Can Help Improve Fleet Safety
One benefit of implementing a telematics solution is that it can help create a safer environment for utility fleet employees. How? UFP recently reached out to several industry experts, who provided three of the most valuable ways telematics data is currently being used to strengthen fleet safety.
1. Telematics solutions can be used to monitor driving behavior and coach drivers.
Each day, fleet managers are tasked with ensuring the safety of their drivers as well as the public. Analyzing telematics data can help reveal driving trends and behaviors – such as speeding, hard braking, rapid acceleration, hard turns and unauthorized usage – that may be contrary to a company's safety policies.
"The data available through telematics is much more than maintenance and fuel transactions; it can track or predict behaviors that impact fleet costs," said Spero A. Skarlatos, CTP, senior consultant, truck solutions for Element Fleet Management (www.elementfleet.com).
And once an undesirable trend or behavior is discovered, some telematics providers, such as GPS Insight (www.gpsinsight.com), provide real-time and post-incident coaching for drivers on ways they can improve. Feedback can come in the form of text messages to the driver that tell them to slow down, or a buzzer that goes off to coach drivers in the cab in real time. In addition, according to Ryan Driscoll, GPS Insight's marketing director, the company also supplies "actionable data for managers to coach their drivers after the fact to help educate drivers on how to improve behavior behind the wheel."
Telematics-based driver coaching also leverages gamification, informing drivers of how they compare to their peers in terms of safe driving behavior and related areas, such as deployment of onboard scales integrated into telematics systems to make sure vehicles are not loaded beyond their weight rating, according to Geoff Scalf, director of global oil and gas business development for Telogis (www.telogis.com).
2. Telematics data is being used to improve emergency response times.
Another valuable way fleets are using telematics data is to find new ideas to more quickly respond to emergency situations.
With telematics, Driscoll said, "[w]hen utilities send their crews in to help, they can see their entire fleet, make decisions on which trucks can be used to help and ensure they take the proper routes."
In addition to knowing where fleet vehicles are, knowing where a technician or crew is located in real time also is critical, especially for sending help when it is needed. So, what about those times when a lineworker is alone or doesn't have access to a phone, and calling for help may be impossible?
GPS Insight created a custom panic button on a key fob, specifically designed to operate independently of the user's vehicle, that can be tapped when an emergency arises. This alerts dispatch/management, who can then send help.
3. Telematics systems provide greater asset visibility.
Gaining visibility of assets is the most important use of telematics systems for utility fleets, according to Kimberly Clark, director of telematics products for Element Fleet Management.
"Safety of drivers and security of the vehicles is always critical in both everyday work and the post-event response work where drivers and vehicles might be deployed hundreds of miles away from their home territory," she said.
Through the use of telematics, utility fleets can get a clear picture of what's really going on with their fleet operations – in particular, the vehicles and equipment.
"This includes analysis of congregation of vehicles at sites, getting visibility to storm surge assets deployment in critical areas, providing customers access to real-time technician deployments in their neighborhood, and tracking productivity metrics to maximize technician site time and associated grid online needs," Clark explained.
Asset visibility is just as important for maintenance work as it is for new construction work; to control project costs, it is essential to tightly manage the fleet's assets and the utilization of those assets at construction sites. In terms of vehicle utilization, gaining greater asset visibility through telematics use can help fleets better plan for the types of vehicles needed in the field and where to place trucks with specific upfits, Clark said.
Telematics solutions also can capture odometer readings and automate reminders for any type of maintenance needed based on those odometer readings, run time or scheduled dates. These reminders are sent to the driver, the mechanic and management so that services are not overlooked or forgotten about. Reports also can be run to determine if any services are overdue.
"Critical to effective asset management is knowing assets are well-maintained and compliant with acceptable safety standards," Scalf said. "With electronic [driver vehicle inspection reports], inspection information is uploaded on the spot, giving management an up-to-the-minute overview of equipment safety."
Other telematics features, such as routing, also can advise drivers to avoid unsafe roads, bad weather and more.
About the Author: Grace Suizo has been covering the automotive fleet industry since 2007. She spent six years as an editor for five fleet publications and has written more than 100 articles geared toward both commercial and public sector fleets.