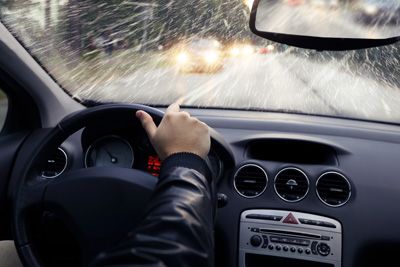 Winterizing Your Crews
There's no need to wait until winter to start getting your fleet ready for the season, according to Ben Langley, director of training and development innovation for Driving Dynamics (www.drivingdynamics.com), a provider of fleet driver safety training and risk services.
In a recent interview with UFP, Langley encouraged fleets to immediately develop a winter driving plan with their teams that aligns with company safety policies and includes an in-depth inspection and service for each vehicle.
Steve Bufton, vice president of maintenance, telematics and safety for Donlen (www.donlen.com), a provider of financing and fleet management solutions, agreed, noting that it's important to have in place a pre-trip vehicle inspection form, process and closed-loop procedure. The inspection should include checking tire pressure, fuel and washer fluid levels, and appropriate safety items.
When developing the winter driving plan, take into account lessons learned from previous winters. Reviewing motor vehicle crash statistics from winter months over the past three years can identify root causes and help to determine what measures should be in place to prevent similar incidents, Langley said.
For fleets using telematics, there are even helpful features that look at historical routes and historical weather conditions, according to Bufton.
Effective Communication is Key
Any information that will help keep your crews safe should be communicated as often as needed, especially when it comes to winter driving awareness.
"We recommend training that covers topics like the importance of reducing speed, the myths/realities of four-wheel-drive capabilities, and best practices for winter driving," Bufton said.
For example, drivers should be trained to pull off to the right side of the road in the event of a mechanical failure. However, "When in busier traffic, the left side of the road is preferred over crossing lanes with a mechanically unfit vehicle. Instruct drivers to remain in the vehicle with the emergency flashers on," he explained.
In addition, arm your drivers with the information they will need in case of an emergency. Keep the telephone number of your emergency roadside assistance provider accessible in the glove box or ensure it is saved in each driver's smartphone.
Give Yourself a Cushion
In areas that are affected by wintry conditions, drivers should increase their safety cushion when snow or ice is present.
"Vehicle braking capability is diminished as road conditions deteriorate and stopping distances increase, in some cases significantly. If drivers don't make seasonal adjustments in their driving habits, risk levels increase," Langley said.
But adding an extra safety cushion applies to more than just braking.
"For fleets using planned routes, ensure that routes are adjusted to allow extra time for pre-trip inspections, winter driving and perhaps more time-consuming deliveries," Bufton said.
Beware of Potential Hazards
Driver familiarity with locations within the service area can be an important part of avoiding potential hazards covered by snow, said John Wuich, vice president of strategic consulting services for Donlen.
"Some examples of these are fire and water hydrants, cable lines, electrical lines and any raised surfaces that may be hidden by snow," he explained.
Even fleet drivers in areas that don't typically experience harsh winter conditions should still be trained on and aware of potential dangers while on the road or at the job site.
"Cities that get caught off guard with ice and sleet are especially vulnerable when impacted. Some areas … which may not normally be associated with snow and ice can be especially unprepared for unusual weather events," Wuich said.
Additionally, training drivers on journey management can provide guidance about situations they may come across, such as a state of emergency; heavy snowstorm conditions; blowing and drifting snow on the roadway; the aftermath of a snowstorm; stranded vehicles; and icy road conditions.
Tips and Techniques
Fleet managers should keep in mind that even the most basic reminders can help busy drivers stay safe.
For example, drivers should be mindful when getting in and out of a vehicle. Langley said slips and falls when entering or exiting the vehicle are hazards often encountered by fleet drivers in the winter months.
"The snow and icy conditions can create havoc when employees have their mind on the job task rather than the condition of their environment," he explained.
When expecting snowfall or ice, Wuich suggested setting the vehicle's windshield wipers in the service position and deactivating the mirror auto-fold function to help prevent icing.
During freezing weather, Bufton advised drivers to avoid using the emergency parking brake in case it freezes.
Ice can also be a problem for newer vehicles with advanced safety features. False safety alerts can be caused by ice- or salt-covered sensors, Bufton said.
For traditional gasoline combustion engines, ensure that the vehicle has at least a half-tank of gas, he added. Not only will doing so provide additional run time, but it also prevents condensation in the gas tank.
Lastly, drivers should be taught how to handle a mechanical failure or getting their vehicle stuck in the snow. They should know, for instance, not to spin the tires, digging the vehicle in deeper. Experienced drivers in mild snow should be instructed to keep the wheels straight, put the vehicle in low gear, and gently rock forward and backward, Bufton said.
About the Author: Grace Suizo has been covering the automotive fleet industry since 2007. She spent six years as an editor for five fleet publications and has written more than 100 articles geared toward both commercial and public sector fleets.