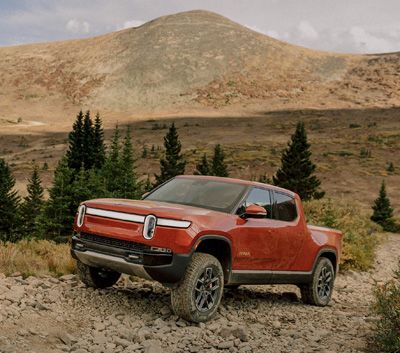 An Electric Pickup to Watch: The 2022 Rivian R1T
An Electric Pickup to Watch: The 2022 Rivian R1T
In recent months, Ford and GM have unveiled their concept models with plans to build an all-electric full-size pickup truck beginning next year.
But there's one OEM with actual electric truck production models on the roads right now.
It's Rivian (https://rivian.com), an Irvine, California-based startup that raised $10.5 billion and recently filed to go public.
And the company's first R1T electric pickup truck, offering a range of about 300 miles, rolled off the assembly line in Normal, Illinois, on September 14.
The price tag starting at $67,500 is a barrier to widespread fleet adoption. But the capabilities of this first-to-market electric truck offer a glimpse of what's possible for utility fleet applications in the coming years.
In the meantime, here's what we know about the Rivian R1T pickup so far.
What configurations and packages are available?
All R1T models are available in one configuration – a crew cab that seats five.
Although the Launch Edition is sold out, Rivian is offering two other packages with deliveries starting in January: the Adventure package, a premium model starting at $73,000, and the Explore package, designed for more rugged use, starting at $67,500.
What's the range between charges?
The R1T's standard battery pack delivers an EPA-estimated 314 miles of range when paired with 21-inch wheels. According to Rivian, the 20-inch wheels reduce range by 10 to 15%. And the range drops by 5 to 10% with the 22-inch wheels.
As with any electric vehicle, real-world battery range will vary depending on driving style, climate conditions, terrain, payload, trailer weight and several other factors.
An optional 400-plus-mile-range battery will be available in January. And the company said it also has a 250-plus-mile-range battery in the works, but the timing has not been announced.
How long does it take to charge?
DC fast chargers (Level 3 chargers) can add up to 140 miles of range in 20 minutes. Or, it takes under an hour to fully charge Rivian's standard 300-plus-mile-range battery.
With the Rivian Wall Charger (11.5 kW) for home installation, the charge rate is about 25 miles of range per hour – or about 12 hours to fully charge the standard battery. The Wall Charger is compatible with other electric vehicles using the J1772 plug.
Will four-wheel drive be offered?
Yes, but it's more like four-motor drive, consisting of two dual-motor drive units – one for the front axle and the other for the rear.
The front-axle drive unit delivers 415 horsepower with 413 foot-pounds of torque. In the rear, the dual motors generate 420 horsepower and 495 foot-pounds of torque.
The quad-motor drive system independently adjusts torque at each wheel for precise traction control in all conditions and enables torque vectoring – the ability to neutralize oversteer and understeer to help keep the vehicle steady and responsive through sharp maneuvers while off-roading and in the snow.
Also, the R1T's independent air suspension allows for about 6 inches of ride-height adjustment to improve handling, comfort, aerodynamics and stability with varying terrain and payloads.
What is the payload capacity?
The Rivian R1T can haul a maximum of 1,760 pounds, according to Car and Driver.
How much cargo space is available?
The front trunk – or "frunk," where a conventional engine would be – measures 25.4 inches by 54.8 inches with a depth of 22.7 inches. That's enough space to carry large suitcases and coolers.
The truck bed is 4.5 feet long (54.1 inches) with the tailgate up. You can extend the bed floor to about 7 feet (83.9 inches) with the tailgate down.
There's also weatherproof and lockable storage available under the bed floor to fit an optional full-size spare tire, or it can be used as a cooler, with an integrated plug for drainage.
What is the trailering capacity?
The R1T can tow up to 11,000 pounds. But here's an important consideration to note: Expect around a 50% reduction in range when towing at full capacity, according to Rivian.
What onboard power systems will be available?
The R1T includes four 120-volt and two 12-volt outlets. There's also a standard onboard air compressor (up to 150 psi).
What safety features are on the R1T?
The Rivian Driver+ safety system includes adaptive cruise control, lane-keeping assist, automatic lane change, auto-steer and automatic braking.
The system also includes an interior camera to monitor driver alertness. When it detects that a driver's attention has drifted away from the road, the system automatically prompts them to place their hands on the wheel to continue driving.
How extensive is the service network?
Rivian's first line of service is via remote diagnostics and over-the-air software updates.
The company also offers mobile service vans staffed with Rivian technicians who perform the majority of service requirements at the office or on the job site.
Rivian said it would pick up the vehicle and bring it to a Rivian service location for more extensive repairs.
What remains unclear is the actual size of Rivian's service network and the limits to their ability to perform mobile service or pickup.
Fleets should confirm Rivian's ability to provide service to vehicles in their area.
What's the warranty?
The Rivian R1T limited factory warranty includes these coverages:
The standard comprehensive limited warranty is five years or 60,000 miles. This coverage consists of all parts and labor necessary to correct defects in materials or quality of any parts manufactured or supplied by Rivian that occur under normal operation.
Battery pack coverage: eight years or 175,000 miles.
Drivetrain coverage: eight years or 175,000 miles, including electric motors, gearbox assembly and the dual power inverter module with high-voltage cables.
Corrosion coverage: eight years with unlimited miles.
---
Sean M. Lyden
Sean M. Lyden has not set their biography yet
---