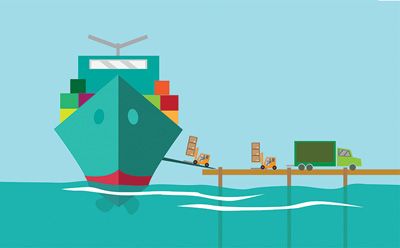 Stocking Critical Parts in a Supply Chain Crisis
Stocking Critical Parts in a Supply Chain Crisis
A semiconductor shortage has crippled production in the automotive sector, forcing many utility fleets to extend the service life of their existing vehicles until new units arrive, whenever that may be.
And that could be a problem.
That's because as the global economy emerges from the pandemic, the combination of increased consumer demand and constrained shipping capacity means that it could take longer than usual to get the necessary parts to keep your fleet up and running.
So, what can you do right now to ensure your shop has the critical parts you need, when you need them, to minimize disruption to your fleet operations?
UFP spoke with Paul Lauria, the president at Mercury Associates (https://mercury-assoc.com), a Rockville, Maryland-based fleet management consulting firm, to get his perspective and advice. He shared these five strategies.
1. Prioritize mission-critical assets.
Focus on stocking parts for mission-critical specialty vehicles and equipment, such as bucket trucks, digger derricks and so forth.
What defines "mission critical"?
"Those are the vehicles that, when they go down, you need to get them back online quickly," Lauria said. "The key is to segment the fleet into different 'buckets' based on the kind of tolerance a company has for going without a vehicle when it breaks down and cannot be repaired because a part is not available."
The idea here is to ensure you have parts on hand – or on order as soon as possible – for the vehicles where downtime is unacceptable and the parts aren't as readily available from OEMs as they would be for, say, more mass-market-type vehicles like pickup trucks and sedans.
2. Dig into the data.
Once you've identified your highest-priority segments, analyze those vehicles' usage, maintenance and repair data to determine the spare parts you should always have on the shelf.
"It's crucial to know what your waiting tolerances are," Lauria said. "'If this kind of vehicle goes down, we need to get it up and running in 24 hours.' Or is it, 'We need to get it operational in the next four hours'? If it's the latter, you don't want to be getting on the phone trying to figure out if you can source something either locally or via overnight air. By that time, it's too late."
Digging into your fleet data can help you determine which vehicle systems and components are prone to imminent failure.
"What are the failure rates for those components? What are the mean times to failure? Tracking this type of data can help you see ahead and order the parts sooner – to give you more of a time cushion in case there are delays," Lauria said.
3. Consider your location.
Where your fleet operates determines the extent of the potential disruption to your parts supply chain. So, if you're in a rural area, it's more important than ever to be proactive when managing your spare parts inventory.
"If you're operating a co-op fleet in southwestern Wisconsin, for example, your options and margin for error concerning parts availability and inventory size are quite different than if you're a large utility in a massive metro area, where there are several points of supply for parts," Lauria said. "But even then, you have certain specialty trucks where it doesn't matter if you're in Southern California; you still have to source those parts from Canada, Europe or wherever the supplier is located, which might be impacted by shipping delays."
4. Collaborate with suppliers.
Work closely with your OEM reps. Do they anticipate any supply chain issues with certain types of critical parts that you need? Their outlook will give you greater market visibility to help you maintain optimal inventory levels.
Your vendors can also help you identify which spare parts to prioritize. "We always recommend to our clients that when they develop purchase specs for any kind of specialized trucks or equipment to include a requirement that the bidders also provide critical spare parts," Lauria said. "This way, you know that, from the manufacturer's perspective, these are the critical spare parts you should always have in stock. The parts may be critical because the manufacturer knows that, for example, the hydraulic system is more prone to wear. Or it may be because the OEM has to source those parts from Europe or China and take a while to ship."
5. Err on the side of having too much.
Keeping a lean shop inventory has long been a sign of efficient operations. But with supply chain disruptions, fleet managers must adjust their approach to fit today's environment.
"The parts shortages have created a bit of a wake-up call, just like the retailers, which have woken up to the realization that their supply chains have been too tight," Lauria said. "We need some slack in the supply chain but don't have it. So, if I have to choose between being more efficient or having an oversupply and being less efficient, I'm choosing an oversupply of parts to ensure the effectiveness of the fleet. I'm going to err on the side of having too much in this supply chain environment."
The Bottom Line
Most logistics experts say that the supply chain crunch could persist for years, not just months. So, what's your plan for ensuring you have the critical parts you need when you need them?
---
Sean M. Lyden
Sean M. Lyden has not set their biography yet
---