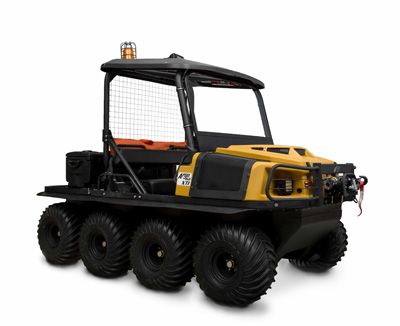 What's New in All-Terrain Vehicles for Utility Fleets
All-terrain utility vehicles (UVs) enable utility crews to get work done in hard-to-reach areas where four-wheel-drive pickups and other conventional vehicles cannot go. And there are a wide range of capabilities available, with some models designed to haul people and heavy equipment across rugged and hilly terrain, while others are built with amphibious capabilities to cross deep waters in flooded lowlands.
So, what's new in the UV market to help get your crews and equipment across various terrains with maximum safety and productivity? Here are six developments to keep your eye on.
Argo
What's New: 2018 Conquest Series models
Website: www.argoxtv.com
Argo has unveiled the company's 2018 Conquest Series commercial models with custom improvements that help boost worker productivity, no matter the terrain, weather or fleet application.
From the hydraulic rear-power dump box of the heavy-duty Conquest 8×8 XT-X to the Lineman package of the Conquest 8×8 XT-L, the new models equip utility workers to transport transformers, pull cables or bore footings to the most remote worksites – to make their jobs easier and get them home safe.
Production of the new models has begun, and vehicles will soon be available in dealerships across North America and around the world.
Morooka USA
What's New: Midsize rubber track carrier model MST700VD
Website: www.morookacarriers.com
Morooka USA has introduced the MST700VD, a midsize rubber track carrier that offers a 93-horsepower Kubota V3800 Tier 4i engine and maximum payload of 9,460 pounds, while maintaining a ground pressure of only 3.6 psi when empty.
The MST700VD also includes a rotational reverse seat that enhances operator safety and visibility, along with a canopy that is both ROPS and FOPS certified. The machine comes from the factory with a dump bed and a one-year, 1,000-hour warranty.
Prinoth
What's New: Expanded track and configuration options for the Panther T16
Website: www.prinoth.com
Prinoth has announced new track and configuration options for its Panther T16 model. There is now a choice between metal embedded solid rubber tracks or the traditional D-dent track system. The rubber track option offers more versatility when crossing or traveling on roads while being gentler on shop floors when upfitting or maintaining the vehicle.
The company said that the new rubber track option for the Panther T16 offers the highest payload available on rubber tracks, with 33,500 pounds of bulk load material payload and a gross vehicle weight rating of 75,000 pounds.
Hydratrek
What's New: Upgrades to the D2488B model
Website: https://hydratrek.com
Hydratrek has upgraded its amphibious D2488B, the company's most popular model for the utility industry.
Some of the changes for 2017 include larger perimeter pontoons, which provide flotation in deep water, to improve machine performance. The front cab has been redesigned to offer more space for operator comfort. Dual bucket seats are now standard, and a new center console setup allows for GPS systems, backup cameras and charging docks. The rear rollover protection structure has been modified for easier access to the cargo bed and for more comfortable passenger seating. Standard hard tops over the cab and engine provide storage space for tools and gear. And the new muffler package and engine compartment insulation have reduced the decibels by 18 percent for quieter operation.
PowerBully
What's New: Enhancements to the 12RT model
Website: www.powerbully.com
PowerBully has developed new enhancements for its latest 12RT model, a high-payload rubber-tracked dumper that offers a light footprint for use on soft terrain and greater maneuverability when operating in tight areas.
The new features on the 12RT, introduced at CONEXPO 2017 in March, include Tier 4 Final emission technology; a 180-degree swivel dump; new driver's cab with integrated rollover protection system; and a cockpit – seat, steering console and controls – that rotates 180 degrees to the rear of the machine for greater visibility of the load.
Terramac
What's New: RT6 model
Website: www.terramac.com
Terramac has introduced its newest rubber track carrier model, the RT6, joining the company's product lineup that includes the larger RT9 and RT14 models. The compact size of the RT6 allows it to be easily loaded onto a tag trailer and hauled by line trucks from job site to job site.
This unit features a compact footprint of 16 feet 2 inches by 8 feet 2 inches, minimizing disturbance on the soil while providing reduced slippage to climb faster on rugged or steep terrain to reach utility job sites in remote areas.
The RT6 offers a 12,000-pound carrying capacity and travel speeds up to 6.5 mph. And it accommodates a wide range of support equipment for utility applications, including lineman winches, digger derricks, vacuum excavators, boom lifts and aerial buckets for utility applications.
---
Sean M. Lyden
Sean M. Lyden has not set their biography yet
---