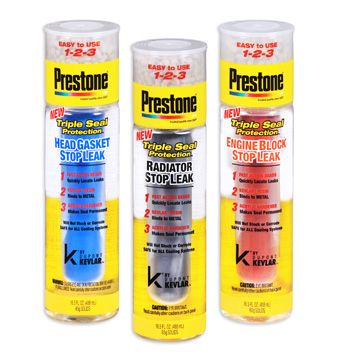 The Triple Seal Protection product line by Prestone Products Corp. is a breakthrough stop-leak treatment that allows users to avoid paying thousands for engine repairs. With just one bottle of Triple Seal Protection, leaks are sealed from the inside of the affected area without blocking or corroding the cooling system.
The Triple Seal Protection line includes three products: Prestone Triple Seal Protection Engine Block Stop Leak, Prestone Triple Seal Protection Head Gasket Stop Leak and Prestone Triple Seal Protection Radiator Stop Leak.
Each product is designed for the unique heat and pressure of the specific leak location (engine block, head gasket or radiator). The product is delivered through three proprietary technologies that work together to repair the source of the leak. Effervescent beads flow straight to the source of the leak while a DuPont Kevlar resin forms a web that binds to the surrounding metal. Finally, the seal is secured by an acrylic polymer in the Radiator Stop Leak and an acrylic polymer and sodium silicate (liquid glass) in the Engine Block Stop Leak and Head Gasket Stop Leak that harden the seals.
Both the Engine Block Stop Leak and Radiator Stop Leak products do not require a cooling system flush, while the Head Gasket Stop Leak requires a flush and fill one to two weeks after adding to the system. All three Triple Seal Protection products are safe to use with all colors of antifreeze. They also are competitively priced and offer a high-quality solution to protect today's sophisticated engines. www.prestone.com