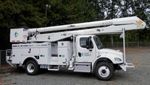 Changing Attitudes
It turns out that "Getting to the Next Level of Safety Performance," Bob McCall's presentation at the 2013 Electric Utility Fleet Managers Conference (EUFMC), was just the high-level view. On the ground at Duke Energy, where McCall serves as general manager of fleet services, a team of fleet management professionals is putting in place a series of initiatives aimed at posting a record of zero incidents, injuries and accidents.
"We're doing exciting things this year," McCall said. "And common to all our efforts is fostering a culture where everyone is recognizing failures and raising expectations, and is accountable and involved. That's often the hardest thing to do with any program, but if we don't, maintaining the status quo would lead to worse performance."
Mike Allison, design and technical services director of Duke Energy Fleet Services, said there has been an overall and positive change in philosophy among the company's nearly 340-member fleet services team. "Today, a lot of the conversation is about how to be safe and how to keep others safe," he related. "Everyone is willing to participate and that is reflected in the quality of work as well."
In the beginning, Allison noted, it was important to measure views of safety in Duke shops. "We needed to know how our technicians saw things, not just management's view," he said. "It was a simple exercise in communication."
Formal Approach
To formalize the process, Duke Energy Fleet Services management chartered a project team to analyze technician work tasks, identify ergonomic risk factors and develop effective mitigation strategies. The team was comprised of supervisors and technicians from the company's Carolinas and Midwest operations, health and safety professionals, and an ergonomist. The project covered five phases: data review, task identification, field observations/data collection, analysis and solution development.
During the data review phase, information was obtained from incident reports and other sources. The experience of the fleet management personnel and technicians was tapped during the task identification phase to gain detailed information about job functions. This knowledge was used to develop a list of common work tasks with high-risk potential, followed by a field observations/data collection phase, during which scientific measurements became the focus of the team.
In the project's analysis phase, each work task was evaluated using established ergonomic methods, including simple lifting and lowering tasks and others involving high forces and/or awkward postures. The project team then designed a process for ranking hazards associated with work tasks that would be used to assist Fleet Services management in prioritizing control efforts.
The most serious hazards identified for technicians involved servicing a particular valve, performing a heavy-duty brake job, aerial truck preventive maintenance and light-duty truck PM performed outdoors. In addition to the results for the individual processes, several hazards were identified; these included high levels of vibration from the use of power tools, contact stresses from kneeling, standing for long periods on hard surfaces and poor lighting.
Developing Solutions
"We developed solutions for most of the ergonomic hazards," said Patrick Rozanski, one of four regional directors for garage operations at Duke Energy who serves as director, fleet services-Midwest. "Those included making purchases for creepers to help reduce stress when a technician has to work in an awkward position, portable head-mounted lights, kneepads and padded kneeling mats, and anti-vibration gloves for prolonged use of power and impact tools. We also implemented the use of power tools such as wrenches and grease guns where tasks are repetitious and made suggestions for changes to the design of aerial trucks and other equipment.
"Getting technicians involved in identifying ways to make their jobs safer and showing everyone the company is willing to spend time and money on programs and tools that impact safety go a long way toward changing attitudes and gaining commitment," Rozanski stated. "We've seen the results in the lower number of incidents we have and in how much the new equipment is used."
Rozanski went on to relate how another seemingly simple initiative is helping identify and eliminate potential problems in Duke shops. "We have a 10-minute walk-around in every shop every morning to find and mitigate hazards," he explained. "We observe and look for things that can cause an accident, like cluttered areas, and unsecured ladders and air lines, that we can address by improving our housekeeping practices. It's about getting into a pattern of seeing and addressing hazards before they cause an injury."
Another way that Duke Energy Fleet Services is proactively addressing shop safety is through a technician training initiative for both new and veteran employees. The program, McCall noted, is especially important as the company incorporates operations associated with its 2012 merger with Progress Energy. "We can't assume, whether it's new hires, transferred employees or veterans, that everyone knows what to do in our shops," he said. "We have to ensure that knowledge is being transferred correctly."
No Shortcuts
Charged with overseeing that training initiative is Chris Jolly, director, fleet services, who, with the help of subject matter experts, has developed and implemented policy orientation programs emphasizing shop safety. "Data shows that if you have a well-educated workforce and a continuing training program, your employees will not take shortcuts," he said. "Instead, they will always strive to use the best and safest work practices."
Duke Energy's fleet services team is taking a similar approach when it comes to equipment, Allison noted. "We've established standards teams of managers, users and other departments in each region," he explained. "Their input is invaluable and it keeps open the lines of communications to identify root causes of hazards, whether it's equipment specifications, operator practices, or inspection- and maintenance-related items.
"We can't emphasize enough the importance of having everyone take responsibility on how to improve," Allison continued. "That's how our culture is changing. We're able to move forward with safer work practices and safer facilities because everyone understands safety initiatives and equipment standards don't take away from productivity and the ability to do quality work. Instead, they bring value."
From his vantage point, McCall said all of these activities are about "stepping up your leadership style and raising everyone's standards and expectations. How many more accidents do you need to see, hear about, read about and investigate?" he asked the EUFMC audience earlier this year. "If you are tired of injuries, and the type of attitudes that go with that thinking, then change the culture and the expectations of what is needed from each member of the team. Engage people who believe in helping move that process forward."
About Duke Energy: Headquartered in Charlotte, N.C., Duke Energy is a Fortune 250 company traded on the New York Stock Exchange under the symbol DUK. More information about the company is available at www.duke-energy.com.
About the Author: Seth Skydel has more than 27 years of truck- and automotive-related publication experience. In his career, he has held editorial roles at numerous national business-to-business publications focusing on fleet and transportation management, vehicle and information technology, and industry trends and issues.
Fleet Profiles, Fleet Maintenance, Fleet Safety
---
Seth Skydel
Seth Skydel has not set their biography yet
---