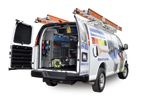 Selecting Cargo Management Systems for Work Vans
A van's cargo management system – which may include a partition, shelving, bins, drawers, reel holders, a ladder rack and other accessories – not only secures the payload to protect drivers from unintended projectiles, but also provides technicians with greater visibility and easier access to their tools and equipment. This translates into quicker turnaround on service calls, enhancing customer satisfaction and profit per job.
But with an array of cargo management options to choose from, how should fleet managers determine what's best for their operations?
Utility Fleet Professional spoke with Bruce Jones, application engineer at GE Capital Fleet Services, a leading full-service fleet management company based in Eden Prairie, Minn., who recommended that fleet managers use these three principles to guide their cargo management selection process.
1. Fit the system for the job
What's the van's job description? What exactly will it be hauling? Where will that cargo – such as parts, tools or equipment – need to be positioned in the van for safe, quick and easy retrieval?
Jones used the example of a telecommunications fleet that typically configures one cargo management system for their installers and another for service vans.
"On the installation side of the business, you're hauling new products and components, which tend to be bulky, preboxed from the manufacturer. So the cargo interior will likely be comprised of racks with large open shelves, while leaving enough floor space to stack and secure large product," Jones said. "But service techs tend to stock their vans with smaller parts and components for repairs, requiring a cargo interior package that can house the small pieces in a way that's easy to find and access. In this case, you'll have interior shelving that may use a lot of dividers or plastic bins that can slide into and lock onto the shelves. Service vans will also have more parts drawers, which take the place of the large open shelves that an installation van might use."
2. Allow for adaptability
While tailoring the cargo management system to the job is important, avoid over-customization, which could limit your ability to use the van for other purposes. "The marketplace is in constant flux and, more than likely, at some point in the life of the van, you'll need to switch the application to get the most use out of the vehicle – and there's no one out there that wants idle vehicles," Jones said.
What's a solution?
"If it's a telecom fleet, consider using the same core shelving or system for both [installation and service] vans, but make it adaptable, where you can slide in plastic bins, use removable modules or install dividers onto the shelves for the service vans," Jones said. "This way, if you need to convert the van for installation jobs, you can do it with minimal time, effort and cost."
3. Spec with ergonomics in mind
Proper ergonomics can be achieved by configuring the cargo area of the vehicle in a way that protects workers from musculoskeletal disorders, which are caused by awkwardly lifting heavy items and performing repetitive, high-strain movements.
"The question to ask is: Do I really need to make my technician get inside the van? Anytime a technician gets inside a cargo van, you're increasing your chances of something going wrong – a technician twists his back or hurts himself in some way," Jones said. "Try to keep the heavier, bigger items closer to cargo doors so [technicians] can stand safely and grab whatever they need from outside the van."
One option that Jones said is growing in popularity is spec'ing vans with dual sliding doors for both curbside and street-side access. "Some fleets will turn the shelving toward the street side of the van, facing the door, so that as you open that sliding door, there's a shelving module where the most frequently needed items are easy to access. [Technicians] can just grab and go, without straining to get inside the van."
Jones said that ladder rack selection also impacts ergonomics, especially with new Euro-style full-size vans entering the market – such as the Ford Transit, Ram ProMaster and Mercedes Sprinter – with high-roof configurations that can make it difficult for workers to reach and safely load and unload a ladder from the top of the van. In these cases, consider a drop-down-style ladder rack, which is mounted on the roof and lowers to a level where the ladder can be easily loaded and unloaded, and then raises to its secure travel position, with minimal effort for the driver.
Another option is an interior ladder rack, ideal for stepladders up to 6 feet, which is ceiling-mounted inside the van's cargo area, eliminating the need for drivers to reach up to the roof to grab that ladder. "But keep in mind, this will impact the interior height of the van. So if the technician needs to go inside the cargo area, then you have to deal with an object that he can bump his head on," Jones said.
The Bottom Line
When it comes to cargo management systems for vans, one size does not fit all applications. Work closely with your van upfitter to lay out the shelving, bin and ladder rack configurations in a way that protects your drivers from injury, makes it quicker and easier to retrieve the parts and tools they need for the job, and ultimately enhances their productivity.
About the Author: Sean M. Lyden is a nationally recognized journalist and feature writer for a wide range of automotive and trucking trade publications, covering fleet management strategies, light- and medium-duty trucks, truck bodies and equipment, and green fuel technologies. He blogs at Strategy + Writing (www.seanmlyden.com).
---
Sean M. Lyden
Sean M. Lyden has not set their biography yet
---