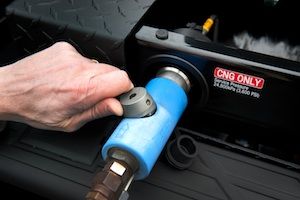 Alternative Fuel Options for Fleets
Fleet fueling today is primarily done using gasoline and diesel fuels, which are derived from crude oil and emit carbon dioxide as a byproduct of combustion. For every gallon of gasoline burned, 20 pounds of carbon dioxide are emitted into the air. Diesel emits 22 pounds of carbon dioxide, and propane, the third-most popular world fuel, generates 13 pounds of carbon dioxide. Methane – the primary component of compressed natural gas (CNG) and liquefied natural gas (LNG) – generates a little less than propane, approximately 12 pounds per gallon equivalent.
Until recently, CNG, LNG and propane were more expensive than gasoline and diesel. However, shale gas reserves from the Marcellus, Bakken and Eagle Ford deposits – along with new extraction and fracturing methods – have given the U.S. and Canada the world's largest natural gas reserves, making the cost of natural gas half the cost of diesel fuel. With this benefit, we can develop strategies to build the cost-effective infrastructure necessary to economically deliver to end users the methane fuels, including CNG and LNG, that will allow us to reduce our dependency on petroleum-based fuels as well as reduce our carbon dioxide emissions.
Conversion Costs and Other Considerations
Converting one diesel engine to use natural gas will cost an estimated $20,000 to $30,000. With lower fuel costs than a gasoline or diesel engine, the financial investment can be recovered in two to three years or 175,000 miles.
The added costs are a product of the spark plug ignition and related vehicle fuel storage and delivery systems necessary to upfit the vehicle's diesel engine so it burns methane fuel. The emissions systems on EPA-compliant diesel engines (i.e., diesel oxidation catalyst, diesel particulate filter and related system components) are not needed when using methane fuel. However, the exhaust gas recirculation system will be retained and the CNG and LNG engine will comply with the 2002, 2007 and 2010 EPA environmental standards.
Dimethyl ether, a variation of methane, provides a fuel for the diesel engine that does not require a spark plug ignition. Large-capacity truck engines can be fitted with high-pressure direct injection, which uses a small amount of diesel fuel to increase the combustion temperature so the methane will fire in a compression ignition cycle – no spark plug needed. At the present time, smaller diesel engines, in order to be converted to methane (CNG) use, need spark plug systems to operate. LNG currently is a better application for long-haul, heavy-duty Class 8 tractors and vocational trucks.
Off-road diesel-powered units require Tier 4 systems, and buses and trucks require diesel oxidation catalysts and diesel particulate filters. Methane systems eliminate the need for these components and their costs because methane fuel burns cleaner and does not need the exhaust filtration to remain EPA compliant.
When considering a conversion, also think about working with a manufacturer that can supply you with a new alternative fuel vehicle for warranty coverage purposes. It is not desirable for you to convert your present gasoline or diesel engine to an alternative fuel vehicle if you want to preserve your warranty. Additionally, you want to be sure that the conversion is efficient and your expected life cycle is kept intact.
Choosing a Fuel Option
What is necessary to decide on infrastructure to support your alternative fuel choice? If methane gas is available in the street at your facility, you can plan on the installation of a CNG fueling station. Street pressure is around 250+/- psi, and you need to have a compressor plus cooling and filter equipment to bring the methane up to 3600 psi to dispense it into your CNG-equipped vehicle. Dispensing does not require any specialized fueler protective equipment. An estimated cost for a CNG station for a 50-vehicle transit bus and/or vocational truck fleet is $2 million to $3 million. The cost for a 100- to 150-vehicle transit bus and/or vocational truck fleet is an estimated $3 million to $5 million.
LNG or propane is an alternative if you do not have methane in the street. Special dispensing equipment is necessary for LNG since storage temperature is around -270 degrees Fahrenheit, and asbestos gloves and an asbestos apron along with a face mask also are needed due to the low temperature. This protective equipment is required for the protection of the fueler in case of a leak. If you are interested in using propane, do your research to see if it can be trucked into your facility.
Some simple alternative fuel options are biodiesel and ethanol. Biodiesel is a quantity of used or virgin vegetable oil. The desired vehicle and engine manufacturer-approved mix is 20 percent biodiesel and 80 percent diesel fuel. For ethanol, the desired mix is 10 percent ethanol and 90 percent gasoline. More than 10 percent ethanol is corrosive and requires stainless steel components. These alternatives can easily be included in our present infrastructure, but do not reduce the amount of carbon dioxide emitted into the atmosphere.
Vehicles choosing CNG and LNG are restricted in their range of travel because of the lack of infrastructure. These fuels are best used in vehicles and equipment that start from and return to their original domiciles. The same is true with electric vehicles; their travel range is restricted based on charging station availability, plus the batteries are not durable, are very expensive and need greater capacity.
Another decision is whether to engineer vehicles and equipment for a dedicated fuel or to equip them with a dual fuel application, which allows a greater range of operation. Dedicated fuel units offer more economical and green control to management to maximize their strategic and tactical goals and objectives, recovering their conversion costs sooner. Units with centralized fueling keep operating activities simple, offering greater control of unit performance, route dedication, training, maintenance and repairs, and maximum availability for maximum utilization.
Maintenance and Repairs
CNG, LNG and propane vehicles and equipment need regular maintenance and also will need repairs from time to time. Vehicles and equipment usually are serviced in facilities such as garages. Other than biodiesel and ethanol, alternative fuels require facility safety upgrades and modifications to protect the service professionals and support staff who diagnose, maintain and repair alternative fuel vehicles and equipment.
Garages in the southern region of the U.S. have the option of servicing vehicles outside under covered work bays, which allows venting of methane, propane, and hydrogen fumes and vapors. Due to the climate, garages in the northern region of North America don't have this option. Even if you can work outside, it is much better to service vehicles and equipment indoors because it provides a controlled climate, as well as greater safety and a more productive environment for the service personnel. It's important to remember, however, that working on CNG, LNG, electric, hybrid and propane vehicles and equipment requires the measurement and ventilation of their fumes and vapors.
Regulatory agencies and insurance companies identify codes that need to be adhered to in the construction of alternative fuel-friendly garages. The fire department is king in these circumstances. Consider the following example of methane leakage. Since the flammable range of methane is 5 percent to 15 percent methane and 85 percent to 95 percent air, fire departments and the National Fire Protection Association recommend that 20 percent of the lower flammability limit be measured for staff protection. The lower flammability limit of methane is 5 percent, so 20 percent of the lower flammability limit is 1 percent methane to be measured. The facility must be equipped with explosion-proof fans to be energized when the lower flammability limit is reached. Similar measurements of electric vehicle batteries' hydrogen emissions, hybrid batteries, hydrogen from fuel cells and propane all fall under regulatory agency supervision for facility and personnel safety and are integral parts of alternative fuel technology and implementation into your fleet.
Fire drills should be held at the garage on a regular basis. If you have gasoline and diesel vehicles, all windows, doors and exhaust equipment must be closed to smother the fire by withholding oxygen. The alternative fuel strategy is to open all doors and windows to release the fumes. These different strategies require staff training to ensure employees know the difference between audio and visual strobe configuration alarms and warning system alerts. Proper training will enable staff to act appropriately during an emergency, including safely exiting the facility and reporting to the correct gathering stations for attendance purposes.
Recent Popularity
Why are alternative fuels now getting so much attention? North America wants to reduce its dependence on foreign fuels and petroleum products. With the world demanding more fuels through foreign oil, competition for a controlled supply increases prices and restricts demands, resulting in the potential for a down economy. Additionally, greater use of oil increases pollution in the form of hydrocarbons, nitrogen oxide, carbon monoxide and carbon dioxide.
Alternative fuels like CNG, LNG and propane offer cost-effective, greener alternatives. And due to horizontal drilling and hydraulic fracturing in large shale fields located in the U.S. and Canada, natural gas volumes recently have dramatically increased. With this increased volume, prices have dropped so that the diesel gallon equivalent of natural gas has become available at less than half the cost of diesel fuel. As such, there is potential to significantly reduce our vehicle and equipment fuel costs and rapidly stimulate the economy by replacing diesel fuel with natural gas and even producing diesel fuel from natural gas.
CNG, LNG and propane are great alternative fuel options that can supplement and replace our immediate and future needs for gasoline and diesel fuel. LNG offers greater heat content and is more suited for over-the-road Class 8 tractor-trailers and vocational trucks. CNG is better suited for Class 1-7 diesel units, and propane fits Class 1-7 gasoline vehicles. These fuel choices are limited only by the construction of fuel stations; in order to realize their full potential, the country must create infrastructure to allow greater access to alternative fuels.
The availability of methane via North American shale deposits and the hydraulic fracturing process has put the region in a position to use CNG, LNG and propane as productive, cost-effective alternative fuels. Each of us needs to do our homework to see what is best for our specific needs. Analyze the cost of alternative fuels, look at the payback time frame, and make the decision that is best for your shops and your business as a whole.
About the Author: John Dolce is a fleet facility and maintenance specialist employed by Wendel Companies, an architectural and engineering firm. He is an active consultant, instructor and fleet manager with more than 40 years of experience in the public and private sector. Dolce has written three fleet-related textbooks and teaches fleet management courses at the University of Wisconsin's Milwaukee and Madison campuses.
Fleet Maintenance, Natural Gas Vehicles, Fuel Management
---
John Dolce
John Dolce has not set their biography yet
---