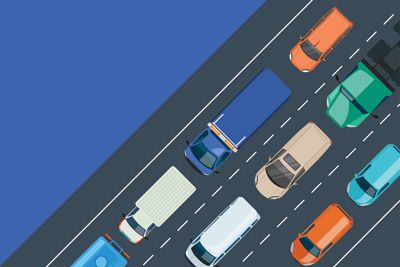 In early March, the coronavirus caused automakers to shut down production completely for two months. But even after reopening in late June, they've still had to deal with temporary plant closures as positive cases emerge.
As you can imagine, COVID-19 has wreaked havoc on vehicle and equipment production schedules and supply chains, causing significant delays that have put many utility fleets in a bind.
So, what exactly is the current state of order-to-delivery (OTD) time frames? What can you expect to see over the next several months? And how can you minimize any disruption to your fleet operations?
UFP spoke with Cindy Gomez, vice president of vehicle acquisitions services at Donlen (www.donlen.com), a fleet management company, to get her outlook on OTD time frames and advice on how you can handle the issue.
Here's an edited version of our conversation.
UFP: What are you seeing as the state of lead times right now?
Cindy Gomez: The typical lead time for sedans is about six to eight weeks. But sedans being built right now have been pushed to 12 to 14 weeks.
I think the biggest challenge that the OEMs are facing is people. There's a lot of absenteeism occurring right now. So, they're trying to shuffle things around.
And then, in the middle of a pandemic, you also have model-year changeover, which the OEMs have extended because they had all these orders for 2020 still unbuilt. So, they have these backlogs that they have to get through. All of this increases the lead time to our customers' orders.
How far out have the new model-year production dates been extended beyond the typical late summer/early fall changeover?
We're looking at later in the fall. For example, GM originally had their cargo vans scheduled to start production for the 2021 model year in September. But they've now extended that to mid-October.
You mentioned the delays for sedans. What about the other vehicle segments – pickups, cargo vans, and medium- and heavy-duty trucks?
Pickup trucks are typically 14 to 16 weeks. Now they're more like 16 to 20 weeks. So, there's not as big of a spike with pickups. But on your cargo van, we see a considerable increase. The market is hot for cargo vans. Orders placed in August probably will not get produced until December, maybe even January.
I'm assuming that what's driving demand for the cargo van segment is the surge in last-mile delivery?
That's correct.
Now, what about the medium- and heavy-duty trucks?
In terms of OEM production of medium- and heavy-duties, we aren't seeing much increase in lead times on those models. Many of our clients pre-plan, so we have tight relationships with the OEMs on the medium- and heavy-duty side. And when clients pre-plan, we're able to get orders in sooner versus later. But I'd say that some of these chassis are 90 days out, which is typical.
As a frame of reference, how does 2020 compare to 2019? If I recall correctly, there were longer than usual OTD time frames in 2019 as well.
I really think that we experienced major challenges in 2019 due to railcar shortages, especially on your high-roof and medium-roof type vans that go on special railcars. There are not enough railcars in the industry to accommodate the transportation of those vehicles. So, that was a big issue that we encountered in 2019.
But with production output being so slow right now, the challenge that we're seeing is not necessarily railcar shortages but getting a full load to ship the vehicles. That's because the trucking companies and railcars won't stop at the upfitter or the plant if there's not a full load to pick up. So, vehicles will sit until a full load is readily available.
Now, let's drill down into possible solutions. What can utility fleet professionals do to minimize disruptions from vehicle order delays?
Look at opportunities to develop an agreement between the OEM, their fleet management company and the upfitter to create bailment pool units.
The bailment pool allows you to stagger the build throughout the year, continually replenishing vehicles sitting on the ground at the upfitter. It's cost effective because you get factory pricing from the OEM, and the upfitter will typically create an agreement up to 90 days interest free. So, that's a best-case scenario.
What about other strategies?
You can look at purchasing from upfitters that have their own chassis already sitting on the ground. But the caveat is that although the chassis is still treated like a factory order with factory pricing, that upfitter is responsible for performing the upfit on that vehicle.
Your third option is acquiring a vehicle out of dealer inventory. And this is where fleet management companies can assist with evaluating data to determine whether or not it makes sense to acquire a used asset to get them through that project, or if they should acquire a new one.
And a fourth option is bridge rentals. This is where you put drivers in a rental in the interim while those factory-ordered vehicles are being built, so you can keep those employees on the road and busy.
When it comes to purchasing from dealer stock, what advice do you have for fleet managers to establish and cultivate relationships with dealer partners?
I would focus on one or two dealerships centrally located in the regions where these vehicles will be needed. And then give that purchase volume to those dealerships. This is important because – and most dealers will do this – they will spec a vehicle, put it in retail and hold onto it for X number of days. If they have a buyer, they will sell it, but they'll also replenish it for inventory to have on hand for you.
This way, you can keep your spec'd vehicle on the ground at a dealership at all times. You can now negotiate pricing based on the volume you plan on acquiring for the year and set that up when you start developing these relationships with the dealers. And then you would need to work on finding a preferred transportation partner that can move these vehicles to different locations throughout the country.
Is there anything we haven't talked about when it comes to OTD delays or how to navigate them that you think would be important for our audience to know about?
The biggest thing I would recommend is to negotiate your incentive programs as much as you can with the OEM. When you're acquiring a vehicle out of stock, and it falls within a specific program year, there are opportunities to renegotiate that program year to get a better discount applied to new stock purchases.
For example, we had a customer who needed X number of vehicles, but they were in the 2020 program year that was already negotiated. Now we're in the middle of the program year, and the customer needs these vehicles because they could not wait for the factory order. So, our strategy was to work with the OEM partner and get a higher incentive for the 20 to 30 out-of-stock units they needed, which they successfully obtained. So, if you're having to purchase from dealer stock, definitely renegotiate your incentives.