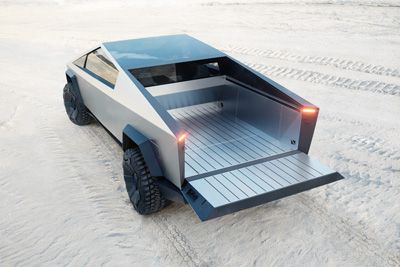 6 All-Electric Pickups in the Pipeline
For utility fleets committed to electrification, the holy grail is to electrify pickup trucks.
That's because pickups represent the largest vehicle segment for most fleets in the industry. So, if you can electrify a wide range of pickup applications, you'll make a huge dent in your company's sustainability efforts.
The challenge is that high battery costs and low range between charges have historically made the idea of all-electric pickups seem impractical for widespread fleet use. And there are no products commercially available for fleets to choose from.
But that could be changing soon. Here's an overview of six electric pickups currently in development that are expected to launch in the next one to two years.
Tesla Cybertruck
Tesla's Cybertruck is expected to offer a 500-mile range, 14,000 pounds of towing capacity, a 3,500-pound payload capacity and – not really relevant to work trucks but still interesting – 0 to 60 mph acceleration of 2.9 seconds.
Pricing should start at $39,900, but the first trucks slated for production in late 2021 will be tri-motor models with a starting price of $69,900.
The truck seats six with additional storage under the second-row seats. And there will be an advanced 17-inch touch screen with an all-new customized user interface.
Tesla has over 650,000 reservations for the Cybertruck, according to a recent report from Wedbush Securities.
Rivian R1T
Rivian has garnered a lot of attention and credibility behind its upcoming EV pickup thanks to big investments from companies such as Amazon and Ford.
The R1T pickup offers three different battery pack options with 230-, 300- and 400-mile ranges. And the truck is expected to produce up to 750 horsepower with a maximum towing capacity of 11,000 pounds.
Production was supposed to start this year, but the company pushed its timeline back to sometime in early 2021 because of the coronavirus. Prices are expected to start at $69,000.
You can preorder the R1T on Rivian's website (https://rivian.com) with a refundable deposit of $1,000.
GMC Hummer
There are not a whole lot of details yet on the GMC Hummer, which is expected to produce 1,000 horsepower and up to 11,500 pound-feet of torque, with a range around 400 miles between charges.
GM originally scheduled the electric Hummer reveal for May 20 but postponed the event amid the coronavirus pandemic.
The truck is slated to hit the market in fall 2021 as a 2022 model, and Car and Driver estimates a starting price of $70,000.
Electric Ford F-150
In January 2019, Ford first announced its intention to build an electric F-150, and last July they put the prototype into action with a stunt to pull 1 million pounds.
But since then, Ford has kept pretty quiet on the details of performance specs. The company said the electric pickup will go on sale by the middle of 2022. There's no word on pricing yet.
Lordstown Motors Endurance
On June 25, startup Lordstown Motors unveiled its all-electric pickup truck, the Endurance, at its Lordstown, Ohio, headquarters.
The company was established by former Workhorse CEO Steve Burns, who purchased the GM Lordstown plant in 2019.
The Endurance appears to be targeting the commercial fleet sector, as Lordstown Motors has inked a deal with SERVPRO, a fire-and-water-damage restoration company, which has committed to purchasing 1,200 trucks.
The truck can seat five people, produce 600 horsepower and reach a top speed of 80 mph, with a range of over 250 miles and a towing capacity of 7,500 pounds.
The Endurance can be charged 95% in 0.5 to 1.5 hours on a Level 3 DC charger or in 10 hours on a Level 2 7-kilowatt charger.
The company said that it plans to produce 20,000 Endurance trucks in 2021. The base price is expected to be $52,500.
Nikola Badger
You may be familiar with Nikola, which is best known for its work to bring fuel-cell-powered semi trucks to market. But this March, it entered the electric pickup race.
The Badger will combine batteries with a hydrogen fuel-cell system to produce a 600-mile range – with 300 miles on battery power alone – and a towing capacity of about 8,000 pounds.
Early specs tease 906 horsepower and 980 pound-feet of torque, plus a 0 to 60 mph time of 2.9 seconds.
Customers can preorder the Badger with a fully refundable $5,000 deposit. Nikola founder and CEO Trevor Milton told Reuters that the pickup will enter production in 2022 or earlier.
In an interview with CNBC, Milton said the Badger will cost about $60,000 to $90,000.
How Far Away are We?
So, how far away are we from being able to grab hold of that holy grail – with plug-in electric pickup trucks?
We're looking at one to two years for production models, but it's unclear when fully electric trucks will really make a dent in the fleet pickup truck segment. It could still take several more years before there are electric trucks available that meet the performance and price-point requirements for large-scale fleet use, although the Lordstown Motors Endurance appears to be the early front-runner.
Then there's this question: Can OEMs make money in building electric trucks?
As a May 7 article in The New York Times put it:
Karl Brauer, executive publisher of Cox Automotive, underlined that automakers, including Tesla, had yet to prove that E.V.s could be a profitable long-term business. "To say, 'We've made a full E.V. truck, and we're actually making money on it,' will be quite an accomplishment," Mr. Brauer said.
This is an important consideration because if OEMs cannot find a way to turn a profit and build a sustainable business around EVs, that could put the brakes on electric truck development. So, watch this space.
---
Sean M. Lyden
Sean M. Lyden has not set their biography yet
---