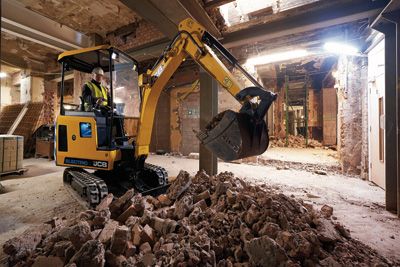 What's New in Digging Machines for Utility Fleets?
When the job is to dig trenches, drill holes or dig in tight spaces, how can utility crews get more work done in less time at lower cost?
That's the question many heavy-equipment manufacturers ask themselves as they design and develop new digging machines and accessories.
So, what new products have emerged within the past six to nine months to help utility companies and contractors improve worker productivity and cut operational costs? Here are seven new developments to keep your eye on.
JCB
What's New: 19C-1E Fully Electric Mini Excavator
Website: www.jcb.com
As JCB's first fully electric mini excavator, the 19C-1E is suited for construction and excavation applications in enclosed or urban job sites, or noise- and emissions-sensitive environments, such as hospitals and schools. The machine offers comparable power to JCB's diesel 19C excavator, while producing zero exhaust emissions and one-fifth the noise.
Powered by three lithium-ion batteries creating 15 kWh of capacity, the 19C-1E can complete a typical day's work on a single charge. An optional four-battery pack increases capacity to 20 kWh, delivering an additional two hours of continuous use.
JCB estimates that the electric charging costs for the 19C-1E will be 50% lower than the fuel cost for a comparable diesel machine over a five-year period, with maintenance costs being about 70% lower.
Ditch Witch
What's New: JT24 Directional Drill
Website: www.ditchwitch.com
Ditch Witch's new JT24, a compact horizontal directional drill, is designed for ease of use in a wide range of urban and residential gas, fiber and other utility installations.
The JT24 is equipped with a 101-gross-horsepower, Tier 4- and European Stage V-compliant Cummins diesel engine, offering 24,000 pounds of thrust and pullback. A new hydraulic platform maximizes drilling efficiency to conserve horsepower for where it matters most – downhole.
The company said that the JT24 offers a wider frame than competitive units, improving stability without sacrificing maneuverability in tight urban environments. And the JT24's maximum carriage speed of 216 feet per minute decreases cycle times to boost job-site productivity.
Volvo CE
What's New: EC300E Hybrid Excavator
Website: www.volvoce.com
Volvo CE's new EC300E hybrid excavator made its North American debut earlier this year at CONEXPO-CON/AGG 2020 in Las Vegas.
The machine's hybrid technology captures energy generated by the boom's down motion to charge 5.2-gallon hydraulic accumulators. The system then delivers that energy to the motors that power the hydraulic pump, reducing load on the engine to cut fuel consumption by 15% and CO₂ emissions by 12%, compared to conventional excavators.
According to the company, the payback period from fuel savings is approximately two years when the EC300E is used in high-production "dig and dump" applications – especially those where the machine operates within a 90-degree swing.
Terex
What's New: Digger Derrick Spin Bottom Drill Bucket
Website: www.terex.com
Terex Utilities released a new Spin Bottom Drill Bucket for digger derricks to boost productivity when drilling in unstable ground conditions, such as wet or sandy environments.
As the tool drills into the ground, barrel teeth cut through the material while the bucket captures it, allowing the operator to dump the material outside of the hole. The spin bottom is simple to control with forward and reverse motions to open and close the tool.
The tool features 5/8-inch wall thickness, 30-inch barrel length and 104-inch overall length. Dirt teeth and pilot bit are standard.
Caterpillar
What's New: 306 CR Mini Hydraulic Excavator
Website: www.cat.com
The new Cat 306 CR Mini Hydraulic Excavator marks Caterpillar's entry into the 6-ton class, featuring heavy-duty main structures, a fuel-efficient engine, load-sensing hydraulics, a spacious cab and the exclusive Cat Stick Steer system.
With its long-stick option, the 306 CR delivers a maximum dig depth of 162 inches and a 15,821-pound maximum operating weight when equipped with the sealed and pressurized cab. A canopy alternative to the pressurized cab will be available later this year. Built with a swing boom, this machine's compact radius design provides a low 58-inch tail swing with counterweight for maneuvering and working in tight areas.
The 306 CR shares components with other models in the Cat mini excavator lineup to reduce repair costs, service time and repair parts inventories. And the machine's major structures are modeled after their larger Cat excavator counterparts to ensure long-term durability.
Bobcat
What's New: Small Articulated Loader Utility Bucket
Website: www.bobcat.com
Bobcat Co.'s new small articulated loader utility bucket is designed for standard-duty grading and leveling applications.
The utility bucket's pre-drilled holes make it easy to install many of Bobcat's bucket accessories. It also features an upper flat surface edge, which functions as a level indicator to show when the bucket is level during operation.
Vermeer
What's New: VXT500 Vacuum Excavator
Website: www.vermeer.com
Vermeer Corp. recently purchased a minority equity investment in and signed a distribution agreement with Vacuum X-Traction Products Inc. (VXP). Through the agreement, VXP will supply a series of Vermeer-branded high-capacity truck-mounted vacuum excavators to be sold exclusively through Vermeer industrial dealers. The first of these machines is the VXT500 Vacuum Excavator that was introduced during the 2020 WWETT Show held in February in Indianapolis.
The VXT500 fits utility applications that require a higher-capacity machine with a smaller footprint, offering an 8-inch vac with an 8-yard spoil tank capacity.
The company said that the strategic partnership with VXP is the next step in Vermeer's goal to offer the widest range of specialized vacuum excavation machines for the underground utility market. VXP will begin supplying Vermeer machines to Vermeer dealers in mid-2020, starting in North America and then expanding globally.
---
Sean M. Lyden
Sean M. Lyden has not set their biography yet
---