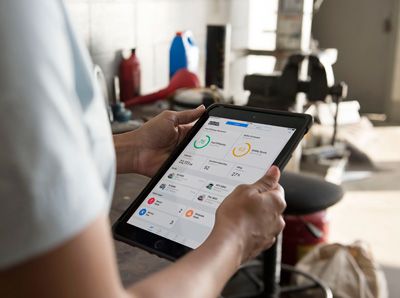 New Developments to Watch in Telematics
The fleet telematics industry has come a long way since 2000, when Geotab's (www.geotab.com) executive vice president of sales and marketing, Colin Sutherland, joined the Ontario, Canada-based telematics company.
"Back then, [telematics] was all about collecting data on board the vehicle itself and, in many cases, having to manually transfer that data to a computing environment using [thumb drives]," Sutherland said.
But with today's telematics, vehicles can automatically transmit real-time location and operational data to the cloud at a significantly lower cost. And as wireless technology has gotten faster and cheaper, telematics capabilities have expanded considerably to include onboard cameras, workforce management systems and machine learning to generate more comprehensive and useful reports.
So, what's on the horizon? What new developments in telematics should you keep your eye on in the next 12 months?
As the U.S. and the world grapple with the impacts from the COVID-19 pandemic, these are challenging times to get an accurate read on any market, let alone telematics. But UFP recently spoke with Geotab's Sutherland and Mathew Long, product success for North America at Verizon Connect (www.verizonconnect.com), and asked them to give it their best shot.
Here are three new developments they say utility fleet professionals should have on their radar.
1. "Central Dispatch" capabilities to improve storm response coordination across multiple organizations and states.
"A problem we've been hearing a lot about is the lack of coordination when multiple utilities and agencies share assets across state lines for storm response," Sutherland said. "These organizations say, 'We need all these assets that are coming together to be sharing their location with Central Dispatch. And we need more efficient FEMA funding recovery.' This way, if it's the aftermath of a hurricane, and Florida is the host state for all those resources coming in to help, you're able to account for all the collective miles more efficiently and accurately – to reimburse all those organizations that came into the state."
In other words, if you're coordinating the response effort, you could get temporary visibility into the vehicle location and other pertinent data from assets outside of your own fleet, all streamed into a central dashboard, no matter which third-party manufacturer's hardware is on the vehicle.
"Most utility vehicles out there already have some form of a telematics device," Sutherland said. "So, what we can do is take pieces of data from those third-party telematics devices and populate only the information that's needed by the central dispatcher without giving up the private information that's specific to the driver in the home fleet."
How would Central Dispatch capabilities help organizations recover FEMA funds more efficiently?
"If we could bring the data from all those resources to a common data center, we'd know where the assets are, the mileage driven and fuel consumed for faster and easier reporting," Sutherland said. "And that's a capability that Geotab has at its disposal – a multi-stream environment to have all these different hardware devices combine into a single common database."
2. Expanded asset tracking beyond vehicles.
As GPS device and wireless connectivity prices continue to drop, it's becoming more cost-effective to install telematics devices on a broader range of assets beyond vehicles and heavy equipment.
What kind of assets?
"It could be a variety of things, depending on the segment," Long said. "It could be something as simple as tagging a drill, a trailer, a set of generators or any high-value piece of utility equipment that only gets moved from time to time. This way, you can know exactly where they are at any moment. And with geofencing, you'll receive alerts if they go outside of a particular territory."
Sutherland agreed. "We see an expansion of telematics tracking beyond the on-road or even off-road powered assets to some of the non-powered assets that would be part of the fleet, like generators, spool trailers, pole trailers and things like that."
But since these trackers would not be attached to an on-vehicle power source, how would they retain sufficient power to be useful?
"One way is to use a battery-operated, low-energy Bluetooth tag that's inexpensive and lasts for a long time," Sutherland said. "And then in the cab, you have a low-energy Bluetooth reader. Essentially, all the assets each have a signature ID that pings constantly. And the in-cab Bluetooth reader detects all the IDs for the equipment and gear you'd expect to be part of the trip, whether it's a trailer or generator or whatever might be in the vehicle. If any piece of that inventory is missing or got left behind at a job site, you receive an instant alert saying, 'You just left something behind.'"
3. Tighter integration of GPS tracking, onboard cameras and machine learning to enhance driver safety.
It's one thing for a telematics device to record and then report a harsh driving event. But it would be even more valuable if that system could also offer unbiased context as to how that event occurred and make that information instantly available to management.
That's what tighter integration between GPS tracking, video footage and machine learning can offer fleets, Long said. The machine-learning component helps, among other functions, to tie together vehicle data with the precise video clip associated with an event – to give organizations the most comprehensive and accurate information about that incident as quickly as possible.
"You could take a harsh driving event and no longer have to look through hours upon hours of video footage or rely exclusively on the driver's account," Long said. "Instead, you can look at the harsh driving event alert that has the video clip automatically attached to give you insight into what was actually happening on the road at that time. And now, you can take your understanding from that video and talk with the driver to get their take on what transpired. That video clip serves as an 'unbiased witness' to help coach drivers with improving their safe driving practices."
---
Sean M. Lyden
Sean M. Lyden has not set their biography yet
---