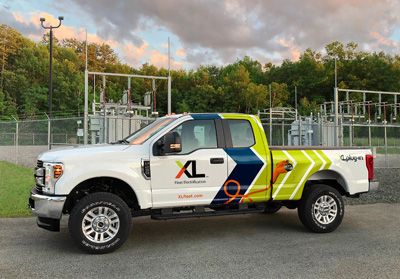 CPS Energy, which serves approximately 820,000 electric customers and more than 345,000 gas customers in the San Antonio area, wanted to help convince its utility customers to explore electric and hybrid vehicles. But rather than roll out a marketing campaign touting the benefits of EVs, the company opted to roll out its own trucks.
Today, CPS Energy has 44 hybrid plug-in Ford F-150s and 15 hybrid Ford F-250s among its fleet of 2,000 vehicles. It also has plans to deploy 14 fully electric sedans. While the sedans will come from the OEM, the Ford F-150s and F-250s were upfitted by XL (www.xlfleet.com). XL offers two versions: a standard hybrid, which is available on several OEM platforms, including Ford, Chevrolet, GM and Isuzu; and a plug-in hybrid, currently available only for Ford F-150s and F-250s.
XL introduced the F-250 plug-in hybrid earlier this year. According to Eric Foellmer, XL's marketing director, "That's really generated a huge amount of interest in the utility community." The plug-in hybrid makes sense for electric utilities in particular, Foellmer said, because "they have unlimited electricity access and a charging infrastructure."
The standard hybrid system from XL reduces fuel use by about 25% through regenerative braking. The plug-in hybrid cuts fuel use by up to 50% and includes a 15-kWh battery pack that provides shared propulsion with the original powertrain. The plug-in option is compatible with Level 1 and Level 2 charging.
Maintenance Mechanics
Since XL's electrification system is installed without altering the OEM's powertrain, fuel or exhaust system, the original warranty remains intact. Maintenance specs are largely the same, too. "The only thing you'll ever have to do is check and top off the coolant on the battery system," Foellmer said. "That can be done on the normal cycle of maintenance."
But the battery can create some concerns for utilities. According to Bert Hargesheimer, senior director of fleet operations and safety at CPS Energy, "There are some different safety challenges with the lithium-ion batteries. We've been working on getting the safety team up to speed."
That has meant training mechanics to work with the technology "so that they're not nervous or concerned with working on the trucks," said Tania Hernandez, manager of the driving safe team and fleet process improvement for CPS Energy. "There are a couple that are a little hesitant, but there's a good sense that the training will get them there. Just like anything that's new."
Benefits Outweigh Challenges
To assist its customers, XL is developing an online web portal that can be accessed by customers' mechanics. "It will have a basic overview of our system, information on high-voltage safety, and tools to diagnose and repair the system if it's required," Foellmer said. "An extensive training process isn't needed, but we want to make sure that they understand and feel comfortable with what they're receiving."
While Foellmer said that XL doesn't promote improved maintenance cycles, he noted that "we consistently hear from our customers that they see less wear and tear on brake pads with the regenerative braking system, which feels similar to shifting into lower gear when you're going down a hill. And with the electrification assist during acceleration, it puts less of a demand on the engine over time."
Because the implementation at CPS Energy is still new, the utility hasn't yet seen the benefits of reduced preventive maintenance, but Hargesheimer anticipates they will be apparent soon enough. For now, the vehicles remain under warranty, so CPS Energy's mechanics haven't had to perform any repairs, he said.
There was one hurdle in the beginning, when XL recalled the batteries on its hybrids. "They worked with us well and tried to get help to us as quickly as they could," Hargesheimer said.
That's to be expected with new technology, according to Hernandez. "Since we're early adopters, it's part of the growing pains of learning," she said. "But we feel it's worth it to be at the beginning of the curve."
About the Author: Sandy Smith is a freelance writer and editor based in Nashville, Tennessee.
*****
Driver Training Needed, Too
It's not just maintenance technicians who must adapt to a new hybrid pickup truck. At CPS Energy, drivers also need some help "getting familiar with the technology," said Tania Hernandez, manager of the driving safe team and fleet process improvement for the utility.
"It's so new and a lot of drivers aren't experienced with it," Hernandez said. She noted that CPS Energy has a team that works with drivers "to make sure they understand the technology at a high level so that they know what's happening while they're driving."
Bert Hargesheimer, senior director of fleet operations and safety at CPS Energy, said that driver training programs can ensure that fleet enjoys the benefits of a hybrid. "If you want to change behavior, the first part is familiarizing them with the new vehicles, how they work and why they work. It's about getting them comfortable. Then it is about getting the information on user behavior and providing feedback about the opportunities to optimize the hybrid technology."