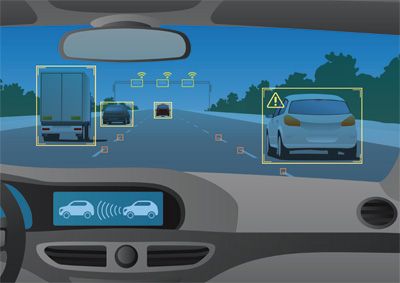 When he's off the clock, John Doyle, senior health and safety adviser at Florida Power & Light, drives a Ford Explorer as his personal vehicle. The SUV is equipped with a backup camera that audibly alerts him when he gets too close to an object.
When Doyle sometimes drives his wife's car – which has a backup camera but no audible alerts – he still finds himself "waiting for the backup camera to tell me to slow down."
Doyle's experience provides a good example of an issue utility fleet drivers across the country are facing these days. They may have all sorts of tools and options on their personal vehicles that aren't available on their work vehicles, which can potentially lead to a habit of relying on the tools and options – even when they're not there.
"People are gravitating towards using the technology to support the way they drive," said Art Liggio, president and CEO of driver training company Driving Dynamics (www.drivingdynamics.com). "We see people come into our training programs who are looking at the backup camera monitor instead of the mirrors. If the monitor hesitates, they freeze. They don't know what to do."
Recent statistics back up the idea that the wealth of technology and safety features in today's newer vehicles isn't lowering accident rates. In 2016, 37,461 people died on U.S. highways, while 2015 saw the biggest jump in accident deaths in 50 years, according to the National Highway Traffic Safety Administration (www.nhtsa.gov).
It is, in fact, human error that is the cause of 94 percent of accidents, according to NHTSA data. In 2015, when the data was released, NHTSA administrator Dr. Mark Rosekind noted that the solution to reducing traffic deaths is a combination of improved human behavior and vehicle technology.
Liggio said there are plenty of other reasons for the higher rate of crashes, including poor infrastructure, longer commutes and driver distractions.
But Doyle needs to look no further than his own experience to say that perhaps we're relying too heavily on technology to overcome poor driving habits – or, in some cases, allowing technology to cause them.
In a previous role at Florida Power & Light, he recalled that when backup cameras were installed on all the fleet vehicles, accidents dropped significantly – for the first year. "After that year, people became complacent with that technology and we started hitting things," Doyle said.
He suggested that drivers be taught to "trust but verify. These vehicle technologies are computers after all, and we know that they do malfunction."
Doyle noted that sometimes sensors can become covered with mud or dirt, affecting performance. He believes that training should be utilized to enhance the use of any technology and, for example, to teach drivers not to rely on backup cameras. They must remember to check the vehicle's mirrors, too.
Even if a vehicle's technology is working correctly, Liggio said, inadequate training on that technology often leaves the driver unprepared for the vehicle to take over. "When the car starts intervening, the driver jumps in and they're fighting each other over what to do. Drivers get so focused on what the car is doing automatically that they stop focusing on their situational issues, and the incident occurs."
He has noticed that, as fleet customers "load up their vehicles with the highest level of technologies," often they experience slight increases in crash rates. "Is it risk compensation, or that the driver doesn't know how to interact with the technology?"
Again, training can help overcome those issues. But ultimately, drivers must come to understand that the technology is there as a tool to heighten vehicle and driver safety – it will not prevent 100 percent of accidents.
About the Author: Sandy Smith is a freelance writer and editor based in Nashville, Tenn.
*****
Future Vehicle Safety Features
Over the next few years, more and more safety features will be added to new vehicles. Here is what to expect.
Mandated Features
Backup cameras. By May 2018, all new vehicles under 10,000 pounds will include a backup camera that shows a 10-foot-by-20-foot zone behind the vehicle.
Automatic emergency brakes. In 2016, 20 automakers – virtually the entire U.S. market – joined the National Highway Traffic Safety Administration and the Insurance Institute for Highway Safety in announcing a pact to include these brakes in vehicles. This voluntary effort allows the new technology to become standard well before any regulatory requirement would mandate it. It is expected to be standard by 2022.
Gaining Adoption
These safety features are not mandatory, but they do factor into the NHTSA's five-star safety ratings and are becoming increasingly available on vehicles.
Forward collision warning systems warn drivers if they get too close to the vehicle in front of them.
Lane assist, or a lane departure warning system, uses cameras to monitor lane markings and alert the driver when he or she is drifting out of a lane.
Blind-spot detection lets drivers know when another vehicle is in their blind spot.
Automatic crash notifications notify emergency responders that a crash has occurred and provides a location.
While vehicle-to-vehicle communication is not yet mandatory, it is on the NHTSA's most-wanted list. This, according to the NHTSA, would mitigate 70 to 80 percent of accidents not involving an impaired driver.