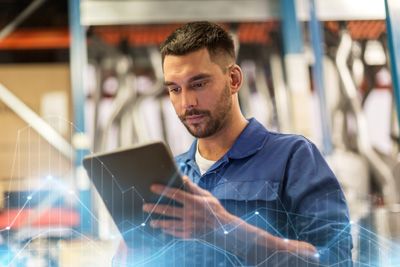 Investing in Garage Management Software
Before the City of Springfield, Illinois, merged all of its fleet operations and implemented garage management software, the utility fleet used to log important information via a low-tech method.
"The utility garage relied on Post-it Notes," said William McCarty, director of the Office of Budget and Management for the City of Springfield. "There were vehicles that were being missed in maintenance, including a brand-new vehicle that went 50,000 miles without ever being serviced."
Opting to implement garage management software, then, was a relatively easy decision to make, especially as all five of the city's fleet garages were brought into one centralized fleet operation. The fleet now has approximately 1,200 units, about one-third of which are utility assets. Utility is the largest aspect of the city's fleet, McCarty said, and includes water, power generation and power distribution.
The garage management system that the city selected includes tablets and laptops for technicians. Dave Lawler, assistant fleet manager for the city, said that going paperless was an important consideration in choosing a system. "We wanted the technicians to be paper-free if at all possible," he said. "We wanted to be able to track all the maintenance, but to put the reports in the technicians' hands." Each technician was provided a laptop or tablet so that they can see a vehicle's history and log notes without needing to leave the asset.
That level of insight is important and far more beneficial than Post-it Notes. But keeping up with the many types of software available in today's marketplace – and the data it generates – can be a challenge, said Ralph Filicko, manager at fleet management consulting firm Mercury Associates Inc. (https://mercury-assoc.com).
According to Filicko, some of the technologies that today's utility fleets may be operating include fleet management information systems, corporate or organizational enterprise resource planning tools, electronic logging devices, office tools and calendaring apps.
"These applications produce enormous amounts of data, which unfortunately is not typically available to be used through a single combined platform, view or toolkit without considerable planning and aggregation of the data from these various sources," he said. "Warehousing this disjointed data into a single, consolidated platform allows organizations to make the required associations between the data elements, which can lead to informed work planning and scheduling, and enable key performance metrics capabilities and advanced business intelligence and analytics."
Questions to Consider
When a fleet – like the one operated and maintained by the City of Springfield – invests in a garage management system, or any type of fleet software, that software should not be used as simply another tool that generates data. There must be deep thought put into how to use that data.
Filicko said the investment must extend beyond questions of "the functional capabilities of a fleet management system and its cost." While focusing on features that solve long-term problems is important, fleets often pay "little or no attention" to the "underlying technology and database architecture of a solution, product roadmap, vendor track record of providing implementation services and ongoing support, and vendor solvency," Filicko said.
Once a fleet has considered those items, any type of fleet management software can be beneficial, especially for older fleets, Filicko said. "Since older fleets generally require more time, effort and money to maintain, additional burdens are placed on the maintenance provider. Utilizing software, a fleet department can quantify the increasing costs of an aging fleet, demonstrate to decision-makers the impact of owning and operating an old fleet, and can manage and project their overall replacement plans more effectively."
Still, Filicko sees value in implementing a variety of systems – particularly those that interact with each other – to improve the overall garage operation. "Using a combination of technologies can allow organizations to more effectively project when those units will become due for service, allowing them to employ a more efficient shop-scheduling strategy and determine when assets can be available for dispatch to jobs or available to perform their primary functions."
Overall, implementing a garage management system has been successful at the City of Springfield, McCarty said. "We knew we had to have a system that would automatically alert us when something was due. With more than 1,000 pieces of equipment, we don't have a large enough staff to look at that. We needed a system to do that."
About the Author: Sandy Smith is a freelance writer and editor based in Nashville, Tennessee.
*****
Perfecting the RFP
A variety of garage management software solutions are available, and it might be tempting to go with the one that offers the most bells and whistles. Issuing a request for proposal (RFP), however, should help narrow down the search.
Of course, basics like the organization's fleet size and composition are critical to choosing the right solution. Ralph Filicko, manager at Mercury Associates Inc., suggested incorporating functional and technical requirements into the RFP, and including specifications for integrations as well as milestones for payment based on deliverables. In addition, he said, consider "terms to escrow the application source code in case the vendor becomes insolvent."
William McCarty, director of the Office of Budget and Management for the City of Springfield, Illinois; Tim Wier, the city's fleet manager; and Dave Lawler, assistant fleet manager, also offered these tips:
Don't reinvent the wheel. The team asked peer communities for RFPs they had created in the past, which they tweaked to their specific needs.
Ask vendors for nearby communities that use the management system. "Use your networking to evaluate these products," Wier said. "Find out what they like or what they'd like to change."
Understand that implementation is just a starting point. "The system does so much more than we utilize it for," McCarty said. "We continue to look at more uses to improve our operations."