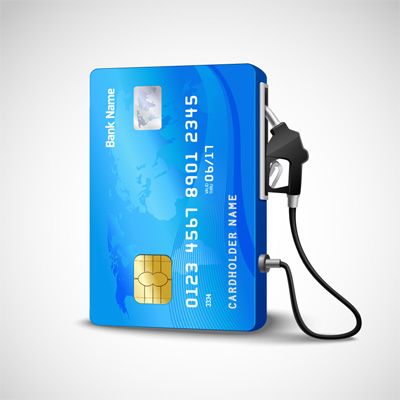 Pros and Cons of Fuel Card Use
John Adkisson, transportation manager for Pennsylvania-based PPL Electric Utilities, keeps an eye on the fuel consumption of the company's vehicles through the use of fuel cards.
Each vehicle in the utility's fleet is assigned one of these cards when the vehicle is put in service, and each employee is assigned a unique driver ID. Assigning fuel cards and driver IDs serves two purposes: "This allows anyone who operates a company vehicle to fuel any vehicle that he or she may be driving with the fuel card," Adkisson said. "This also allows the fleet department to track fuel consumption down to an individual vehicle."
Monthly exception reporting provides Adkisson insight into any unusual activity, such as an out-of-state purchase or purchase of a large quantity of fuel. If needed, he can limit driver transactions by number or amount via the fuel card's website.
An Attractive Solution
It is this type of data, flexibility and control that make fuel cards an attractive solution for today's utility fleets, often winning out over other options, such as on-site fuel tanks and driver reimbursement.
"Customizable controls and program parameters are among the top benefits of a fuel card, as compared to other options," said Andy Hall, assistant manager of fuel and GMS products for fleet management company ARI (www.arifleet.com). "Reimbursement programs and general credit cards typically allow drivers to purchase virtually anything they want without restriction, resulting in misuse and abuse."
PPL has its own fuel tanks at some of its larger facilities, but those are used only "as a last resort," Adkisson said. Use of one of those tanks may mean a fuel card has been lost or there is some sort of fueling disruption.
Last year's significant storms drove that last point home, said Jayme Schnedeker, director of fleet products for Element Fleet Management (www.elementfleet.com). "Increasingly, there is a focus on emergency fueling or coverage when retail stations are down," he said.
But for most day-to-day operations, fuel card use allows for greater control and insight, particularly when paired with other technology, such as telematics.
"When you combine fuel card data with technology, such as our ARI insights platform, you can create custom dashboards with alerts and key performance indicators, allowing you to manage by exception and quickly identify opportunities to drive savings," Hall said. "Also, this data warehousing gives fleet managers the ability to easily generate comprehensive reporting for budgeting and forecasting purposes."
The ability to gather that level of detail outweighs the benefits of a corporate credit card, Schnedeker said. "Corporate cards are only purchasing mechanisms, whereas a fuel card program is set up to deliver data and reporting that fleet managers can use to actively manage their expense."
Fraud Concerns
There is at least one potential drawback to fuel cards that fleets should be aware of: They are as vulnerable to fraud as other types of payment at the pump. The use of skimmers – devices that grab numbers from cards swiped at pumps – has increased the prevalence of fuel fraud in the last year or so, Schnedeker said. "Thieves have gotten really creative in terms of how they're able to disguise purchases to steal fuel. It's pushed fuel card companies to develop ways to use the transactional data to better assess the transactions and determine whether they are fraudulent or not."
Chip card use continues to grow, but not all fueling stations currently accept the cards. Hall expects that most fuel card providers will be ready for a 2020 mandate that requires fuel stations to install chip-card readers.
In addition, he sees leading fuel card providers working on a one-card solution that "can accommodate pricing models for both truck stops (cost-plus) and retail locations (rebate). This will allow mixed fleets to use one card platform across all their vehicles. In addition, providers are also exploring mobile payment solutions, with a few scenarios currently in the pilot phase, but adoption will likely be slow due to the necessary equipment investment."
As instances of fuel fraud grow in number, it is increasingly important for fleets that use fuel cards to develop data and security policies, Schnedeker said. "It's simple, but it's often overlooked: provide information in writing about where the cards are stored and how drivers should keep their driver IDs private."
About the Author: Sandy Smith is a freelance writer and editor based in Nashville, Tennessee.
*****
Select the Right Fuel Card for Your Fleet
Is your company considering investing in a fuel card program? Here are some criteria for evaluating providers from Andy Hall, assistant manager of fuel and GMS products for ARI, and Jayme Schnedeker, director of fleet products for Element Fleet Management.
Consider the financial aspects, including rebates.
Explore the levels of controls and customization that are available. Hall said to look for "extensive flexible controls that can be tailored to the specific needs of the fleet."
Ensure that the fuel card is widely accepted, which both Schnedeker and Hall said is a top priority. "Unless a fleet operates on a very specific, well-defined route that a particular supplier can accommodate, most fleets should select a universal card with broad acceptance," Hall said.
Make sure adequate account support is available. "This is important particularly during implementation," Schnedeker said. "It's a great opportunity to hear about best practices and validate how the provider will work to make things simple. That functional support makes or breaks the program."