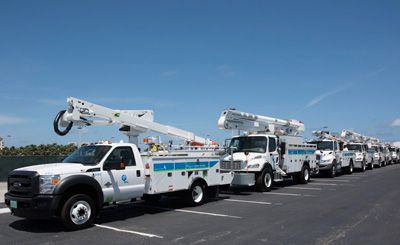 New Power Sources Aid Anti-Idling Efforts
Unnecessary idling is still the bane of many utility fleets, and while not every fleet wants to turn off vehicle engines at job sites, some new and updated technologies are offering improved auxiliary energy options.
In March, Altec (www.altec.com) introduced JEMS 4, the latest version of its Jobsite Energy Management System, which offers integrated engine-off cab heating and cooling and an on-demand, electrified PTO for hydraulic power.
The anti-idling system is automatic; as soon as the truck is put in park or neutral, the engine shuts down. "In this way, idle mitigation is not something the operator has to think about," said Mark Greer, Altec market manager.
JEMS 4 relies on a new generation of lithium-iron-phosphate batteries, which offer improved thermal and chemical stability – safer chemistries – than the previous cobalt-based lithium-ion batteries. Also, the battery pack is about half the weight of previous versions and takes up about half the space, Greer said. (For more information, see the "Better Batteries, Lower Prices" sidebar at the end of this article.)
The core of JEMS is the idle and power management system from Cullman, Ala.-based ZeroRPM (www.zerorpm.com). In addition to the controller, components include lithium-iron power and energy modules to power booms, buckets and systems, said Evan Miller, vice president of sales and marketing. ZeroRPM also offers a stand-alone AC unit powered by the energy modules, and for organizations with enough roof space, the company has a solar-powered option to charge the batteries.
Florida Power & Light Co. added the JEMS system on more than 100 of its Ford F-550 bucket trucks, and this has helped meet the fleet's anti-idling policy at most job sites, said Glenn Martin, manager of fleet quality and reliability. The auxiliary battery packs with the ZeroRPM system have "performed pretty well," according to Martin. FPL also added ZeroRPM's AC unit that operates "real close to the vehicle AC," he said.
Baltimore Gas & Electric monitors idling via its onboard telematics system, said Joe Byrd, senior business analyst with the utility fleet. The operator controls idling, but managers receive regular reports, and it's up to them to identify unnecessary use. Idling has dropped in half since installing the telematics system, with most of that coming from shutting down the trucks at the service center and during loading, Byrd said.
BGE also is testing Altec's JEMS and Odyne Systems' hybrid trucks, Byrd noted.
Solar Power Option
For some select applications, solar panels may be a power option.
Warwick, R.I.-based eNow Inc. (www.enowenergy.com) offers a cab-top array of solar panels for the transportation sector. The panels provide 13 watts/1 amp of power per square foot, enough to power an HVAC unit as well as lights and other job site equipment, said Jeffrey Flath, founder and president. Although typically there is not enough array space atop a truck's cab to provide power for buckets, cranes or heavy auxiliary devices, "our system would charge auxiliary batteries so the engine doesn't come on as often," he said.
The panels are encapsulated in ethylene tetrafluoroethylene, a rugged plastic that resists tree branches better than glass systems, and are maintenance free, Flath said. The panels are one-eighth of an inch thick and weigh approximately a half-pound per square foot, compared to 2.5 to 4 pounds per square foot typical with glass systems, Flath noted.
The system ties in with the truck's alternator. On sunny days the system charges the batteries, and on cloudy days the alternator takes over. The cost for a 100-watt system – including the panels, solar charge controller, wiring harness and installation – is about $960. eNow Inc. has installation arrangements with Mitsubishi Fuso, Johnson, Morgan and Hercules truck body manufacturers, as well as Palfinger Liftgates, among others.
Start-Stop System
Effenco (www.effenco.com), headquartered in Montreal, offers a start-stop system for heavy trucks that essentially is an idle mitigation system. It incorporates batteries, an electric motor and an ultracapacitor to provide electric power to the aerial device, cab and chassis accessories, including the HVAC system when the engine is off. The electric motor is used to start the engine.
About the Author: Jim Galligan has been covering the commercial truck transportation sector for more than 30 years and has extensive experience covering the utility fleet market. In addition to writing and editing for magazines, his background also includes writing for daily newspapers, trade associations and corporations.
*****
Better Batteries, Lower Prices
The batteries being used in today's auxiliary battery systems are safer, lighter and less costly than their predecessors, all factors that may prompt more utility fleets to look at idle mitigation systems.
Before a fleet manager OKs an idle mitigation system that will shut down engines at job sites, they want assurance that the onboard auxiliary battery systems are going to provide safe, reliable power. Lithium-ion batteries were a huge advancement over lead-acid units, but they also are expensive, thermally unstable and toxic, reasons fleet managers have cited for not using them.
The latest generation of the lithium battery – the lithium-iron-phosphate battery – offers longer life, greater stability and more power density than the earlier cobalt-based lithium-ion battery.
"There's been tremendous work in lithium-iron," said Bill Van Amburg, senior vice president of CALSTART (www.calstart.org), a Pasadena, Calif.-based nonprofit entity that promotes clean transportation. The combination of the new chemistry and high-volume manufacturing has opened the door for cheaper, safer auxiliary power, he said.
High-volume orders for lithium-iron batteries from companies like General Motors (for the Chevrolet Volt) and Tesla Motors have reduced power prices for batteries to about $200 to $300 per kilowatt-hour, down from more than $700 and higher three to five years ago, Van Amburg said. Because the commercial truck sector doesn't see that volume, the price drops are not as great, but he said "[they're] still substantial" and trending down.