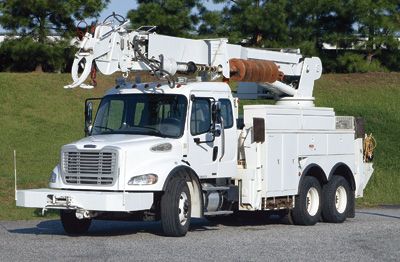 Getting the Most Out of Your Tires
As a utility fleet manager, you operate perhaps the most diversified vehicle fleet of any business, typically using all weight classes of trucks, from light- to heavy-duty, on the road and off, hauling aerial devices, digger derricks and a slew of other job-specific equipment on good pavement or through fields of debris.
Given these characteristics, getting the best value and performance from your tires may not be rocket science, but it does take planning, smart spec'ing and commitment to a maintenance program, according to tire manufacturers.
A fleet's first step toward tire value is to determine its goals, said Bill Walmsley, product category manager with Michelin Americas Truck Tires (www.michelintruck.com). What do you want in your tires? Durable, trouble-free service and long, even wear? Additional features? Regardless, selecting the best tire for the application is key. Walmsley suggested that fleets start by looking at the same tire size they currently have on their equipment by wheel position and then explore available options in that size to meet the specific conditions under which the equipment will operate. "This might entail specific load-carrying requirements, weather conditions or environmental issues, such as off-road products or tires which operate well in field or snow conditions," he said.
Calibrating the balance between load and appropriate tire pressure is critical, but it also is easy since every tire manufacturer publishes load and inflation charts for their tires. The only way to make sure the calibrations are correct is to know the loads being carried and use the charts, Walmsley said.
"Tires are designed and optimized to carry a desired load at a specified pressure. Proper pressure for the maximum load being carried is very important. Underinflation and overinflation for the loads being carried will affect tire and casing life and performance," Walmsley said.
Balance the Benefits
Utility fleets, like all fleets, ultimately are looking for tires that will help lower their operating costs, noted Brian Buckham, general manager of product marketing for Goodyear Tire & Rubber Co. (www.goodyear.com). Regardless of application and wheel position, it is important to achieve the right balance of performance benefits.
"In the past, when one benefit such as low rolling resistance in a particular type of tire was optimized, the other benefits of the 'performance triangle' – miles to removal and tear resistance – were reduced," Buckham said. "This dynamic is much less prevalent these days."
Additionally, fuel economy for vocational tires used to be sacrificed in favor of tread compounds that emphasized miles to removal and tear resistance. The combination of fuel economy regulations and customer requirements has changed those performance priorities, Buckham noted. "With the continual evolution in technology and tire design, engineers have made significant strides in maintaining all three performance properties," he said. "As fuel-efficiency regulations continue to tighten, the need for tires that help deliver reduced rolling resistance and enhanced fuel economy will only grow. The goal of Goodyear's research is to develop tires that help fleets reduce their fuel consumption with little to no effect on miles to removal and tear resistance."
Select a tire that is best for your application needs while also offering good performance and durability that may meet multiple life needs for retreading. That's the best measure of the overall cost of ownership and return on your tire investment.
"Consider value, not just cost," Michelin's Walmsley said. "A replacement tire that offers the best value is not necessarily the one with the lowest price."
About the Author: Jim Galligan has been covering the commercial truck transportation sector for more than 30 years and has extensive experience covering the utility fleet market. In addition to writing and editing for magazines, his background also includes writing for daily newspapers, trade associations and corporations.
*****
Tire Monitoring Programs Can Help Fleets
Commercial tire manufacturers have long offered services to help fleets monitor tire performance, but the addition of online programs appears to give fleet managers a faster, easier way to spot problems.
Goodyear Tire & Rubber Co.'s Tire Trac program, for example, monitors tire installations, the performance of tires in the field or on the road, the reasons why tires were removed from service, tire inflation history and other key metrics, said Brian Buckham, general manager of product marketing for the tire manufacturer.
"Tire Trac also helps fleets identify tire maintenance opportunities, which can result in real savings," he said.
Goodyear gathers the Tire Trac data through fleet surveys. Technicians perform on-site inspections to measure tire inflation levels, tread depths and other aspects of a tire's condition, Buckham said. The captured information is used to create customized reports that show how a fleet's tires are performing. The program lets utility and other fleets zero in on a specific tire or look at all of the tires across their operation. Fleets can compare cost per mile from location to location and identify systemic trends, Buckham added.
*****
Put a Tire Maintenance Policy on Paper
A good, written policy specifying the maintenance practices a fleet wants followed is a must to get the maximum life out of their tires, said Bill Walmsley, product category manager with Michelin Americas Truck Tires.
A tire maintenance policy should be specific to the fleet's vehicles, equipment, geography, distance traveled, loads carried, time on the road and other pertinent factors, Walmsley said. It also should cover the specifics of new replacement tires.
Key to this policy is the use of retreading. While retreading may be a given for most fleets, it's still worth noting that all steer casings can be used for drive and trailer retreads, noted Walmsley. "A casing is fully capable of moving to either position depending on the casing's age and condition," he said. "Individual fleets need to determine load composition, winter travel and other sensitivities when determining their retread policy."
As a rule, the number of times that a tire can be retreaded depends on the application. A steer tire can be retreaded into a drive axle or trailer axle tire; a drive axle tire can be retreaded into either a drive axle tire or trailer axle tire; and a trailer axle tire can be retreaded into another trailer axle tire.
Finally, a fleet's maintenance policy also should include scrap analysis, Walmsley said.