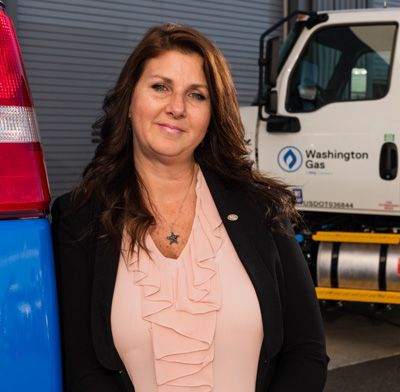 Women in Utility Fleet: Michele Davis
Michele Davis has loved cars for as long as she can remember.
So, when her father bought her a 1968 Chevy Camaro for her 16th birthday, "I lost my mind," she recalled. "I didn't expect anything like that. I mean, I just wanted a car to drive to school, go to work, see all my friends. But my dad said, 'Well, I know how much you love cars, and I know you'll appreciate this more than your younger sister will when she turns 16.'"
Today, Davis still owns that Camaro. And she has become a successful leader in a career that taps into her lifelong passion for all things automotive. She's the fleet manager at Washington Gas, a natural gas service provider headquartered in the District of Columbia, where she manages about 1,200 fleet assets and 30 employees.
But it took a long and winding road for Davis to discover that she could build a career around her favorite pastime.
"When I was in high school, especially as a female, I never heard of anything like a fleet manager," she said. "It was like, you're a doctor, you're a lawyer or this or that. It wasn't something that was spotlighted in school."
She started working as a clerk at Prince George's County in Largo, Maryland, right out of high school in 1988. After stints in construction, contracts, procurement and human resources, Davis finally got her start in the county's fleet department in 1999.
By the time she left Prince George's County in 2015 for Washington Gas, Davis had earned her associate's, bachelor's and master's degrees – all while working full time.
So, how did Davis get into fleet management? What challenges has she dealt with? And what advice does she have for other women considering a career in fleet? UFP recently caught up with Davis to learn more about her story. Here is the edited version of our conversation.
UFP: How did you get started working in fleet?
Michele Davis: I was working in the human resources department at Prince George's County, and the fleet department had a job opening for an administrative assistant. This was around 1999. My qualifications were there, and it would be another promotion within the county for me. But the bonus was that I would be dealing with vehicles, which was always my pastime.
What was it like during those early days?
I was the assistant to the fleet administrator. And he taught me everything. He would bring me to fleet manager meetings and took me under his wing.
He told me, "One day, you're going to be sitting in this chair."
I said, "No, I just want to be a deputy."
"You can do this job," he said. "You need to stop aiming so low and start having confidence."
I didn't know how to take it then, but those words never left me.
I completed my bachelor's degree in 2004 and was promoted to logistics manager in 2006.
After 27 years at the county, you became the fleet manager for Washington Gas in 2015. What sparked that change?
It was an accident. That's what I tell people.
I loved what I was doing at the county. I had a great office and great co-workers. But my now-husband and I were dating at the time, and he and his father worked for Washington Gas. And his father said to me, "I know the director over facilities and fleet, and he's been looking for a fleet manager for eight months and can't find anybody. I know you know what you're talking about when it comes to fleet. You should apply."
I was like, "Look, I'm not trying to leave the county. I like my job."
He said, "Well, at least put in for it."
My now-husband told me, "It's up to you. It's your decision."
I said, "I'm just going to put in for the job, and that way, I can tell your dad that I did it."
I applied, and they contacted me a few days later to schedule an interview. Things went so fast that when they offered me the job, I told them I needed a day or two to think about it and talk with my family.
What was the deciding factor?
When I talked to the director, who's now my boss, he would ask me questions about what I would do or how I would handle certain situations. I realized that there were so many things that could be tweaked just a little bit – like the low-hanging fruit – that could make a big difference in the fleet department. And I realized that I wanted to be a part of helping make those changes.
What challenges have you faced as a woman in fleet?
When I first came to Washington Gas in 2015 and went around the garages to meet my staff, I could tell some were a bit skeptical, thinking, "She's a female. What does she know about vehicles?"
But I wanted them to know that I'm not trying to come in as if I know it all and just automatically change things. I like to listen first. And then when I have something to say, I say it when it's relevant.
How did you go about earning your team's respect?
I listen to all sides of things – the management side, the field side, the mechanics' side – because everybody has some skin in the game when it comes to the vehicles.
But trust takes time. You can't force someone to respect you.
One of the first things I did was to look for the low-hanging fruit – something to improve the department.
That's because I literally would have people see me in the hall and say, "Oh, aren't you new? What department do you work in?"
I said, "Transportation." And they would say, "Oh, I'm sorry." I got that all the time.
I went back to my now-father-in-law, and I'm like, "What did you do to me? Everybody's apologizing!"
So, if that is how the fleet department was being viewed, I wanted to find some way to help boost morale. And one of the things I found was that, out of our four garages, two had enough technicians with ASE certifications to be a certified Blue Seal garage.
I explained to our technicians, "You guys have worked hard for these certifications. All I have to do is put in the application with the list of your certifications because it looks like we qualify at these two locations."
But some of the guys didn't think much about it at the time. They're like, "Oh, it's just a piece of paper."
And I said, "Look, I get it. But for people who work in the office who don't even know what 'ASE' stands for, the Blue Seal is something that's visual that people outside our department will notice."
I put in the application, and we got certified as a Blue Seal shop in one location in Virginia and the other in Maryland. We then put a banner and big metal sign out in front of the garage bay.
I catered lunch for them to celebrate. I put them in the newsletter with a picture of all the techs together with their supervisor. I got them all patches for their uniforms so they could outwardly display their accomplishments.
I said, "You guys aren't recognized enough for what you do. So, now it's out there for everybody to see."
What is your advice for other women who are considering a career in fleet?
The admin supervisor who works for me is a woman who has been with the company for about three years. And I try to encourage and mentor her in the same way the fleet administrator at [Prince George's County] did for me.
I tell her, "If [fleet management] is something you like, there are so many different facets to this career and opportunities to change things and make a difference."
I take her with me to visit other fleets to look at their systems and explain to her where we're going with our systems and our department and all that. And she gets really excited, "Wow, there's so much more to this."
So, my advice: Don't sell yourself short or count yourself out, as I did early in my career.
When my first fleet administrator told me, "You're going to be sitting in this chair one day," I just couldn't see it at the time. And there's still a mentality out there, even amongst other women, that [fleet] is a man's world. But if fleet is something you like, don't let yourself or anyone else hold you back.
---
Sean M. Lyden
Sean M. Lyden has not set their biography yet
---