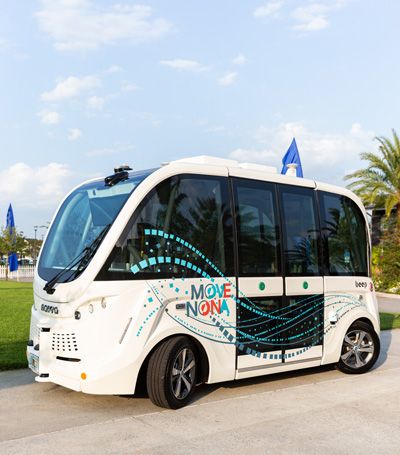 Driverless Vehicles are Closer Than They Appear
You know the label on a vehicle's sideview mirror that reads, "Objects in mirror are closer than they appear"?
Perhaps something similar could be said about autonomous vehicles (AVs): They're closer than we expect.
Now, most industry experts agree that full SAE Level 5 driverless vehicles – which can drive themselves anywhere, at any speed, under any conditions – are more than a decade away. So, from a robots-ruling-the-road perspective, AVs appear to be far out.
But when you look at just one step down on the SAE scale, to Level 4, where vehicles can operate without a human driver but within particular limitations – such as geofenced areas, weather conditions and speed – those AVs are much closer to making an impact. In fact, Level-4-capable vehicles are already starting to operate on public roads in a growing number of U.S. cities.
Take, for example, the Beep (www.go-beep.com) autonomous shuttle program that launched with two vehicles in September in Lake Nona, Florida, a fast-growing master-planned community in southeast Orlando.
The all-electric Beep shuttles are manufactured by the French company NAVYA (https://navya.tech) and carry eight to 10 passengers. They travel on a fixed route at low speeds (15 mph maximum) with a Beep attendant on board who serves as a safety operator to perform any manual driving functions when necessary and ensure passenger safety throughout the ride.
When you get in the shuttle, you'll notice something odd: no steering wheel or brake pedals. The attendant can take control of the vehicle at any time with a touch screen and a hardwired Xbox controller.
I recently rode in the Beep shuttle and spoke with the company's CEO, Joe Moye. Here are five key takeaways I learned from my conversation with Moye and my experience riding in the autonomous shuttle. They are intended to give you a glimpse into what could be the not-so-far-away future of fleet management.
1. AV deployments are starting small to build public trust and acceptance.
According to the latest AAA survey on consumer attitudes toward fully self-driving vehicles, 71% of U.S. drivers said they would be afraid to ride in AVs. This number is similar to AAA's 2018 survey that followed high-profile fatal incidents involving AVs.
The industry recognizes that it needs to win over the public. That's why AV companies – like Beep – have recently launched on a small scale, with fixed routes and low-speed vehicles. Also, the Beep shuttles have a human attendant on board, even though the vehicles are designed for Level 4 operation, which doesn't require a human operator.
"We've engineered manual processes into the system out of an abundance of caution," Moye said. "Even then, the shuttles are driving themselves 95% of the time right now."
What type of manual processes?
"When the shuttle arrives at an intersection, it's perfectly capable of thinking, 'All right, I'm here. The traffic signal is green. I'm going to go.' Or, 'I'm at a stop sign. I know nothing else is moving into the intersection. I'm going to go ahead and take the right of way.' But we've engineered a manual step for our onboard attendant, who is still going to look right, look left and then press the 'go' button before we let the shuttle get into the intersection," Moye said.
Moye likens the idea of having a shuttle attendant onboard an AV today to the early days of elevators that would have human operators in them.
"When elevators first came into being, you always had an elevator operator on there," he said. "It wasn't that having someone on board was required. It was that people were afraid to get on the elevators. And having an elevator operator in control helped people get comfortable with riding on elevators. We have a similar type of phenomenon with these shuttles. We want to build exposure and educate people on the technology so that they'll ultimately feel more comfortable with it."
2. Autonomous fleets will be able to optimize vehicle utilization with real-time demand.
Beep plans to expand its autonomous fleet to eight to 10 shuttles with multiple routes in early 2020. But how will the company manage those assets to ensure high utilization rates?
Beep has partnered with Switzerland- and San Francisco-based technology provider Bestmile (https://bestmile.com), which has developed what's called a "fleet orchestration platform" for autonomous fleets.
"When you have eight to 10 vehicles and multiple routes, you want to optimize your assets," Moye said. "You want them to be where the demand is. So, we've got a software partner in Bestmile that helps us with demand planning – or fleet orchestration. This will enable our shuttle service to go from a single fixed-route operation to an on-demand ride-hailing model. Now, keep in mind the stops have to be programmed in, so the shuttle can't go anywhere. But the shuttles can have multiple routes configured in, so [the operation] doesn't have to just be point to point. There could be multiple destinations and origins where you're able to optimize those assets to be available based on the demand models you have in place."
3. A command center model might be the key to AV growth.
As the public gets more comfortable riding in AVs and 5G connectivity is rolled out in the U.S., Beep envisions that the next step is to eventually move the human attendant out of the shuttle.
But that doesn't mean shuttle passengers will be left alone should there be an issue with the vehicle.
Beep is building a 10,000-square-foot command center in Lake Nona that will allow for human oversight and intervention to ensure passenger safety and security on a remote basis.
"We have internal and external video cameras on the vehicles," Moye said. "So, we'll provide an overall cloak of monitoring for safety and security. We'll also be able to monitor all aspects of shuttle performance, including vehicle maintenance and service delivery, while also optimizing data analytics and machine learning for continuous improvement."
Could the command center model be the key to wider AV adoption because it offers the best of both worlds – full driverless functionality but with real-time remote access for human takeover when necessary?
"Yes, I do think that," Moye said. "But it's coming in phases. Right now, you can monitor the vehicles remotely but not take over control of the vehicles. That's because the vehicles are a black box. You have to physically log into them. But we're investing a lot in the cybersecurity components that we need to build into the vehicles so that we can ultimately interface with the shuttles remotely."
4. Training for first responders will be integral to AV deployment success.
In May, Beep and NAVYA hosted training for nearly 100 emergency personnel from both Orange County and City of Orlando fire rescue, EMT and police departments. The training taught the attendees how to interact with the vehicle in emergencies and included a hands-on session on how to manually drive the vehicle if needed.
Said Moye, "If there's an incident, what can [first responders] do to pull the vehicle off the side of the road? How do they shut off the high-powered battery connection? How do they access the vehicle through the safety glass if the doors are jammed? These are things a lot of people might not think about but are critical to ensuring the safe rollout of these vehicles."
5. Human drivers must adjust to AVs on the road.
I rode the Beep shuttle for the 2-mile round trip. Overall, the ride was a smooth experience. But there were two times when the vehicle reacted with harsh movements – and both times, it was because of the human-driven vehicles around the AV.
In one case, a truck coming from the other direction got too close to the double yellow line and the shuttle, causing the shuttle to react. In the other situation, a car passed the shuttle from behind. It then swerved back into our lane too close in front of us, which caused the AV to brake hard.
These are prime examples of how human drivers will need to learn how to adapt to sharing the roads with AVs until Level 5 autonomy becomes ubiquitous.
For its part, Beep has placed a high priority on onboard communication.
"We've put signage on the shuttles that alerts drivers when the vehicle is in autonomous mode as a signal for them to drive carefully and not follow too closely," Moye said. "These are basic things that most people would understand, but you can't take them for granted. When you put [safety messages] in lights on the shuttle, it really does help increase awareness."
The Bottom Line
After a handful of high-profile incidents in 2018 involving vehicles in autonomous mode, I had assumed that expectations for AVs would tamp down significantly. And, for the most part, the industry has backed off their once-aggressive timelines for Level 5 deployments.
But when you start looking at what's bubbling up on the local level in a number of U.S. cities, like Orlando, you begin to realize that driverless vehicles could be coming sooner than you think, just not at full Level 5 capabilities.
After all, Level 4 AVs are making an impact right now. And as the technology matures and improves over the next few years, you'll likely discover opportunities to start piloting all-electric AVs for limited-area applications in your own fleet.
---
Sean M. Lyden
Sean M. Lyden has not set their biography yet
---