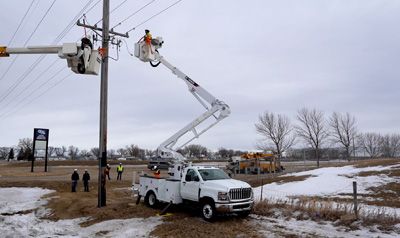 What's New in Lifting Equipment for Utility Fleets in 2021
What's New in Lifting Equipment for Utility Fleets in 2021
Lifting height, capacity, stability and range – these are all critical factors utility fleet professionals consider when spec'ing aerial platforms, cranes and other heavy-lifting equipment. They're also looking for enhancements to machine safety, longevity and efficiency.
So, what new products in the lifting equipment space have emerged in the past year to help fleet managers improve their fleet's performance? Here are seven developments to watch.
Terex Utilities
What's New: Hi-Ranger TL48 telescopic aerial device for trouble truck applications
Website: www.terex.com/utilities
Terex Utilities' new Hi-Ranger TL48 telescopic aerial device achieves a 53-foot maximum working height on a medium-duty chassis for utility trouble trucks.
"Utility customers were looking for material-handling capability throughout the work zone to accomplish switch work, small transformer replacements, insulator maintenance and other tasks without having to reposition the truck. This need was not being met on super-duty class vehicles and current products that were in the market – until now," said Joe Caywood, Terex's marketing director.
With a side reach of almost 32 feet, the TL48 offers a 500-pound bucket capacity and maximum material-handling capacity of 1,000 pounds. When the upper boom is horizontal, it can still achieve a jib capacity of 800 pounds, with the inner boom retracted at a 23-foot side reach and a 26-foot working height. In addition, the boom can handle up to 200 pounds when fully extended at a 32-foot side reach.
The TL48 is equipped with a rigid rectangular boom constructed from epoxy resin and biaxial wound fiberglass filament. This design ensures consistency in the boom's insulating properties, size, density and strength-to-weight ratio.
Custom Truck One Source
What's New: Load King LK-31-NE bucket van
Website: www.customtruck.com
The new Load King LK-31-NE non-insulated aerial device offers a working height of up to 36 feet and a platform capacity of 350 pounds on a Ford Transit van.
The aerial unit is equipped with an aluminum inner boom and fixed fly jib to increase payload capacity while putting less wear and tear on the van. Operators can access full feathering features at the bucket, with lower tether-mount controls for all boom functions.
Altec Industries
What's New: DT85 digger derrick for the transmission market
Website: www.altec.com
The new Altec DT85 digger derrick for the utility transmission market offers a hydraulically powered sheave height of 85 feet and a lifting capacity as high as 10,200 pounds (30% higher than previous generations) at a 30-foot load radius.
The DT85's safety features include a 360-degree ingress to the riding seat and Altec's proprietary deployable steps at the tail shelf that reduce slip and fall risks.
JLG Industries
What's New: 670SJ self-leveling boom lift
Website: www.jlg.com
JLG's 670SJ self-leveling boom lift began production at the end of August.
The 670SJ has a smart chassis system incorporated into the machine's design, enabling the control system to sense ground conditions and make automatic adjustments to keep it level, even while driving, without the operator having to make manual adjustments. This self-leveling capability is important for work on undeveloped job sites and rough terrain projects, which are common in utility applications.
The machine's boom lift offers a 67-foot platform height with a 550-pound unrestricted and 750-pound restricted capacity. It automatically levels on grades up to 10 degrees when in self-leveling mode. And there are two additional modes: standard mode for driving with the boom down at faster speeds, and shipping mode, which allows the suspension to be lowered during transport.
Maintainer Corp.
What's New: Updated Advanced Crane Control system for service cranes
Website: www.maintainer.com
Maintainer Corporation of Iowa Inc. has introduced new enhancements to its Advanced Crane Control (ACC) system for Maintainer service truck cranes. Cranes equipped with the ACC 2.2 option will feature automatic stability zone charts, rotate stow assist and body collision prevention.
"Our standard Advanced Crane Control (2.1) already monitors crane lifts and will limit speed and capacity if stability is compromised," said Nathan Schiermeyer, Maintainer's director of product development and reliability. "ACC 2.2 now adds options that are designed to make life easier for the crane operator."
The new system is programmed to recognize critical areas of the truck body and mounted accessories so the operator cannot accidentally damage the equipment with the crane. And the rotate stow assist feature slows and stops the crane in the proper position when stowing the crane back in the saddle to help the operator save time.
Terex Utilities
What's New: Viatec SmartPTO
Website: www.terex.com/utilities
Terex Utilities has added Viatec SmartPTO to the company's HyPower hybrid solutions to reduce idling, increase fuel savings, and minimize noise and air pollution by using stored plug-in electric power to operate the equipment.
Viatec SmartPTO is available on various Hi-Ranger telescopic, overcenter and non-overcenter aerial devices, and Commander and General digger derricks.
Terex's lithium NMC (nickel, manganese and cobalt) batteries with storage capacity from 7 to 21 kWh offer a high power-to-weight ratio to minimize the weight impact on the truck's payload capacity.
"The SmartPTO comes standard with a 14-kWh battery, which we found gets most crews through the normal workday. In higher-use applications, an optional 21-kWh battery is available," said Robert Hasegawa, Terex product manager.
Venco Venturo
What's New: Workforce service body packages for crane applications
Website: www.venturo.com
Venco Venturo Industries announced that it has extended its commercial vehicle upfitting program to include new Workforce service body packages: Workforce25, Workforce45, Workforce55 and Workforce66.
The packages start at the lighter end with the Workforce25, which is designed for a 10,000-pound GVWR chassis, with an HT25KX telescopic service crane, offering a 5,000-pound lifting capacity, 25,000 foot-pound crane rating and up to a 25-foot hydraulic boom extension.
On the other end of the spectrum is the Workforce66, which is designed for a 33,000-pound GVWR chassis, with an HT66KX telescopic service crane, providing an 11,500-pound lifting capacity, 66,000 foot-pound crane rating and up to a 30-foot hydraulic boom extension.
---
Sean M. Lyden
Sean M. Lyden has not set their biography yet
---