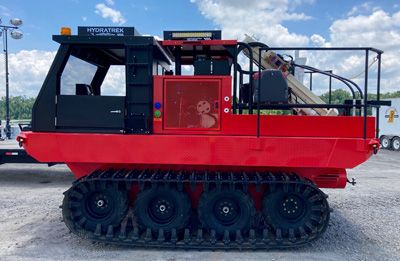 What's New in All-Terrain Vehicles for Utility Fleets
What's New in All-Terrain Vehicles for Utility Fleets
Utilities have a number of different options available to help their crews get work done in hard-to-reach areas, in harsh weather conditions and on rough terrain. Since new equipment is regularly being introduced to the marketplace, it's important for utilities to stay up to date about what they have to choose from. Check out these new developments from four manufacturers in the all-terrain vehicle space.
Hydratrek
What's New: Engine and system updates for the D2488B and XTB66
Website: https://hydratrek.com
Built for the power, oil and gas, and public safety industries, the D2488B recently had its engine updated to the 115-horsepower Kubota V3800-TEF4. The Tier 4 Final diesel engine is controlled by a Murphy PowerView 485 LCD display that allows the operator to access a multitude of information for the engine system, including maintenance intervals.
The drive system has also been updated on the 2021+ D2488B to accommodate the additional weight and power generated by the engine change. A two-speed gearbox from SAI Hydraulics provides loads of torque to the rear wheels, thus the 24-inch rubber track system.
For fleets that have wetland accessibility issues but do not need a large 8×8 amphibious vehicle, the third-generation XTB66 may be a good fit. Now powered by a 59-horsepower Kubota V2403-T diesel engine, the drive system has been updated to a two-speed planetary drive from Auburn Gear. This system provides three times the torque of the previous drive system, and it allows for low-speed and high-speed operations. To accommodate the larger drive and increase in torque, the tires and rims are bigger, and the rubber track has been extended to 24 inches wide from 20 inches wide.
Mattracks
What's New: Design upgrades to the 400M1A1 and 200M1A1
Website: https://mattracks.co
Mattracks recently upgraded the designs of its 400M1A1 and 200M1A1 to further help utility crews with increased mobility and traction in unpredictable weather conditions and on harsh terrain. The company has equipped the 400M1A1 with its patented rubber torsion suspension system, designed to provide a smoother ride and maintenance-free operation thanks to the elimination of grease points. The 400M1A1 also features Mattracks' exclusive anti-jam wheel system, giving the track system the ability to crawl over previously problematic obstacles while preventing them from wedging in between the track's end wheels and leading set of rocker wheels.
Ideal for heavy-duty vehicles up to 21,000 pounds, the 200M1A1 has received a fresh new spindle-mount design. This updated variation allows for simple installation and removal due to its ability to bolt directly to the vehicle – eliminating the need for a custom undercarriage frame to be bolted underneath the vehicle, which was the case on previous models.
Terramac
What's New: RT7U rubber track carrier
Website: www.terramac.com
Terramac has added a new rubber track carrier model, the RT7U, to its lineup of utility models. The current lineup includes the larger RT9U and RT14U, as well as the smaller RT6U. The utility model series features front and rear frame extensions as well as various hydraulic pump drive configurations, allowing support equipment to be mounted to the chassis.
The new RT7U sets the benchmark as the largest payload in its weight class, according to Terramac, with a 17,000-pound carrying capacity to accommodate a wide range of support equipment for utility applications, including lineworker winches, digger derricks, vacuum excavators, boom lifts and aerial buckets. Despite its power, the RT7U maintains a small and nimble footprint, allowing it to be hauled without a permit.
All Terramac models feature low ground pressure when fully loaded to minimize soil disturbance, and they provide reduced slippage, enabling crews to climb faster on rugged or steep terrain to reach utility job sites in remote areas.
UTV International
What's New: Second single-man bucket option for the Achiever RT-02 DD
Website: www.utvint.com
UTV International has introduced a unique option for the Achiever RT-02 DD Tracked Digger Derrick & Aerial Combo Unit for electric distribution work. The hydraulic foldout fourth boom with bucket is now available with a second single-man bucket in place of a jib. Two single-man buckets can be pinned on at the same time, allowing for the increased safety of two people working overhead power lines using only one vehicle. Buckets can be folded back, and the boom can be moved onto the boom rest for short, off-road, pole-to-pole transport. The second bucket can also be removed, stored and secured on deck behind the cab during trailering.
The RT-02 DD can set up to 65-foot poles and has a 47-foot bucket working height, yet it is under 19,000 pounds and can be towed on a 12-ton trailer. It comes with a 134-horsepower Deutz 4-cylinder turbo diesel engine; can travel up to 10 mph; climbs 40 degrees uphill and 20 degrees sidehill; has 45-degree outriggers on all four corners; and offers an extremely low ground pressure of 2.31 psi loaded.
About the Author: Grace Suizo has been covering the automotive fleet industry since 2007. She spent six years as an editor for five fleet publications and has written more than 100 articles geared toward both commercial and public sector fleets.