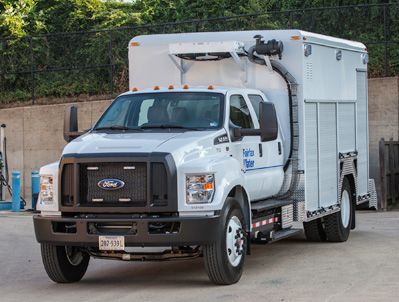 How to Retain Technicians in a Tight Labor Market
How to Retain Technicians in a Tight Labor Market
Exactly when we can state with certainty that America has emerged from the coronavirus pandemic is yet unknown. But much of the country is opening again, albeit cautiously.
Businesses are taking stock of what they must do to get back up to speed. In some cases, that means looking to hire new workers to replace those who were laid off at the peak of the pandemic or who left jobs voluntarily for their health or to care for family members stricken with the virus.
As utility fleet managers know, well before the pandemic roared into the U.S., there was a technician shortage already impacting every type of truck operation, from bucket trucks to highway rigs. A good tech is hard to find, and once they're on board, keeping them there is a constant responsibility for managers.
So, what can you do now to keep more techs happily employed – working for you, that is? The answer is that, if fleet managers pay attention to the individual concerns and attitudes of all techs in their shops and respond to any issues that arise, it's highly likely the fleet department will not have retention issues.
Eight-Man Band
Dale Collins, fleet services supervisor at Fairfax Water, which serves nearly 2 million customers in Northern Virginia, explained that his department recognized the pandemic posed a significant health risk to the seven shop technicians who needed to be on-site to help keep the fleet running.
"Our techs, along with me, make for an eight-man band," Collins said. "We make a lot of good music." That jovial comment alone indicates Fairfax Water has come through the worst of the crisis with its maintenance staff fully in place. The eight of them maintain over 320 on-road and 120 other rolling fleet assets operating out of garages in Chantilly and Newington, Virginia.
In response to the pandemic threat, in early March 2020, Collins put together a continuity of operations plan to make sure shop employees stayed safe while maintaining their service performance. "We operated with a huge degree of caution," Collins said. "And we have retained all COVID-related protocols we established in the shop as they help keep our vehicles clean."
Pandemic or not, according to Collins, "Retention has not been an issue. We have a great benefits package; health insurance is second to none and there's also an excellent hiring plan and support of higher education. This helps us keep employees longer."
All in the Family
"Our largest driver of turnover is retirements," he continued. "And we work to fill those spots quickly. Many new hires are second-generation employees, who of course may take up positions across the organization. These prospects are often the best of those we interview."
Collins said the shop workforce "tends to be relatively young, and they usually stay for a long time. The downside is our retirement program is so good, [that those hired at the same time] often leave at the same time. You could say we are victims of our own success."
The "hard-to-beat" retirement options are determined by a combination of years of service plus age that allows for fairly early retirement. "Some of our recent retirees now spend their full time with their grandchildren or work elsewhere part time," Collins noted.
Other things that help make the Fairfax Water shops a draw for techs include single-shift operation (Monday to Friday, 6:30 a.m. to 3 p.m.) and air-conditioning. "I fought long and hard for climate-controlled shops," Collins said. "With A/C, our techs can finish the day strong, and that helps drive employee satisfaction."
In addition, the Fairfax Water fleet is appealing to some techs because it is diverse, ranging from Class 1 light-duty vehicles up to Class 8 assets. Last, but certainly not least, Collins said the Fairfax fleet is "young compared to many utility fleets," with light-duty units being 4.5 to 5 years old and heavy-duty units (Class 6 and up) closer to 7 years old.
About the Author: David Cullen is an award-winning journalist who specializes in covering the trucking industry. Based in Connecticut, he writes for several business publications.
*****
Top Tips to Recruit and Retain Techs
Know your talent pool. Don't lump millennial and Generation Z recruits into one category – they are distinctly different. "Both generations [put] a strong emphasis on transparency and authenticity," however.
Talk up benefits. Benefits matter, especially to younger employees. "Perks can make or break an offer acceptance."
Keep up with the times. Show that you are committed to being on the cutting edge. "Millennials and Gen Z-ers, aka 'digital natives,' are used to everything digitized."
Reach out. Don't be shy – always network. "Get involved in the local community. Sponsor a junior sports team … Reach out to high schools and teachers at technical colleges. Join the technical school's advisory board."
Look sharp. Your shop should be safe, professional and comfortable. "Is your service bay temperature-controlled? Do you have reliable Wi-Fi? How about an employee-only bathroom?"
Money talks. Show employees you value their worth. "Being a mechanic is hard work. You can pay your workers with compliments, but that will go nowhere if they feel underpaid."
Always be open. Keep prospects on file. "If someone reaches out to see if you're hiring, never turn them down, especially with hard-to-find techs."
~Adapted from "How to Recruit and Retain Better Mechanics in a Talent Drought" (https://blog.openbay.com/how-to-recruit-and-retain-better-mechanics-in-a-talent-drought/)