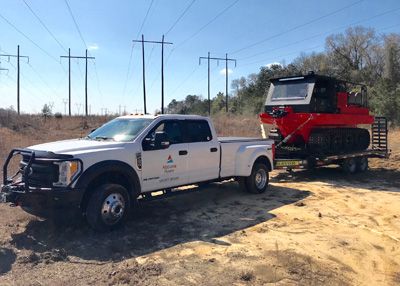 Whether they're used in hauling materials up steep hills, when accessing remote locations to perform inspections and construction, or for ferrying emergency crews and materials through marshes and over creeks, all-terrain vehicles (ATVs) play a small yet vital role in many utility fleets.
"As [distribution systems] continue to grow, it's more important for utilities to be able to get into areas where wheeled vehicles can no longer access," said Scott Merrill, vice president of PowerBully (www.powerbully.com). "There is a greater need for a lot of ground pressure tracked vehicles to carry attachments into a remote place."
In addition to PowerBully, several other ATV suppliers have recently introduced new products and product upgrades to the market. Keep reading for more details.
Hydratrek Redesigns D2488B
Amphibious vehicles typically are used for inspections and supply service through wetlands, but they've also seen more recent use in flooded areas after natural disasters, according to Craig Simonton, vice president of sales and marketing with Hydratrek (https://hydratrek.com). "They're used for moving people and material up and down right-of-ways, and utilities tell us it's the most versatile unit they have," he said.
Hydratrek's D2488B amphibious vehicle has been redesigned to include a more comfortable cab with bucket seats, larger pontoons for greater stability in water operations, lower decibel levels, improvements to maintenance and serviceability, and a complete operation and maintenance manual. New options include backup cameras, power inverters, auxiliary hydraulics and battery chargers.
The 24-inch rubber track system provides much lower ground pressure (psi) compared with nontracked vehicles, and utilities can haul a crew of two to eight people, supplies and tools. In the event of new-line construction, the D2488B can be used as a service vehicle for much larger pieces of equipment that cannot be brought in and out of the job site daily. Vegetation management also can be achieved with a 200-gallon spray system for herbicide applications. Two hydraulically driven propellers provide maneuverability while flowing in water. The unit features a diesel engine, hydrostatic drive and aluminum construction.
Morooka MST4500VDL Provides Long Reach
Morooka (www.morookacarriers.com) is marketing the MST4500VDL rubber track carrier, an ATV boasting a 350-horsepower diesel engine, 36-inch-wide tracks and a 23-ton maximum load capacity, enough power and platform to support a 125-foot reach.
The carrier is powered by a Cummins C9.3 Tier 4-compliant engine and features a heated and air-conditioned ROPS-certified cabin, backup camera, video information display, remote mirror and easy-to-use joystick control.
The unit comes from the factory with a ready-to-mount one-piece frame, eliminating the need for an installer to fabricate rear or front extensions, according to the company. It carries a one-year/1,000-hour warranty.
Faster Upfits With PowerBully 15T
The 15T track carrier from PowerBully (www.powerbully.com), a subsidiary of Kässbohrer All Terrain Vehicles Inc., features the QuikMount chassis, which was designed to enable faster upfitting of cranes, digger derricks and personnel aerial devices. The QuikMount is compatible with all major attachment suppliers.
The PowerBully 15T is powered by the Tier 4-compliant Cummins QSB6.7-liter diesel engine. With its ratings of 275 horsepower and 730 pound-feet of torque, the QSB provides the power for both the track drive and work tools.
Constructed of high-strength steel with a 35,000-pound payload, the 15T is equipped with a custom-developed, ergonomically designed cabin; ease-of-use controls; high visibility; and improved sense of space. It also has multiple track options, including steel D-dent crosslinks for use in rocky terrain, steel flat bar for use in mixed dirt and rock, or polypads for use when minimal surface disturbance is required.
Track, Box Options Added to Prinoth Panther T16
Prinoth (www.prinoth.com) has added new track options to its popular Panther T16 track vehicle. Customers can choose between metal embedded solid rubber tracks or the traditional D-dent track system. The rubber track option allows more versatility when crossing or traveling on roads.
The T16 also is now available with a dump box. The box will handle up to 11.5 cubic yards and carry up to 33,500 pounds of bulk material payload with a maximum gross vehicle weight rating of 75,000 pounds.
The undercarriage of the T16 was redesigned for the rubber track option to provide a sturdy undercarriage composed of five large wheels with both a tandem and a tridem suspension. The undercarriage features an automatic, hydraulically controlled track tensioning system.
An elevated engine position provides an optimal fording depth of up to 1,300 millimeters, enabling operators to travel through swamps, mud and any other type of difficult terrain.
Terramac Adds Support Equipment Option
Terramac (www.terramac.com) has expanded the capability of the new, compact RT6 track carrier. The unit can now accommodate a variety of support equipment, including digger derricks, bark blowers, cranes, vacuum excavators, generators and tanks. Standard units are available with a flat bed, dump bed or rock dump bed.
The new RT6 features a compact footprint of 16 feet 2 inches by 8 feet 2 inches. It has a 12,000-pound carrying capacity and travel speeds up to 6.5 mph.
The unit is powered by the Tier 4-compliant, 130-horsepower QSB4.5 Cummins diesel engine.
The RT6's fully loaded ground pressure is a minimal 5.4 psi, adaptable for loose and wet ground conditions where heavy, wheeled machines are likely to get stuck, according to Terramac. The flotation from the rubber tracks of the RT6 not only allows the machine to work in adverse ground and weather conditions, but it also allows for faster climbing on mountainous and hilly terrains with reduced slippage.
About the Author: Jim Galligan has been covering the commercial truck transportation sector for more than 30 years and has extensive experience covering the utility fleet market. In addition to writing and editing for magazines, his background also includes writing for daily newspapers, trade associations and corporations.