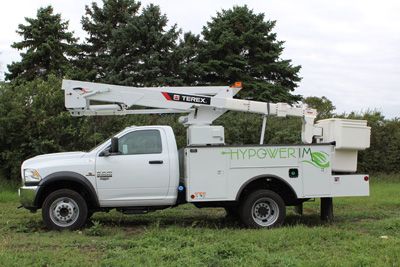 Some of the industry's leading truck body manufacturers are developing new products that equip your crews to get more work done, with less strain and greater safety. They're incorporating more advanced lightweight materials in their product designs so you can reduce fuel costs or increase a truck's legal payload without bumping up to a larger vehicle. And they're offering more electrified options so you can cut engine idle – and your fleet's carbon footprint.
Who are these body companies and what are some of the products and design enhancements they've recently brought to market to help you achieve your business objectives? Here are five new developments to watch.
Terex
What's New: HyPower IM
Website: www.terex.com/utilities/
Introduced last fall, the HyPower IM is a plug-in electric power takeoff (ePTO) efficiency system that manages the chassis engine for the greater horsepower required to operate the boom. It does this by automatically switching from plug-in battery-stored power when the truck is idling to engine-supplied power when hydraulic controls are engaged.
"Throughout an eight-hour workday, on a typical trouble truck, the aerial's hydraulic controls are engaged about one hour total run time. By allowing the hydraulic system to switch to engine power during those brief intervals, HyPower IM is still able to provide emissions efficiencies plus optimum hydraulic control function," said Tyler Henderson, product development manager with Terex. "The transition is seamless. Operators will experience no lag time in hydraulic responsiveness."
HyPower IM also enables the truck cab to be heated or cooled without running the engine, using the truck's heating and cooling vents. A 4-kWh package is required for the cab comfort feature, while a 1-kWh package is sufficient for most trouble truck applications.
HyPower IM is currently available for Class 5 chassis, such as Ford, Dodge and GM trucks, used with Terex Hi-Ranger telescopic aerial devices, including the LT, LTM and TL series aerial devices.
Dejana
What's New: Utility Maintenance Truck
Website: www.dejana.com
Last year, Dejana introduced a new Utility Maintenance Truck designed for conventional cutaway van and medium-duty truck chassis-cabs as an alternative to traditional step vans, like the "bread trucks" that are built on stripped chassis.
The company says that the Utility Maintenance Truck offers low rear-entry step-in height that's on par with most step vans, while providing more interior work and walk space. The company also says that a conventional chassis-cab for the Utility Maintenance Truck offers a quieter ride – with less rattling and noise from the cargo area – than a stripped chassis used for traditional step vans.
Dejana's spec includes custom interior shelving, drawers and workstations; curbside front generator compartment with exterior access; a Cummins-Onan 5000-watt gas generator; drop-down rear step bumper; Rosco rearview camera system; Coleman 13500-BTU air-conditioning and heating unit for the rear work area; complete workbench on the street-side interior with aluminum drawers and cabinets; and a workbench with electric outlets and 12-volt charging stations.
BrandFX
What's New: UltimateFX Composite Understructure for Service Bodies
Website: http://brandfxbody.com
BrandFX's lightweight composite service bodies just got lighter, helping utility fleets increase payload capacity, improve fuel economy and reduce vehicle wear and tear.
How? In January, BrandFX announced the development of a new all-composite service truck body understructure: the UltimateFX. Traditionally, the understructure – which serves as the skeleton for the service body – has been built of conventional steel to ensure strength and durability. But with UltimateFX, utility fleets can reduce the weight of their trucks without sacrificing strength. That's because, according to the company, the new composite understructure is lighter than aluminum and as strong as steel.
The UltimateFX understructure is designed for BrandFX's Everlast service bodies, which are available for 40-inch, 60-inch and 84-inch cab-to-axle chassis, in either single or dual rear-wheel truck configurations.
Altec
What's New: Fiberglass Mobile Service Crane Truck
Website: www.altec.com
In February, Altec introduced its new fiberglass mobile service crane truck for companies looking to perform their own service work. Modeled after the existing mobile service truck used by Altec Service Group, the truck features an integrated steel crane support structure, master body locking system, boom support and fiberglass shelving. The company says that the fiberglass truck body is strong and lightweight because it's designed with Altec's patented, integrated core material.
Options on the mobile service crane truck include electric-over-hydraulic controls, aluminum sliding bed cover, a mechanic's work platform and drawer kits.
Utilimaster
What's New: Walk-In Van with Hybrid-Electric Auxiliary Power for Underground Utility Maintenance
Website: www.spartanmotors.com/fleet-vehicles/
Last summer, Utilimaster introduced its new walk-in van, featuring hybrid-electric auxiliary power, designed for underground utility maintenance. The vehicle incorporates two key pieces of technology designed to make utility worksites greener, quieter and more comfortable for workers. The Odyne plug-in hybrid battery technology feeds auxiliary power to utility maintenance equipment, while an onboard air exchange system provides workers in underground vaults with cooled or heated fresh air from the vehicle.
The company says that the Odyne system enables utility maintenance personnel to operate tools and other equipment with batteries that provide up to 28 continuous kilowatt hours of power, without the need for a separate diesel generator. The hybrid battery-powered system also eliminates the need for frequent engine restarts to charge batteries, resulting in a quieter worksite and extended work hours.
"This plug-in hybrid system fits right into the green initiatives that have become standard practice at many utility companies," John Forbes, president of Utilimaster, said in a statement. "Compared to diesel-/gas-powered generators, powering equipment with an electric system reduces greenhouse gases by 50 percent or more. Fuel and maintenance cost savings are significant, too – up to $10,000 per year."