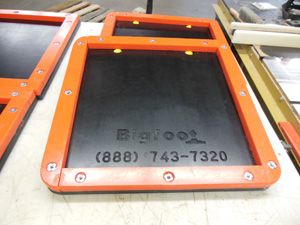 19 Exciting Utility Fleet Products and Services for 2015
Product: Ultra Pad Safety Edge
Company: Bigfoot Construction Equipment
Web: www.outriggerpads.com
Bigfoot Construction Equipment offers the all-new Ultra Pad Safety Edge, which helps to prevent the outrigger from slipping off the outrigger pad. Call 888-743-7320 for more information.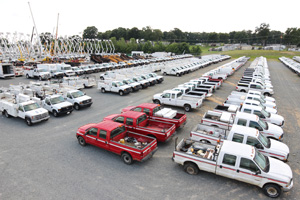 Product: Auction Services
Company: J.J. Kane Auctioneers
Web: www.jjkane.com/construction-utility-equipment-cars-trucks
J.J. Kane Auctioneers is a nationwide auction company that conducts 40-plus absolute public auction sales each year. They make it easy, connecting sellers and buyers both face to face on-site and live online, with Internet bidding. Sellers include electric cooperatives, utilities, manufacturers, contractors, lending institutions, governments, rental companies and more. J.J. Kane specializes in utility, power-line, underground and construction equipment, and fleet vehicles. In addition to physical auction sales, the company offers its Live Off-Site service, enabling sellers to participate with equipment from remote locations. Live Off-Site allows sellers to be a part of the excitement created by a live physical auction sale, when transportation costs or logistics are a factor. J.J. Kane can provide a turnkey solution, handling every aspect of the sale process.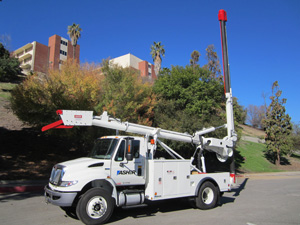 Product: TSE Cable Scrapper
Company: Al Asher and Sons Inc.
Web: www.alasher.com
The TSE Cable Scrapper is Al Asher and Sons' latest product innovation for 2015. Formerly known as OK Champion, the industry has long recognized the Cable Scrapper as the go-to product for salvaging underground cable up to 4-inch diameter. The machine will pull, cut and load cable all day long in one continuous operation, saving countless man-hours and extra equipment. Now you can purchase the TSE Cable Scrapper with remote radio controls for the bed winch, which will digitally and effortlessly record pulling torque and speed. Enhanced hydraulic circuitry improvements also are available to promote longevity and reduce heat and wear in the system. Asher stocks units for sale or rental throughout the USA.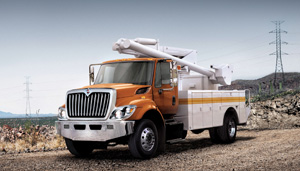 Product: International WorkStar Truck
Company: Navistar/International Truck
Web: www.internationaltrucks.com
The International WorkStar is one of the most durable and versatile trucks in the utility industry, built on the same battle-tested truck platform as the International MaxxPro MRAP (Mine-Resistant Ambush-Protected) armored vehicle. It brings the strength and rugged capabilities to work power lines in any environment, with the smarts of Diamond Logic to operate efficiently and keep your team safe. Ease of Diamond Logic integration with utility equipment means that features such as boom operation alerts, remote engine controls and remote battery shutoffs are all factory-built options. The 2016 WorkStar is also offered with the industry-leading Cummins ISB6.7, a recognized platform that delivers renowned efficiency, reliability and performance.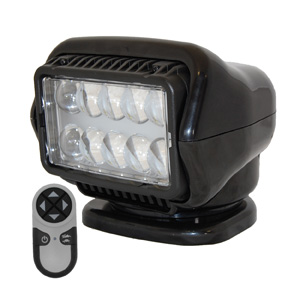 Product: LED Stryker
Company: Golight Inc.
Web: www.golight.com
The new LED Stryker from Golight offers tremendous intensity and clarity with minimal strain on the vehicle's electrical system. The LED upgrade boasts a 50 percent increase in intensity compared to its halogen counterpart. By utilizing P-Vex lens technology coupled with the cutting-edge LEDs, the LED Stryker is able to generate a peak beam intensity of 320,000 candela. Additionally, the hot spot – the most intense portion of the beam – comprises nearly 70 percent of the beam circumference, three times that of a comparable halogen unit.
The LED technology utilized in the new Stryker model generates nearly four times as many lumens per watt as a traditional halogen light source. Such efficiency means that the LED Stryker delivers more light while reducing the amp draw by half. Plus, the LEDs are incredibly durable with a rated useful life of 50,000 hours.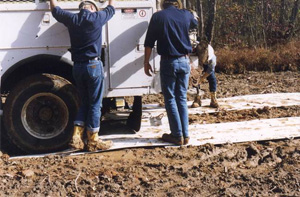 Product: Rigid Access Mat
Company: MUD-TRAKS
Web: www.mud-traks.com
MUD-TRAKS' strongest, most rigid access mat – designed to move heavy vehicles over wetland-like ground conditions – is light enough for men to handle in the field. It is made from solid fiberglass with an internal grid structure that channels tire load over an area more than 15 times larger than a comparable-sized poly mat. It is rigid enough to bridge a 20-inch span while supporting 10,000 pounds of tire load.
This innovation comes in three distinctive model strengths: Lawn Mat for vehicles up to 35,000 pounds, Off-Road Super Lite Mat for vehicles up to 60,000 pounds and Off-Road Super Mat for vehicles that weigh 100,000-plus pounds.
The mat's advantages include strength, longevity, ease of handling and safety. It has numerous applications in the utility and heavy construction industries; is not affected by chemicals, temperature or water; and does not conduct electricity.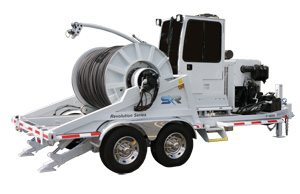 Product: Revolution Series Stringing Equipment
Company: Sherman+Reilly
Web: www.sherman-reilly.com
Sherman+Reilly designed its Revolution Series equipment around operator safety, ergonomics and environmental comfort. With a 14,000-pound pulling capacity, the Revolution Series P-1400X Single Drum Puller is a transmission-class drum puller with a first-of-a-kind drum engagement system utilizing lateral sliding sides and drum support rollers for simplified pulling and reconductoring operations. The P-2000X Bullwheel Puller offers a new design that provides a smooth 20,000 pounds of control for the steel hard line with the use of its twin hydraulically driven bullwheels. Both machines utilize automatic horizontal levelwinds that permit overhead rope retrieval with precision control.
The Safe-Zone Cab is an important feature of these pullers. The cab employs a floor-to-ceiling polycarbonate front window for maximum visibility while providing superior protection against impact.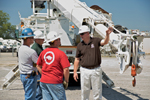 Product: AT40GW Aerial Device
Company: Altec
Web: www.altec.com/products/aerials/telescopic-articulating/at40gw
Altec's AT40GW track-driven aerial device has a 43-foot working height and 30-foot side reach to provide versatility in small or congested job sites. The telescopic/articulating boom design offers access to the platform from the ground. A 34-inch retractable track allows the device to easily maneuver in and out of gates and other narrow passageways by reducing the width of the machine. The unit comes standard with a walk-behind remote control for easy operation. A 180-degree platform rotator provides more flexibility in confined spaces to give the operator the best possible vantage point. For convenient transport, the 1,000-pound cargo deck accommodates transformers, tools and other components.
The AT40GW is available with an ISO-Boom, which allows the unit's second stage to be fully retracted while maintaining dielectric integrity and meeting OSHA guidelines for minimum approach distance. With a Category C isolating fiberglass boom, the operator can work safely regardless of the upper boom extension.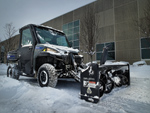 Product: RANGER ETX
Company: Polaris
Web: www.polaris.com/en-us/commercial/fleet-sales
The new RANGER ETX is an on-demand four-wheel-drive vehicle featuring a 31-horsepower, electronic fuel-injected (EFI) ProStar engine with an internal counter-balance shaft for smooth, low-vibration power. The dual overhead camshafts and a four-valve cylinder head work with the advanced engine management system to precisely deliver the fuel charge for impressive power and instant, predictable throttle response, while the lightweight, efficient transmission captures every ounce of power to deliver it to the ground. Like all ProStar engines, the design reduces internal friction, which dramatically reduces noise and significantly increases efficiency. The addition of EFI on this entry-level model assures easy starting, improved run quality and elevation compensation to ensure reliability normally found on higher-priced models.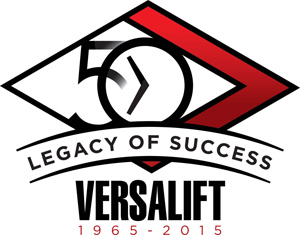 Product: Aerial Lifts
Company: VERSALIFT/Time Manufacturing
Web: www.versalift.com
With more than 50 years of innovation, exceptional quality and hard work, VERSALIFT's legacy of success has been marked by talented employees, notable clients and innovators. The company – a global leader in aerial lifts – continues to adapt to changing markets in an ever-changing world, with a clear commitment to quality though unequaled innovative design and manufacturing.
Time Manufacturing strives to build the safest, most efficient and hardest-working machines to get the job done. Its product line has grown to encompass models for every market. With more than 300,000 square feet under one roof, its manufacturing facilities comprise one of the premier factories of its kind in the world. Through vertical integration, Time monitors and maintains the quality of all products from the initial purchase of steel all the way through final testing. Whether it be a 29-foot man lift or a 108-foot material handler, there is a VERSALIFT to get the job done.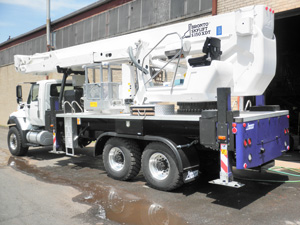 Product: S 150 XDT Aerial Work Platform
Company: Bronto Skylift
Web: www.bronto.fi
Bronto Skylift's S 150 XDT truck-mounted telescopic aerial work platform is especially well suited for the rental market. It's a lighter-weight, compact aerial that is road-legal in all states, so it can be driven to almost any work site, quickly set up and elevated to overhead areas in a matter of minutes. Mounted on a CAT chassis, it features a 152-foot overhead working height and a telescopic, articulating platform boom that provides 100 feet of horizontal outreach for increased up-and-over capabilities. With 360 degrees of continuous turntable rotation and a 1,400-pound platform capacity, workers are able to carry tools and equipment to access almost any elevated work site.
Product: T370 Medium-Duty Conventional Model
Company: Kenworth
Web: www.kenworth.com
Kenworth Truck Co. is expanding its axle offering for its T370 medium-duty conventional model, adding 18,000-pound and 20,000-pound front axles this spring. The new offering will enable the truck to serve more construction, utility, fuel and tanker applications. The T370 is built to deliver exceptional value over the long haul, and these new options will expand an ever-growing vocational use of the truck.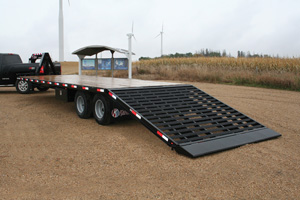 Product: Hydraulic Beavertail
Company: Kiefer Manufacturing
Web: www.kiefermfg.com
Kiefer Manufacturing offers a heavy-duty steel, self-cleaning hydraulic beavertail on most of its industrial flatbed trailer line models. The hydraulic beavertail option takes away the need to lift heavy ramps. Fingertip operation of the hydraulic ramps is done through a key fob, or with a lever that is permanently mounted inside a conveniently located storage box.
The newly designed hydraulic beavertail has an 8,000-pound lifting capacity. The wiring system is housed inside a 10-mil polyester sleeve for durability and longevity.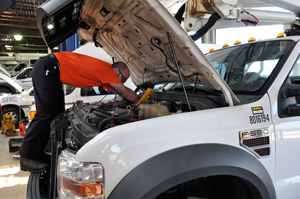 Product: Garage Management System
Company: ARI
Web: www.arifleet.com/services/in-house_garage_maintenance/
ARI's Garage Management System (GMS) provides fleets the ideal balance between in-house control and outsourcing convenience by helping to manage technicians, vehicle maintenance and parts inventory while simultaneously consolidating all vendor-in/vendor-out data. From mechanics' hours to automatic routing of repair approvals and comprehensive repair history, GMS manages it all, and it can even feed data to integrated payroll or ERP systems.
The GMS module integrates all maintenance-related data in one place, allowing fleet managers to track, analyze and manage fleet activity to achieve the lowest possible total cost of ownership. By using GMS as part of a multifaceted maintenance program, fleets will experience cost savings through a more efficient repair process while also making it easy to increase patronage of external shops, balancing vendor mix.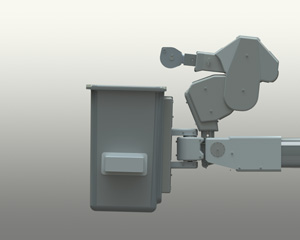 Product: Cobra-Style Jib
Company: Terex
Web: www.terex.com
Available on all 24-inch-by-48-inch platforms, the Terex cobra-style jib is engineered with hydraulic articulation and extend, enabling operators to achieve a greater range of motion and increased productivity. It boasts a low, 16-inch profile, as well as a 600-pound platform capacity and 1,000-pound maximum lift capacity, which can be realized with the work line extended farther from the basket shaft than other jibs allow. Operators can easily rotate the cobra-style jib thanks to an additional bearing at the bottom of the jib. This rotation offers lineworkers more versatility at the pole, enabling them to easily line up with work as needed.
This jib also incorporates a poppet valve feature, which helps enhance safe work practices because it prevents the unit from damaging itself during operation.
The Terex cobra-style jib quickly retracts and conveniently stows out of the way. With the jib in the stowed position, the truck's boom can still utilize its full range of motion, down to -40 degrees.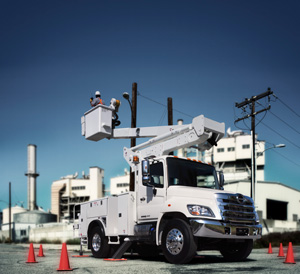 Product: Hino 338
Company: Hino Trucks
Web: www.hino.com/trucks/story_1212.php
Reliability is the key to success behind the Hino 338 model. This Class 7, 33,000-pound GVW model is equipped with the award-winning Hino J08 series engine rated at 260 horsepower and 660 pound-feet of torque. It also features a standard six-speed fully automatic 2500RDS with Shift Energy Management transmission from Allison Transmission, while 3000RDS and 3500RDS options are also available.
The Hino 338's available 120,000-psi frame is strong and rigid enough for the high torque loads utility bodies demand. An available 14,000-pound front axle also adds to the durability that customers have come to know from Hino. All Hino Class 6 and 7 models offer a clean cab-to-axle, making the body upfit much easier and also allowing for more equipment in the rear of the vehicle.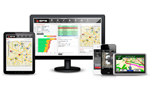 Product: GPS Dispatch and Custom Forms Applications
Company: GPS Insight
Web: www.gpsinsight.com
GPS Insight's new capability to send optimized routes to drivers' smart devices is the latest effort to simplify dispatching. You can now dispatch stops and/or routes via email or text message to each driver on a daily basis. For those customers who want to forgo Garmin integration, but need a better way to dispatch drivers, they can still do so. Also, drivers can now leverage directions used by the mapping apps on the smart device and do not need to be logged into another telematics app to be dispatched.
Garmin electronic custom forms were just added to the GPS Insight platform to improve the way businesses manage their mobile workforce from the field without all the paperwork. The forms are filled out on a Garmin and sent over the air to the back office for real-time data analysis. Utilities can use this function to expedite billing, improve productivity, track different types of completed services, perform job costing analysis and more.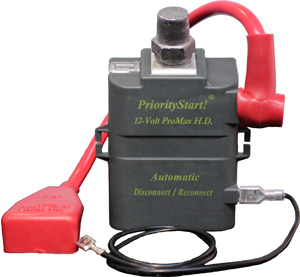 Product: PriorityStart HD
Company: BLI International
Web: www.prioritystart.com
PriorityStart HD is a totally automatic battery protection system that disconnects at 11.7 volts – stopping a dead battery – and then reconnects with a simple load change. The HD unit handles heavier loads, 60 percent increase to 1,600 starting amps and 400 continuous amps. The increase to the contact disc, gears and holding nut has strengthened the load capability and reduced the stress from heavier loads. Other improvements include increased points of connection, brighter top LED for easy viewing, motor/gear shielding strengthening operation and modified top post that easily accepts side-mount installation.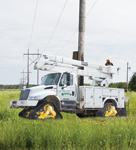 Product: YS3 and TA9000 Tracks Series
Company: Mattracks
Web: www.mattracks.com
Mattracks has introduced its new series of TA9000 tracks. The products expand Mattracks' current Track-tor-Assist lineup of conversion systems for the agriculture market, commercial market, and extremely large machinery and equipment with axle loads from 10 to 20 tons. Track widths in the TA9000 series are 15 inches, 20 inches, 24 inches and 30 inches.
The YS3 track has been designed to expel snow and ice with minimal ice buildup, and the heavier framework has been designed for increased load-carrying capacity. The offset road wheels reduce vibration and noise, and increase efficiency, fuel economy and track tread life.
Aerial Equipment, New Product Releases, Management, Utility Trends, Telematics
---
Kate Wade
Kate Wade has not set their biography yet
---