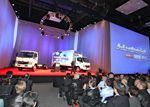 A panel of trade press editors and fleet managers attending The Work Truck Show 2011 presented two industry awards during the annual event this year. Dakota Bodies Inc. was the recipient of the Editors' Choice Award for its new Component Body, and Energy Xtreme won the Green Award for its new U36 Crossover mild-hybrid plug-in system.
Named the most innovative product introduced at the show, the Component Body was selected as the winner from a field of 90 entries. Dakota's Component Body is sold as a service body kit that upfitters can assemble in 16 different configurations to meet a customer's specific needs. Components are huck-bolted together, making them easily interchangeable. The Component Body is available in galvanneal, aluminum or stainless steel, with a pre-assembled powder-coated finish. If a component on the body is damaged, it can be replaced without the need to buy a whole new body.
"We are delighted to win the Editors' Choice Award," said Dan Dahl, sales manager for Dakota Bodies. "It's very difficult as a body manufacturer to come up with a new product that will satisfy the needs of a lot of companies in this industry."
Named the best new product that advances fuel utilization displayed at The Work Truck Show was the new U36 Crossover mild-hybrid plug-in system from Energy Xtreme. The company was chosen to receive the Green Award from a field of nearly 30 entries.
The U36 Crossover was designed to provide reliable, emission-free energy to power hydraulic lifts and equipment on bucket trucks. It can be factory-integrated into new vehicles or retrofitted to existing utility vehicles. The system can run the truck's auxiliary electrical equipment, tools, motors, pumps, hydraulic booms, lights, radio and laptop without the need to engage the engine or use a generator. The system includes an Energy Xtreme power management system, electric motor, pump and control module. It has a small footprint, weighs less than 750 pounds and plugs into a 30-amp wall outlet to recharge.
"Fleet users are finding that the U36 Crossover system reduces their payload by 35 percent and reduces maintenance," said Energy Xtreme CEO Devin Scott. "As fuel prices continue to rise, our products have proven especially relevant and provide a cost-efficient way to reduce consumption and eliminate emissions while increasing functionality. We are honored to receive the Green Award."