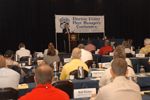 Held annually since 1953, the Electric Utility Fleet Managers Conference (EUFMC) remains true to tradition while staying at the forefront when it comes to providing highly valuable and relevant information.
"EUFMC brings together a large cross-section of utilities from around the country, large and small, for one common cause – to gain knowledge from the presented programs, from each other, to view products and to interact with the utilities' supplier base," said Ron Anderson, manager, fleet and equipment at NorthWestern Energy. "In no other place do you find such in-depth knowledge for fleet managers."
That is by design, notes George Survant, director of fleet services at Florida Power & Light and current EUFMC president. "EUFMC is unique in that it's built on the guidance of professionals from within the industry it serves," he said. "The result is an event featuring technical and management presentations that helps fleet managers make a difference in their organizations."
EUFMC continues to attract record numbers of fleet executives from investor-owned electric utilities, electric cooperatives and electrical contractors from across the U.S. and Canada, as well as representatives of equipment and service suppliers. The annual exhibition of the latest utility equipment and services during the conference features more than 75 displays where fleet managers can meet with 250+ representatives from more than 95 manufacturers and service providers.
Close Cooperation
Since its inception, EUFMC has promoted close cooperation between fleet representatives and manufacturers.
"The Electric Utility Fleet Managers Conference is an annual opportunity for the leaders in our company to share product ideas and technical information with leaders in the electrical utility fleet industry," said James Christian, director of engineering at Time Manufacturing Company. "The multifaceted environment of the conference allows our company to show products in a unique drive-through format, participate in technical sessions and have one-on-one interaction with our customers. This is not just a 'salesman' show as engineers, like myself, are encouraged to attend and participate in the technical programs and roundtable discussions."
Each year, EUFMC's officers and board of directors put together a comprehensive program of technical presentations that includes fleet managers, suppliers and industry experts who address the topics that are most relevant to attending fleets. The 2012 program, "Essential Tools for Utility Fleet Professionals," features presentations on the following topics:
Industry Trends – Light Duty Vehicles
Jim Michon, Ford
Tom Nimmo, Utilimarc
Craig Neuber, ARI
Life Cycle Costs – Models that Work
Chris Shaffer, Utilimarc
Steve Granger, KCP&L
Mike Radziewicz, ComEd
Cliff Edwards, Pike Electric
Best Practices in Preventive Maintenance
Jack Abraham, Nova Scotia Power
Diesel Engines – Current and Future
Dave Bryant, Freightliner
Tim Shick, Navistar
GPS/AVL – Looking for ROI
Alan Riddle, SCE
Craig Stepien, FP&L
Tim Mooney, PHH
Tim Taylor, Telogis
Regulatory/Legislative Update
Bill Van Amburg, CALSTART
Pat O'Connor, Kent & O'Connor
Josh Chard, Altec Industries
Battling the Scales – Bridge Law Compliance
Mike Allison, Duke Energy
Bill Hall, Minnesota Power
Joe Caywood, Terex
PM Practices & Technician Training Survey Results
EUFMC attendees have indicated a high level of interest in the practices that utilities are following in regard to preventive maintenance (PM), testing of aerial equipment and training of fleet technicians. Topics on the survey include PM and dielectric and acoustic emissions testing practices, management information system and data use, warranty work and claims processing, and technician training and apprentice programs. During the 2012 conference, results of the EUFMC survey on PM practices and technician training will be presented.
Guest Speakers
Other valuable aspects of EUFMC continue to attract attendees, including guest speakers who share important perspectives. This year's keynote speaker is Jim Stanley, senior vice president of power delivery for Duke Energy's U.S. Franchised Electric & Gas business. A 35-year industry veteran, Stanley is responsible for the electric power transmission and distribution in a five-state service area. Duke Energy provides electricity and natural gas to approximately 4 million customers in the Carolinas and the Midwest, and distributes natural gas in Ohio and Kentucky.
Also on the agenda at EUFMC 2012 are two dinner speakers:
Top Gun – Major Dan Rooney, U.S. Air Force (Ret.), will address EUFMC attendees on June 5. A former F-16 pilot in the Oklahoma Air National Guard, the decorated military aviator served three combat tours in Iraq and was a two-time recipient of the Top Gun award. Rooney is also the founder of the Folds of Honor Foundation, a nonprofit organization that provides scholarships to the spouses and children of military service members disabled or killed in action.
Industry Leader – Bob Lutz, the driving force behind many vehicle advancements in a nearly 50-year career in the automotive industry, will be the guest speaker at the EUFMC President's Gala Dinner on June 6. Lutz is currently a member of the board of directors of VIA Motors. Until his retirement in 2010 he served as vice chairman and special adviser, design and global product development at General Motors, where he championed the development of the Chevrolet Volt. Lutz has also held senior leadership positions at Ford, Chrysler and BMW, and was CEO of Exide Technologies.
Best Practices
The sharing of best practices is a hallmark of EUFMC. The conference provides a forum where fleet representatives can exchange information and discuss mutual concerns, including the highly popular fleet and supplier roundtables.
"As a first-year fleet manager, I attended the 2011 Electric Utility Fleet Managers Conference and found the networking opportunities hugely beneficial," said Michael Radziewicz, director of fleet at ComEd. "The best part of EUFMC for my company is the opportunity it provides for me to meet my peers and talk about issues that we are all dealing with and hear how they are addressing them. On a number of occasions since the conference, I've called other fleet managers I met to bounce ideas off of them and learn from their experience."
"The 2011 Electric Utility Fleet Managers Conference was my first and I was very impressed with the depth of technical information that was presented, the value that can be found in the experience of the attendees and the relationships that can be built with other fleet managers," stated Keith Dunkel, team leader at Indianapolis Power & Light Company, Facilities & Transportation Fleet. "At EUFMC I met people who are dealing with the same challenges that we have and who are willing to share their solutions to common fleet management issues, during and after the conference. The sponsors do a wonderful job of supporting the event and its great sense of tradition. I have not been to any other conference with the quality of EUFMC."
The 60th Electric Utility Fleet Managers Conference will be held June 2-5, 2013, at the Williamsburg Lodge and Conference Center in Williamsburg, Va. For more information, visit www.eufmc.com.