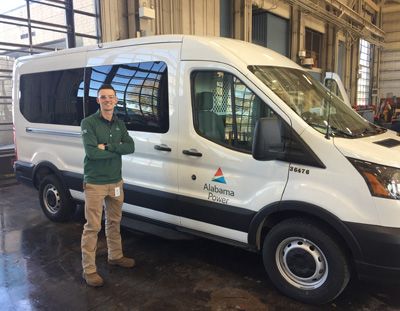 Spec'ing Service Van Interiors with Safety in Mind
When it comes to spec'ing service vans, utility fleet managers must consider several factors, including budget, vehicle performance, efficiency, and operator safety and comfort.
Take Alabama Power's vans, for instance. About half of the 80 units that the company – a subsidiary of Atlanta-based Southern Co. – has on the road are outfitted for general maintenance tasks. The other half are "highly specialized" for meter testing, according to Cody Caver, an engineer in the utility's fleet services group.
For that group of specialized vans in particular, Caver noted that "the cargo area … becomes a mobile workplace, so the interior must be kept at a reasonable working temperature." In addition, the cargo area includes fixed windows, rather than panels, so the employee can be aware of their surroundings outside of the vehicle while working.
Alabama Power's specs for meter testing join others for van safety, Caver said, including "visibility for the driver, visibility of the vehicle to the general public, collision mitigation, ingress/egress and load securement."
That last item – load securement – can play a significant role in overall safety, said Adam Molberger, senior product manager for truck and van outfitter WEATHER GUARD Van (www.weatherguard.com). But determining the right interior van configuration isn't necessarily easy work. "Finding the best solutions within the van, cargo area and cab side can be a challenge, which is why it is important to understand what tools are needed and how much space each of those items will require," Molberger said. "Planning spacing needs, from small screws to large ladders, is crucial to having an effective workspace. It is also important that the various utilities develop the most useful van storage system setup based on their specific needs."
The Right Fit
Molberger noted that customization – based on the make and model of the van as well as user needs – can help build out a van's interior. He pointed to his company's custom van configurator as a solution to create a visual build-out.
When spec'ing a van, Molberger said, utilities must consider how to keep cargo in place during "standard driving movements like turns, starts and stops, and in those unforeseen situations like short stops, bumps, sharp turns and even accidents. Van shelving, drawers, bins, and doors – among other storage solutions – can help keep tools and materials in place."
But that's just a starting point. "Utility professionals also face the challenge of protecting the driver from shifting tools and equipment in the cargo area," Molberger said. "This problem can be solved by installing a van bulkhead, which may be the most important part of the van solution, as it is the true protector of the van user and cab area."
Some bulkheads also provide additional storage space options to the driver that can result in a safer working environment. "Bulkhead storage solves a huge pain point for end users by creating designated space to store items in the cab instead of users having to stack supplies on unsafe surfaces like dashboards or passenger seats," Molberger said.
Caver said he has found upfitters willing to work with customers like Alabama Power "to tailor van interior packages around many safety concerns found in the utility industry." But he noted that a vehicle's bulkhead "creates a blind spot in certain circumstances that current technology has not fully remedied."
Beyond the Bulkhead
In addition to bulkhead storage innovations, shelving inside a van can hold tools and materials needed to get the job done. Molberger said the key is creating an area "that provides as much productivity as possible."
Racks can keep ladders – a risk for shifting cargo and potential injury – out of a van. Beyond the standard top-mounted rack, WEATHER GUARD also offers a drop-down ladder rack, which "eliminates the need for the user to lift the weight of the ladder to the top of the vehicle, which allows the user to minimize back strain because the van rack does the heavy lifting and locks it into place," Molberger said. "It also helps prevent possible damage to the van caused by loading the ladder."
When it comes to operator and cargo safety, utilities have plenty of options available. It's just a matter of spec'ing and finding the right upfit for the specific job.
About the Author: Sandy Smith is a freelance writer and editor based in Nashville, Tennessee.
*****
What's in a Spec Sheet?
Cody Caver, an engineer in Alabama Power's fleet services group, offered insight into the items he recommends to improve safety in utility vans. The list includes:
A bulkhead. In Alabama Power's meter testing vans – about half of its van fleet – the bulkhead "includes a door to allow the worker to move to the cab from the cargo area in the event of an unsafe situation outside of the vehicle," Caver said.
Load securement options in the cargo area, such as drawers, shelves with dividers and cargo nets to cover open bins.
Strobe lights for 360-degree visibility of the vehicle while at a work site.
Collision-mitigation technology, including OEM lane keeping and automatic braking, the Mobileye (www.mobileye.com) driver assistance system or a combination of both.
Blind-spot mitigation technology. Caver noted that Alabama Power's newer vans are equipped with Backeye 360 from Brigade Electronics (https://brigade-electronics.com), a camera system that assists drivers when changing lanes, merging into traffic or navigating parking lots.
Grab handles for ingress/egress assistance.
Backup alarms, parking brake alarms and auxiliary climate control vents in the cargo area. Alabama Power's meter testing vehicles feature all of these items.