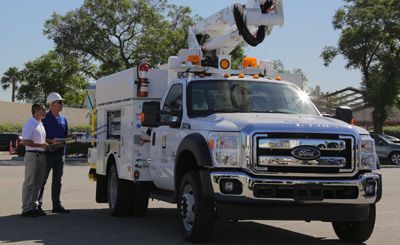 Charging Ahead: Integrating Telematics in Electric Vehicles
Over the last decade, Southern California Edison has worked with a handful of telematics providers. That's meant plenty of learning opportunities with both traditional and electric vehicles. The utility company's fleet has roughly 6,300 units; about 10% of those are electrified. And it's an ongoing challenge to be able to report the data that the company desires.
"The ability of telematics providers to provide data on EVs has increased, but the complexity of EV software and frequency of software updates can leave the telematics providers chasing data," said Todd Carlson, principal manager for fleet asset management at SCE. "It's a constant effort to keep providers current with what is offered in the EV space, and there's generally a lag."
Randy Scodellaro, technical specialist in telematics at SCE, is tasked with overseeing the telematics hardware performance across the utility's fleet and providing technical assistance to field personnel for diagnostics and repair, among other things. He likened the transition of a telematics provider from a gas-powered vehicle to a plug-in hybrid or EV to a computer upgrade from Windows 8 to Windows 10: It may be more powerful and have better functionality, but more learning will still be required – every time.
Almost a decade ago, when SCE did its first full telematics installation, it didn't take long to discover that the new system didn't work with a number of the hybrid units in the fleet. SCE rose to the challenge and solved the problem, and that lasted for a few years, Carlson said. But then, a significant safety issue arose: A telematics system caused battery issues in a plug-in hybrid; the vehicle ended up powering itself down in the middle of a highway. The driver was fine, but the provider had to come up with a programming update.
"It's this iterative process of constantly managing, fixing, solving and mapping software on the vehicle to the telematics providers," Carlson said. Ongoing telematics hardware changes complicate the issues. And that doesn't even take into account ongoing software updates from brands like Tesla, which may not come through an OBD2 port at all. SCE doesn't have Teslas in its fleet yet, but the company has tested some and currently has reservations in place for future vehicle testing.
SCE projects that 75% of the vehicles on California roads will need to be EVs by 2045 in order to meet state climate goals. In an effort to lead that transformation by example, the utility wants to optimize electrification within their fleet through the continued use of telematics. Over the last year, SCE has been in an extensive request-for-proposal process for a new telematics provider, evaluating roughly 20 vendors. The company declined to say which one they landed on for the next decade, but they have wisdom to share when it comes to selecting and integrating the right solution.
Kevin Tovar, manager of fleet planning and strategy at SCE, spoke of the big picture of telematics integration. Conventionally, he said, telematics will relay how gas is used per driving segment but not necessarily how many kilowatts of power are being put into the vehicle battery. The desire, then, has been not only to measure fuel consumption across the fleet but to measure overall energy consumption.
"In the long run, we'll need to know where we'll need charging stations," Tovar said.
SCE also included reporting requirements and service expectations in its scope of work for current and future EV models. Not all telematics providers have been willing or able to play, even if they agree the functionality should be there.
In the meantime, experts at The Motley Fool – a private financial and investing advice company based in Alexandria, Virginia – recently pondered whether 2020 would be the year of the electric vehicle (see www.fool.com/investing/2019/11/30/will-2020-be-the-year-of-the-electric-vehicle.aspx). The reasoning? Options are abundant, with numerous OEMs upping their game; EVs are "more attractive than ever"; and range anxiety is almost gone. That last point is one that SCE has linked to telematics. Data can be used to reduce range anxiety by showing, for example, how far most vehicles actually drive. Still in the works, however, are solid solutions for storm support, such as options for portable charging when electricity isn't available.
As a whole, the telematics category includes numerous providers with varying levels of product capability. It remains a moving target as vehicle software, vehicle hardware and telematics supplier functionality change and evolve.
Each provider decides how much complexity they want to bite off, Carlson said – and fleet professionals must decide the same.
About the Author: Fiona Soltes is a longtime freelance writer based just outside Nashville, Tennessee. Her clients have represented a variety of sectors, including fleet, engineering, technology, logistics, business services, retail, disaster preparedness and material handling. Prior to her freelance career, Soltes worked as a staff writer at newspapers in Tennessee and Texas.
*****
Standards for a New System
Is your fleet evaluating a telematics system for EVs? Randy Scodellaro, technical specialist in telematics at Southern California Edison, recently offered these four standards against which to assess a system.
Regardless of whether the solution will be installed internally or by a contractor, it has to be done in a safe manner, Scodellaro said. He has come across installers who have cut corners in the name of speed, and it just won't do.
Relevant functionality. Telematics solutions typically are not "set it and forget it"; integration takes work, he said, and that goes beyond just hardware to include programming.
Minimal vehicle damage. Installing a system is "very, very intrusive," Scodellaro said. Not to mention, it's also quite a delicate process.
Serviceability. "There are third-party installers that are absolutely fantastic," he said. "But then something goes wrong, and trying to find the thing is like the greatest Easter egg hunt in the world. With our model, we repair these things. Even if you hire someone else, the more they have to look, the more they put the vehicle at risk for collateral damage."