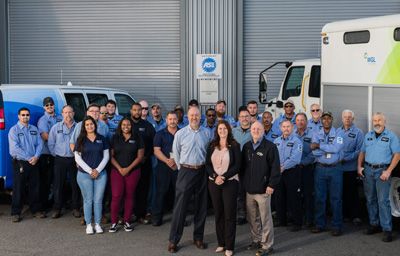 Points to Consider When Transitioning to a Fleet Management Information System
Using a fleet management information system (FMIS) can help utility fleet managers keep records and generate reports regarding the effective and efficient operation, maintenance, repair and replacement of their fleet assets. UFP recently spoke with two utility fleet managers who shared their experiences of transitioning to an FMIS and what other fleets might expect from the process.
Identify the Necessary Features
Since 2012, Washington Gas – a natural gas service provider headquartered in the District of Columbia – has been utilizing an FMIS for cradle-to-grave oversight of its fleet of more than 1,150 units.
Doing so has provided a "30,000-foot view of the fleet," according to Michele Davis, fleet manager at the utility.
When shopping around for an FMIS, she recommended going into the evaluation process with a list of must-haves and keeping an open mind about the possibilities.
"My list of must-haves includes management reporting with KPI management, vehicle replacement evaluation and scheduling, real-time labor tracking, flexibility and customization to meet changing needs, and the ability to import/export data from other systems utilized by the fleet," Davis said.
Tim Fitzgerald, fleet director for the District of Columbia Water and Sewer Authority (DC Water), shared similar advice.
"The fleet industry is now driven by data, location, operations, performance and interoperability," he said. "Look for a true web-based, easily adaptable cloud-based system that can be hosted by your platform. The system should be easy to use, provide management reporting and adapt to your business processes, not the other way around."
DC Water, which has a fleet of 630 units, first implemented an FMIS in 2013. At the time, the fleet was having challenges with timely maintenance, fuel efficiency and safety compliance, including seat-belt usage, and needed something tailored to its business model.
"If I couldn't measure problems, I couldn't manage problems," Fitzgerald said.
Get Feedback
Once a utility fleet has narrowed down its FMIS options, Davis recommended talking to both the developers and users of the different systems the fleet is considering.
"Attend one of their conferences to get a feel for the system or visit their site and speak directly with the users," she said.
Secure Stakeholder Buy-In
As with any potential new product or tool deployment, getting buy-in from stakeholders is critical for success.
Davis suggested polling technicians and spending time in the garages to determine what works – and what doesn't – with the current system they're using. Additionally, she advised sending a few of the technicians to attend demos of the new systems the fleet is considering.
"It is also important to see what the executives would like to see regarding the fleet in the form of dashboards, which typically grows after implementation," Davis said.
Prepare Staff
Once a fleet has decided on a new FMIS, fleet managers must be prepared to get employees on board with the system.
"Change management is always very important when it comes to process improvements and system changes," Davis said.
Deploying an FMIS has helped improve operations at DC Water and even earned the fleet national recognition for its results since implementation.
"Using an FMIS has allowed us to create cultural change across our organization by providing complete visibility of our businesses and by driving policies and processes," Fitzgerald said. "The system has enabled us to create a way of not only analyzing and controlling all of our business performance, but provides us with an environment where employees can be cultivated to understand processes and their value to [DC Water]. Our team now champions improvements through use of the system, and we are always discussing new ideas."
However, switching the fleet – which had previously used a paper-based system – to a new FMIS did result in a bit of culture shock for employees, Fitzgerald said. Looking back, he noted that he would have developed and taught data management classes prior to the implementation because technicians must have the appropriate training to effectively use the FMIS.
"It's putting the right tools in the right hands the first time," Fitzgerald said.
About the Author: Grace Suizo has been covering the automotive fleet industry since 2007. She spent six years as an editor for five fleet publications and has written more than 100 articles geared toward both commercial and public sector fleets.
*****
Using the Data
With the data collected from its FMIS, Washington Gas has established relevant key performance indicators to track vehicle and asset performance and cost, as well as the performance of add-on equipment, such as GPS and drive cams.
"We are also using relevant vehicle replacement parameters, not just age and mileage, to determine which vehicles/assets are due for replacement and projecting their replacement due dates well into future years," said Michele Davis, fleet manager at Washington Gas. "This is critical for operational and budget planning."
At DC Water, managers can use a Google Earth interface to see vehicle locations at all times, which helps to provide faster response times in emergency situations. In addition to vehicle tracking, the system also captures helpful information on seat-belt usage and speed. Both measurements aid in protecting staff and minimizing DC Water's liability in accident insurance claims.
DC Water also has been able to interface the FMIS software with its fueling system, telematics platform, and motor pool and key control system.