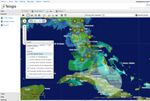 Software Solutions
Wiregrass Electric Cooperative Improves Safety and Efficiency with Telogis
Wiregrass Electric Cooperative provides electric services to 24,000 members across six counties in southeast Alabama. Technicians are responsible for keeping the electricity flowing across the region, each one assigned to cover a specific area or zone. Unfortunately, in order to keep track of where the technicians were during the course of the day, the dispatch team had to constantly communicate with them via two-way radio.
"I had to converse with them to see where they were starting at, and then check with them during the day to see where they were at and what progress they were making on completing their work," said Wiregrass service manager Larry Galloway. "If there was an outage, I would have to call them and find out where they were to see who was closest."
The company needed a real-time view of where their service trucks were located and began searching for a GPS-based fleet management solution. The company ultimately selected Telogis Fleet, a hosted solution, and installed Telogis GPS units on 16 vehicles, including its six small bucket trucks, large construction bucket trucks and the trucks used by the company's four construction crew leaders.
With a real-time view of each technician's location, Galloway has been able to greatly improve dispatching efficiency. "If we have an outage, I can immediately look and see who is the closest to the problem, and dispatch them accordingly," he said.
Wiregrass has improved equipment utilization and reduced the amount of time it takes to locate a technician to respond to an outage. "I can look instantly and see where all the trucks are located," Galloway said. "If there's an outage in one zone, and I can see that a technician who doesn't usually work there is closer to the problem, I can dispatch him and have him on site much faster. In those cases, I can get the technicians there twice as fast."
According to Galloway, Wiregrass is currently considering installing additional GPS units on other vehicles and equipment. Eventually the company would like to more closely monitor vehicle performance indicators such as idle times and braking.
"The Telogis system has really helped improve our dispatching and our response times, and our technicians are confident that we can reach them quickly in an emergency," Galloway said. "We hope to improve operations even further as we leverage more of the Telogis functionality on additional equipment."
Telogis Fleet 9, the company's next generation of fleet management software, is designed to give fleet managers greater flexibility in configuring reports to fit their exact needs. The software-as-a-service fleet management system integrates with Telogis Route, Telogis Progression and Telogis Mobile in a single strategic and dynamic routing, real-time work order management, telematics and mobile platform.
Telogis Fleet 9 features new configurable reporting functions and settings, including:
• Ad Hoc Reporting, which allows users to define data elements they want to see, organize them in a way that is the most logical for their operations, and create and run reports in real time;
• Terminology Module, which lets users rename key terms to match internal nomenclature;
• InSight Alerting Engine, which allows users to create unique alerts based on almost every piece of data that the system collects; and
• Layers, which enables organizations to quickly and easily integrate unique GIS layer data to locate relevant locations in their company infrastructure that do not appear on standard maps, such as power poles, oil wells, gas and water lines, land use grids, and forestry and parcel information.
Telogis Fleet 9 also incorporates new features of Telogis Asset, including asset-specific alerts and reporting functions that provide greater visibility as to how each asset is being used in the field. Users have the ability to view all assets in a single view, customize data by asset type and integrate that information into larger fleet-wide reports, an important feature in large, mixed fleets. Loss prevention and utilization monitoring tools also protect assets from theft and misuse. Visit www.telogis.com for more.
New Jersey American Water Uses Trimble Fleet Management to Lower Fuel Costs and Optimize Scheduling
New Jersey American Water, a subsidiary of American Water Works & Guarantee Company, provides water and wastewater service to 600,000 customers in six counties using a fleet of 600 vehicles.
"Our drivers read meters, change meters and fix main breaks," said Jeff Bowlby, operations supervisor for New Jersey American Water. "To better serve this many customers and still maintain a high level of service, New Jersey American Water needed a fleet management solution to improve scheduling and raise worker productivity."
The company chose Trimble GeoManager Fleet Management, a GPS cloud-computing platform that allows it to track vehicles in real time, confirm a vehicle is at its scheduled location on time, and view and print detailed reports about daily activities. "GeoManager has definitely been a helpful tool," Bowlby added. "We can give customers a window and the driver will call half an hour before getting there so the customer is always updated on their service status."
GeoManager Fleet Management offers visibility into day-to-day operations to identify, manage and improve key areas of the business so New Jersey American Water has better control of driver safety, customer service, back office administration, fuel consumption and field service vehicle efficiency. Another issue was excessive idling. "We were spending $2.6 million on fuel each year," Bowlby said. "Now GeoManager sends an alert if a vehicle exceeds 15 minutes of idling. We've cut our fuel expenses almost in half."
An added benefit of GeoManager is its vehicle diagnostics solution, which schedules vehicle maintenance and reduces the chance of mechanical failure. "Our drivers are very busy servicing customers and they don't have time to track maintenance issues," Bowlby said. "Sometimes they don't even notice that the check engine light is on. Now we get a code when the light is on and we know right away whether the truck needs servicing."
Trimble Field Service Management suite includes fleet management, work management and scheduling, worker safety and mobility solutions. The cloud-based portfolio offers industry-specific, enterprise-level solutions. Visit www.trimble.com/fsm for more.
DC Water Gains Real-Time Visibility Over Fleet Costs with Chevin Fleet Solutions
The District of Columbia Water and Sewer Authority provides wastewater treatment and quality drinking water to multiple counties in Maryland, Virginia and the District of Columbia. DC Water supports these offerings with a fleet of more than 2,000 pieces of equipment.
Utilizing FleetWave from Chevin Fleet Solutions, DC Water can link each of its facilities together, allowing the utility to share resources, reduce on-hand parts inventories, and significantly improve maintenance practices and compliance with inspections and certifications required for its diverse fleet.
With integration to the utility's enterprise financial system as well as external maintenance providers and fuel management system, FleetWave can streamline labor- and paper-intensive processes. Additionally, with FleetWave's support of auto-generated email notifications of pending, due, and past due PMs and safety inspections, DC Water has enhanced its management and oversight of statutory and safety-related tasks.
With extensive fleet management requirements from complete asset and life cycle management, workshop, inventory, purchasing, warranty and campaign management, and driver management as well as accident and risk management, DC Water's fleet management team is able to use FleetWave to manage its fleet using a simple deployment over DC Water's intranet.
"With FleetWave, DC Water's extremely diverse requirements will be accommodated," said Ron Katz, senior vice president of North American sales for Chevin. "In addition, with FleetWave's flexible capabilities, DC Water's future needs can be easily met without the need for expensive and time-consuming programming."
Chevin Fleet Solutions is a provider of enterprise fleet management software with two primary products. FleetWave is a Web-based fleet management information system and RoadBASE is a PC-based fleet management system. Visit www.chevinfleet.com/us/fleet-management-software/ for more.
East Bay Municipal Utility District Uses AssetWorks FleetFocus to Manage Resources and Increase Customer Satisfaction
The East Bay Municipal Utility District supplies water and provides wastewater treatment for Alameda and Contra Costa counties along the eastern side of San Francisco Bay. The utility has approximately 1,215 vehicles and uses the AssetWorks FleetFocus Enterprise Asset Management solution to manage its fleet operations.
"To run a fleet well, you need good information for constant evaluation," stated Bob Sonnenfelt, EBMUD equipment supervisor, fleet management. "FleetFocus allows us to know about problems long before they impact business, which helps us be a better service provider within our organization."
EBMUD fleet management processes 6,000 work orders a year, averaging 12 to15 vehicles a day. Some of the ways in which the utility uses FleetFocus include developing a systematic replacement analysis function that includes a hands-on evaluation of the unit as well as a cost-benefit analysis and history review. By accessing accurate maintenance and repair data in the work order center of FleetFocus, EBMUD can better determine the reasons for maintenance and repair. Over time, this practice saves labor time and costs, and has extended the PM cycle on most vehicles.
EBMUD is also able to set parts operations parameters that match specific terms with FleetFocus. This practice helps the fleet management department accurately provide needed items while carefully managing inventory costs. Additionally, EBMUD uses FleetFocus to capture all shop labor in real time. Technicians log on and off tasks in the application via shop floor computers. By tracking direct and indirect time in real time, the utility can accurately assess productivity as it relates to mechanics, vehicles and tasks, establishing standards and goals for productivity.
FleetFocus also integrates with EBMUD's other systems, including its automated fuel system, which provides both fuel consumption and updated odometer readings. The system integration includes the Networkfleet AVL/GPS wireless vehicle management system, which provides another point of data capture for odometer readings as well as vehicle diagnostic information, alerting maintenance when a vehicle engine reports a fault code.
FleetFocus is seen as vital to EBMUD's efforts to effectively and efficiently run its fleet operations while offering impeccable service to its internal and external customers. "AssetWorks built FleetFocus to include functionality that is the best in the market," said Sonnenfelt. "We've been able to extend PM cycles, extend replacement cycles, minimize our parts inventory, and identify and manage where our labor is going. All this results in productivity gains and makes our operation stronger."
AssetWorks FleetFocus tracks all functions related to the maintenance of vehicles and equipment, including processing repair and preventive maintenance work orders, capturing operating expenses, and billing and tracking for vehicle usage. FleetFocus also integrates with an automated fuel management system, FuelFocus, in real time. Other integrations available with FleetFocus include the AssetWorks Vehicle Data Collector for capturing engine data and error codes and transmitting them directly into the FleetFocus database; Networkfleet wireless in-vehicle technology that merges remote diagnostic systems with GPS-based automatic vehicle location technology; NAPA's parts inventory management system; Lincoln's fluid inventory control system; and the Zonar Electronic Vehicle Inspection Report system. Visit www.assetworks.com for more.
Orangeville Hydro Manages Projects and Tracks Costs with WennSoft
Orangeville Hydro Limited, based in Orangeville, Ontario, 46 miles from Toronto, supplies power to more than 10,000 customers from five substations. To assist in providing quality service, Orangeville Hydro has utilized WennSoft Job Cost since April 2006.
"Prior to using WennSoft, we did not have a work order system," recalled Jan Howard, Orangeville Hydro's manager of finance and rates. "We tracked everything through general ledger, including budgeted and minor capital jobs. However, we lacked the ability to report on costs and had no ability to determine current value of an asset when replacement was required."
With WennSoft, Howard is able to track costs to see if Orangeville Hydro is coming close to budgeted amounts. Work orders for chargeable work are tracked in the work order system and directly invoiced. The utility's operations department also tracks maintenance.
WennSoft helps provide accurate information and a history about jobs or projects to refer to at a later time. "In the past we couldn't go back and see the initial cost of a project," Howard said. "With Job Cost, we have access to historical project costs. That allows us to compare historical information to similar projects under consideration. We build a history, call up the last project, examine historical costs and go from there."
WennSoft Evolution is a complete solution for work order management, asset management, installation, field service and maintenance designed for equipment in energy, construction, communication and other industries. Built on the Microsoft xRM framework, Evolution delivers asset management, maintenance agreements, simple and segmented work orders, field service, advanced dispatching and scheduling, mobile solutions for field technicians, quotes, purchasing and invoicing.
Evolution can operate as a stand-alone solution or be integrated with Microsoft Dynamics ERP and other business application software and services. The software can be implemented in phases or across an entire organization, and can be deployed on premises or in the cloud. In addition, technicians in the field can use multiple devices across operating systems to access FieldTech, a mobile solution that has both online as well as store and forward capabilities. Visit www.wennsoft.com for more.
Utility Equipment Leasing Corporation Adds to Rental Fleet
To meet electrical transmission and distribution customer demand, Utility Equipment Leasing Corporation has added more than 60 new trucks to its fleet in 2012. This is the third consecutive year the company is investing in trucks for U.S. utilities. The most recent expansion included RMX 75- to 100-foot buckets, Commander 6000 diggers and Generals for transmission customers. The company also added 45- to 60-foot digger derricks, 29- to 40-foot bucket trucks, and other digger derricks and cable placers for the distribution market. Visit www.uelc.com for more.
Ditch Witch Offers Financing and Leasing Options
Through Ditch Witch Financial Services, customers now have a variety of financing and leasing options available, including zero percent financing, 90-day and 6-month delayed payment plans, skip-payment plans, lease options and other programs tailored to customer needs. Visit www.ditchwitch.com for more.
---
Seth Skydel
Seth Skydel has not set their biography yet
---