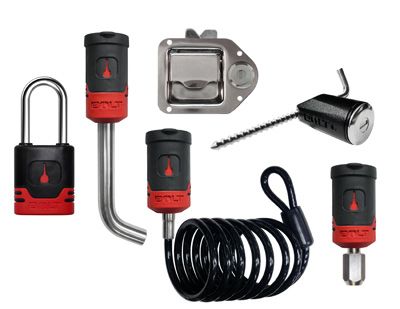 Putting a Lock on Lost Keys
Keeping track of keys in a utility fleet environment – which may have thousands of assets, from pickups to bucket trucks and beyond – can be a costly endeavor. In fact, the price tag associated with maintaining fleet vehicle keys and replacing those that are lost can hit well into five figures each year.
"Keys are pretty much a nightmare for every utility," said Gary Lentsch, CAFM, fleet manager at Eugene (Ore.) Water & Electric Board. With roughly 350 pieces of equipment, he has a lot to keep up with. Two keyboards – one master with keys that never leave the property and another keyboard for the shop to use – help some. In addition, two more keys for each vehicle go directly to the department receiving the equipment. But problems still arise.
The biggest culprit? When departments make their own additional keys, not realizing that for some vehicles, OEMs will only allow eight keys to be programmed the same.
"And if you've got four, and then someone goes back and makes a couple more, you're at five and six, then we hit seven and eight, and when you go to make the ninth key, the number one key drops off," Lentsch said. "It's deactivated. That could be the one on your master keyboard. … It's actually happened quite a bit."
Another challenge is vehicles with an ignition fob and start button; those fobs are likely to be put in a purse or pocket, possibly going through the laundry or never being seen again.
Helpful Options
The good news is that there are options that may help.
For those with a variety of equipment on the same vehicle, for example, the one-key lock technology from BOLT (www.boltlock.com) allows fleet professionals to insert the vehicle's ignition key into a padlock, cable lock, tailgate handle or other type of lock and have that lock "learn" that ignition key.
The advantage, said BOLT spokesperson Jason Buckles, is that there's now only one key to keep up with rather than a whole ring, decreasing the potential cost of replacing numerous lost keys. He's heard of trailer yards where all locks have been configured the same for added convenience. BOLT also allows fleet professionals to specify locks on Knapheide, A.R.E., LEER and other truck storage equipment, and matches locks for numerous OEMs, such as GM, Ford and Chrysler. Buckles highlighted BOLT's high safety and security ratings as well.
As for key storage, the electronic key management system from KeyCodeBox (www.keycodebox.com) tackles the challenge of lost keys from another angle.
KeyCodeBox is a key cabinet that isolates each key in its own compartment for greater accountability and reporting. The compartments require a confirmation code for opening, and the person overseeing the keys will receive notifications as the keys go out. There are options for fingerprint and magnetic stripe/ID card readers, and founder Buzz Siler said the product is ideal for fleet operations in which multiple people share the same equipment. In addition, the system can be configured to send text messages to those who have not yet returned keys by the expected time. Another bonus for utility companies, the way Siler sees it, is that the product can reduce the need for someone to sit behind a desk 24 hours a day, handing out keys.
"A key machine allows utility companies to do business 24/7 without having someone on the off shift," he said. "You could have one admin that works nine to five, and the way the software is set up, you can communicate with the KeyCodeBox no matter where you are, give codes and reservation information, and the box can operate autonomously."
In addition to utility companies, Siler is seeing KeyCodeBox used by property management and other industries; he foresees a day when smaller versions may be mounted in vans for secure deliveries.
In the meantime, utility fleet professionals will no doubt keep looking for creative ways to keep track of keys. And as those keys become more technologically complex – and therefore expensive – the stakes continue to rise.
"I've worked at three different utilities in my career," Lentsch said. "And every one has fought the same thing. For some of these fleets that have several thousands of vehicles? I can't even imagine."
About the Author: Fiona Soltes is a longtime freelance writer based just outside Nashville, Tenn. Her regular clients represent a variety of sectors, including fleet, engineering, technology, logistics, business services, disaster preparedness and material handling. Prior to her freelance career, Soltes spent seven years as a staff writer for The Tennessean, a daily newspaper serving Nashville and the surrounding area.
*****
Mitigating Lost Key Costs
It would be great if you could somehow make sure your employees would never lose another key. As that's squarely in the not-going-to-happen category, let's consider the following ways to mitigate cost and lost productivity.
• Periodically test master keys to ensure they still work with the equipment they match; OEMs increasingly set a limit on how many times a key can be copied.
• Do a little math about the costs incurred with each lost key, including lost time, and share that information with employees. For added impact, track results for a quarter, six months or a year.
• Charge costs of key replacements back to employees or their departments.
• Consider using new technologies.