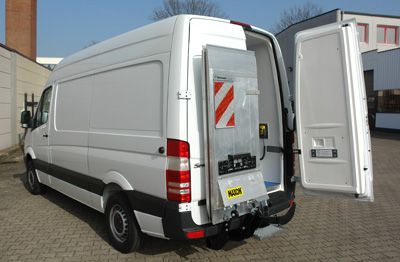 3 Ergonomic Upfits to Combat Work-Related Injuries
When Dan Remmert, manager of fleet services for Ameren Illinois Company, explored the reasons behind his group's work-related injuries, one issue kept coming up: getting in and out of a vehicle or piece of equipment.
"We've had many issues over time related to getting to the back of a bed, a bucket or aerial device," he said. He also noted that recent vehicle changes have resulted in chassis being taller, "which causes ergonomic challenges for loading, moving and working."
Complicating matters is the fact that his workers can choose the size ladder they prefer, but Remmert is expected to standardize the fleet's trucks, including ladder racks. "We use some of the fold-down products on the market, but they just never seem to fit everybody."
While combatting injuries caused by stepping out of or lifting materials from vehicles is a growing problem for utilities, there are several ergonomically friendly products now on the market that can help prevent some of the most common injuries. Here are three that may benefit your fleet operators.
1. Liftgates with ergonomic features.
It's no secret to utility fleet workers that getting in and out of a vehicle can cause injuries. Maybe a worker steps off incorrectly and twists something, or constant repetitive motion results in long-term injuries. Add in heavy equipment that must be wrestled out of the back of the vehicle, and the odds of back injuries increase.
But there are solutions available. "We've seen ease of use and dependability increase greatly with ramps and liftgates," said Spero Skarlatos, manager of truck excellence for Element Fleet Management (www.elementfleet.com).
He noted that some liftgates now have a cantilever design that allows a platform as wide as the van itself. Some of those are hinged to the vehicle's rear doors so they easily swing out. "Liftgates and ramps relieve the driver of having to physically lift a box so they can use a cart instead," Skarlatos said.
Maxon Lift (www.maxonlift.com) makes nothing but liftgates and is constantly innovating to meet customer needs. An interlocking handrail on the liftgate is one recent enhancement. That was developed in conjunction with Smithfield, a large meat packer.
"While it's not a utility fleet, the concerns are the same," said Anton Griessner, Maxon's vice president of marketing and business development. "It's about the safe handling of loads and avoiding having the operator lifting heavy things."
Of course, the liftgate itself can bring its own challenges, with the worker trying to maneuver the heavy gate into position, often from the ground. Maxon's latest solution allows the worker to raise the lift about halfway up so that it can then be folded in.
"When you manipulate the liftgate, you can do it at an angle, which is as efficient and ergonomic as possible and at the level that offers the best leverage," Griessner said.
2. Shelving that puts needed materials in reach.
Skarlatos said that vans and pickup trucks now include a cabinet with multiple shelves that are accessible from the ground level outside the vehicle. It's akin to a catering operation; vehicles used for that purpose typically contain multiple racks that slide in and out. In the utility fleet environment, the shelves can store tools and products that the driver uses regularly. "Instead of accessing the back of the van, the trays keep the driver outside the vehicle, standing on both feet," Skarlatos said.
3. New vehicle styles.
While it's not an upfit per se, one of the biggest current industry trends is changes in vehicles themselves, according to Skarlatos. Euro-design vans are a game changer because they offer easier access and prevent drivers from crouching while in the back of a van. "You can stand up from the driver's seat, walk into the back of the van and then step out the rear doors by using the step bumpers," Skarlatos said. "This has been an evolution of the vans to help with ergonomics."
And when the shelves that put needed materials in reach are included, this eliminates the need for the driver to get back inside the vehicle. "Anytime you limit the times that you're stepping in or stepping down, reaching and pulling, we're increasing the driver's quality of life at work," Skarlatos said.
Of course, no two fleet needs are the same, even within the utility industry. That's why working with suppliers is critical. "You have to really explain what you do and how you do it," Griessner said. "And there still can be a big difference between what the fleet and safety managers try to achieve and what the operators do. Out of this trust in a vendor can come a very good end product."
About the Author: Sandy Smith is a freelance writer and editor based in Nashville, Tenn.
*****
Ergonomics Issues Can Be Costly
OSHA issued ergonomics mandates in the early 2000s, which were subsequently voided by Congress. Nonetheless, there are common-sense reasons to pay attention to ergonomics in utility fleets. For instance, in 2011 – the most recent year for which statistics are available – workers' compensation paid out $29.6 billion in medical bills and another $30.3 billion in lost wages, according to the Social Security Administration. And according to the Bureau of Labor Statistics:
• Musculoskeletal disorders – the broad term for sprains and strains from overexertion – accounted for three in 10 of the total work-related injuries in 2015.
• The average loss of work for a musculoskeletal disorder was 12 days in 2015. That compares with an average of eight days for all injuries that resulted in days off work.
• Falls, slips and trips were the second-largest category of work-related injuries, at 27 percent.
• Workers aged 45-54 had the highest number of missed days due to work-related injuries.