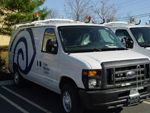 Pulling All the Levers
George Survant, senior director, fleet at Time Warner Cable knows exactly the direction he wants to focus on for the future of the telecom provider's vehicle operation. "We have to manage for the minimum cost per month over the life cycle of the vehicle," he said. "If we use best practices to drive up reliability, we not only have lower costs, but we're in a better position to meet customer expectations and improve our customers' experience."
Joining Time Warner Cable in mid-2012, Survant brings more than 30 years of utility fleet management expertise to an organization full of highly skilled and experienced fleet operations professionals. "We have an opportunity to make sure that our service fleet and its management programs are as leading edge as the entertainment, communications and information technology that Time Warner Cable provides," he stated.
Aggressive growth at Time Warner Cable, which now serves more than 15 million residential and business customers in 29 states, has presented the company's fleet managers with a number of challenges. Its 21,000 vehicles are spread out from coast to coast, and in Hawaii. Large groups of trucks were brought into the operation as a result of acquisitions. More than 70 dealerships were involved in spec'ing equipment and negotiating purchases, and with 95 percent of the fleet's maintenance outsourced, hundreds of service providers were in the mix.
Significant Muscle
"About three years ago," Survant related, "the management consulting, technology services and outsourcing company Accenture began working with Time Warner Cable to address organizational strategies. The company was understandably decentralized in different areas, including fleet. Operating like many small companies rather than one entity meant lost opportunities to flex the organization's significant market muscle."
Applying that lesson to managing its fleet, Time Warner Cable has embarked on a comprehensive set of initiatives to take advantage of economies of scale, to centralize the fleet operation, and to leverage existing and new best practices across the entire equipment and maintenance organization.
"One objective is to drive up reliability," Survant said. "There is a hidden cost of having many different vehicles sourced in small groups. Also, trucks simply become less reliable with age so we needed a consistent replacement plan that can only come from a national supplier relationship."
Taking Advantage
In July 2012, Survant noted, the median age of a standard service van or pickup truck in the Time Warner Cable fleet was 6.7 years. "Ideally," he added, "the median age target for this type of vehicle is 3.75 to 4 years. Moving in that direction, we've lowered the median age of our fleet to under 6 years in just six months, and we've reduced acquisition costs by working with OEMs directly on a national level, and by taking advantage of utility fleet pricing programs."
The current Time Warner Cable fleet consists of 11,000 vans, primarily Ford E-150 and E-250 models along with some GM units. Its 4,000 quarter- and half-ton pickup trucks are also mainly Fords and there are 2,600 Class 5 Ford F-350 and F-450 bucket trucks. The balance of the fleet consists of fewer than 100 Class 6-8 trucks and some passenger cars and vans.
To adopt better solutions, remarketing of vehicles being phased out of the Time Warner Cable fleet has also been addressed. Today, when groups of vehicles become available, the company invites auction houses to bid and investigates the resale value it can realize by selling the trucks to dealer auctions or wholesalers, taking into account the cost of prepping vehicles and providing required paperwork. Resale value is going to be a factor in new vehicle purchases going forward, Survant also noted.
Nationwide Program
Turning its attention to maintaining the fleet, Time Warner Cable's fleet management team focused on creating a single, nationwide program. In the fall of 2012, the company began using the vehicle fleet management services company ARI at all locations, except for the four in-house service facilities with on-site vendors that it operates in the Midwest and in New York City.
"ARI has an advanced maintenance management solution that it uses to leverage maintenance relationships with vendors nationwide on our behalf, and a breakdown call center that makes sense for the size and scope of our fleet operation," Survant said. "We dictate preventive maintenance practices based on OEM recommendations and our own needs and experience, and ARI's extensive network of dealers, leasing companies and independent service providers does the work. They also manage our national account program with Goodyear to meet all of our tire needs."
ARI is also handling equipment upfitting when Time Warner Cable places new vehicles in service. Included is the installation of aerial devices supplied by Altec, ETI and Versalift, and Masterack interior shelving and ladder racks from Leggett & Platt. "A considerable amount of detail goes into the layout and correct upfitting of these items in service vehicles," Survant stated. "We have a high volume of demand for field service so it's essential to have the right tools, equipment and inventory on our trucks at all times."
Customer Expectations
"It is increasingly challenging to meet customer expectations for time and service requirements," Survant continued. "Along with fielding reliable vehicles, we need to ensure the fleet is in the right place at all times. While Time Warner Cable's dispatch and operations management and planning practices have been very successful, enhancements to the installed AVL and GPS systems will continue to help them address that need even more effectively."
For Time Warner Cable, the second largest provider of video, high-speed data and phone services in the U.S., a field service fleet operation that consistently achieves customer satisfaction goals is critical to success.
For the fleet management team at Time Warner Cable, Survant is quick to point out, reliable vehicles are at the top of the list. "It's common sense," he said. "A 4 percent failure rate means the same percentage of our service guarantees are at risk. Using best practices to field the right equipment and maintain it correctly eliminates those issues."
About the Author: Seth Skydel has more than 27 years of truck- and automotive-related publication experience. In his career, he has held editorial roles at numerous national business-to-business publications focusing on fleet and transportation management, vehicle and information technology, and industry trends and issues.
---
Seth Skydel
Seth Skydel has not set their biography yet
---